Here are four reasons why Salpointe Catholic could buck history, capture state title Saturday
The Lancers will face Scottsdale Saguaro at Arizona Stadium with a chance to snap one of the most dominant performances in recent state history.
By Zack Rosenblatt / Arizona Daily Star
Reaching the mountaintop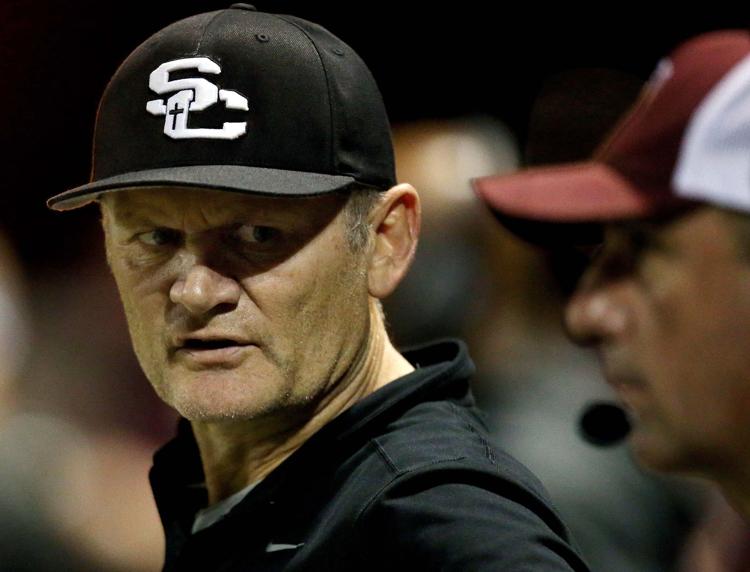 Dennis Bene arrived at Salpointe Catholic's campus a little bit later than he usually does for practice on Tuesday afternoon.
It didn't take Bene long to get in the right headspace.
The coach popped into his office wearing jeans and walked out 10 seconds later in Lancers sweats.
Bene has been Salpointe's football coach long enough to know the efficiencies of the job, how to move quickly — and how to get things running smoothly.
Things are back on track for the Lancers now, preparing for Saturday afternoon's state title game at Arizona Stadium against powerhouse Scottsdale Saguaro. Salpointe is 12-1, its lone loss coming to a talented Cienega team when the Lancers were missing their best player, sophomore running back Bijan Robinson.
'We've worked extremely hard to correct the little things'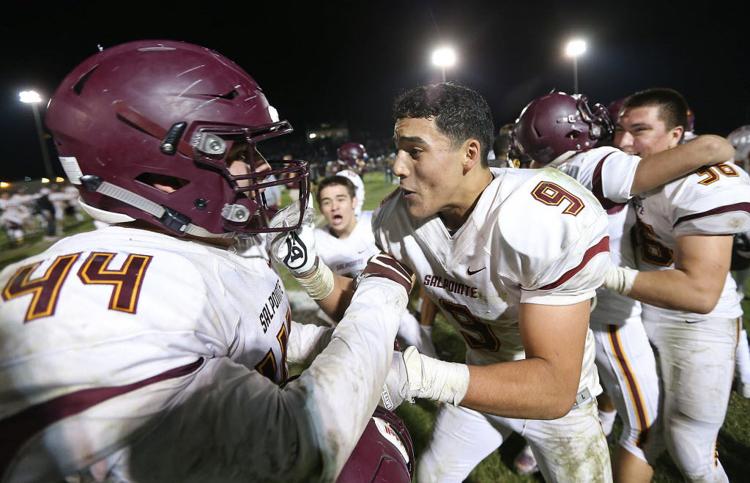 It's not quite 2013, when the Lancers — led by star Cam Denson — beat Scottsdale Chaparral for its first-ever state title and finished with a perfect record. But it isn't 2015, either, when Salpointe went 5-5 and missed the playoffs.
"I thought we worked so hard for so long to reach the mountaintop in 2013 and then somewhere in the middle of the 2015 season we weren't very good," Bene said.
"I think the little things we talk about — like discipline and chemistry and locker room behavior, all those things — contributed to us being a very, very average football team. We've worked extremely hard to correct all the little things. It starts with me.
"Everyone has worked really hard to re-establish our program as one of the better football programs in the state."
Saturday, the Lancers will face perhaps the best team in the state. Saguaro has won four state championships in a row, including last year's victory over Catalina Foothills. The Sabercats have won 10 straight games against schools from Southern Arizona. The last Tucson team to beat Saguaro was Sabino back in 2009.
Can Salpointe break that skid?
Here are four reasons why they might.
Here's to you, Mr. Robinson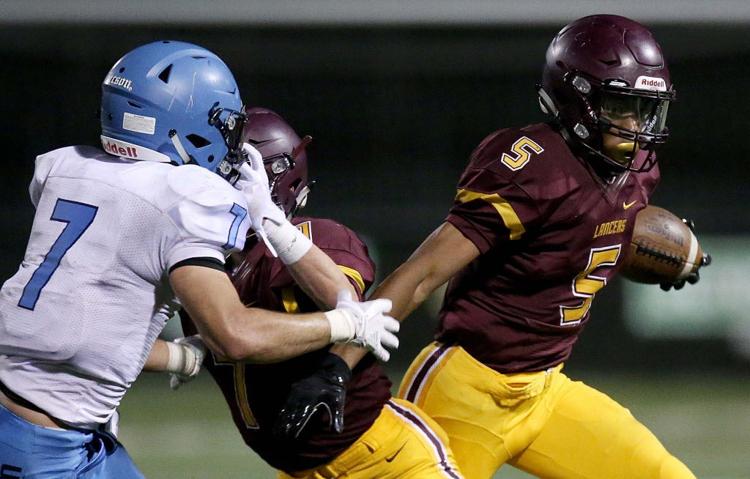 The Lancers' star running back had five touches for 15 yards in last year's state playoff loss to Saguaro. Now, Robinson is a work-horse coming off a 303-yard, two-touchdown performance in a semifinal win over Peoria Sunrise Mountain.
"I feel like I got bigger, faster, stronger and just smarter," Robinson said. "Last year, i was a freshman and I wasn't really used to it but this year I got used to it and I'm ready to play on these dudes."
Arizona, Arizona State, Utah and Washington have all offered Robinson scholarships, and other major programs are taking interest in the Lancers star.
It's easy to see why — before the season, Robinson set a goal to rush for 2,000 yards. Heading into the championship game, he has 1,859 and 26 touchdowns.
"I'm almost there," he said. 
Run, run, run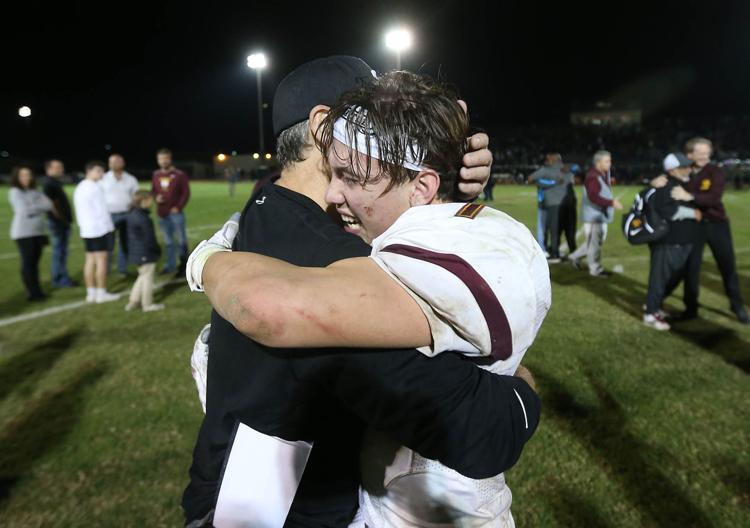 Robinson may be the headliner in Salpointe's rushing attack, but he's not alone.
The Lancers also use dynamic junior Mario Padilla in the slot and out of the backfield. Last week, Padilla rushed for 202 yards and three total. On the season, Padilla has rushed for 758 yards and 13 scores. 
"To Mario and Bijan's credit, they are excellent teammates and they've grown into that over the season, supporting each other," Bene said. "One guy is a little off, the other guy is picking it up. They both have to block for each other. So they've both handled it really well."
It helps that Salpointe has one of the best offensive lines in the state, led by star tackle and Washington commit Matteo Mele.
"Obviously we're centered around Matteo," Bene said. "He's a difference-maker. But all five of the guys as a unit, I couldn't be more pleased with."
Dominant with a capital 'D'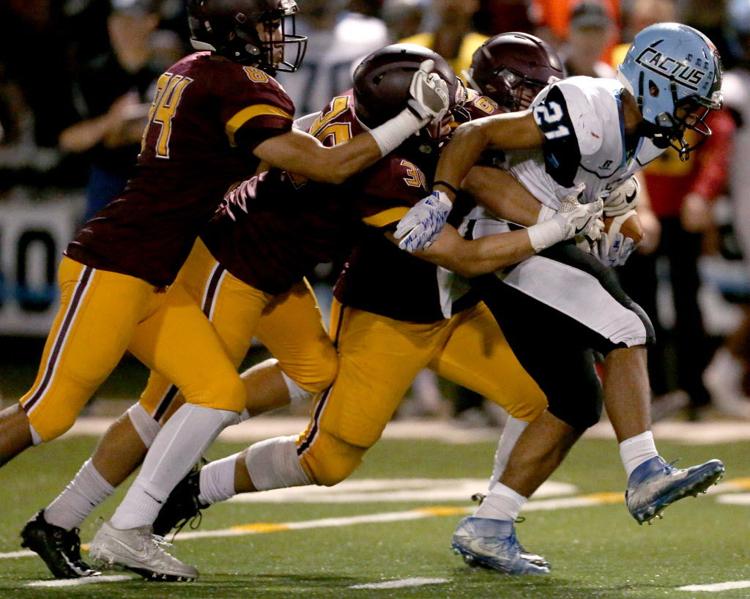 Salpointe's offense has been stellar all year, but it's the Lancers' defense that has them poised for a second state title.
The unit set a Salpointe record with five shutouts and have allowed just 9.8 points per game. In total, the group has amassed 48 sacks, nine interceptions, 17 fumble recoveries and five blocked punts.
The Lancers are led by linebacker Chris Aguirre, who's tallied a team-best 139 tackles, 12 for loss, with six sacks and three fumble recoveries. Pass-rusher Gabe Madril managed a team-best 13 sacks and 12 quarterback hurries in just seven games before he was lost due to injury. 
"I think our team speed surprises our opponents... they've become a very physical defense," Bene said. "We've played some really outstanding quarterbacks and offenses and they've done a nice job."
Home-field advantage
The Lancers won the 2013 title at Arizona. Four years later, they return with a chance to take another one. 
Not that Bene will mention that day. He wants his team to live in the moment.
"I try not to talk about the 2013 team. What's the point? Why look backwards, in success or in failure?" he said. "That's what I try to teach these kids — look forward, move forward. Trust the process. Stay on the grind. Those are the terms we use and what we talk about around here."
More than anything, Bene wants the team to enjoy to embrace the day. Salpointe expects to draw more than 10,000 fans for its biggest game of the year.
"To be honest, I want them to enjoy the moment," Bene said. "I want them to appreciate the grandeur. The big stadium. We have great turnouts, our fan base is tremendous. I want them to go out and look in the stadium and be in awe of it because that's, to me, the beauty of the reward. At the end of the day, they're high school kids and they have this really special opportunity and it's really hard to get there."
About Saguaro, Bene said "it's unbelievably impressive what they've been able to accomplish. I mean, they're four-time defending champs. This is only the fourth time our school has been to the (title) game in school history. It is really, really special and it will mean a great deal if we can pull it off."