High school football: Regular season finale matchups and predictions
Justin Spears / Arizona Daily Star
Just like that, the end of the high school football regular season is upon Southern Arizona. While teams have already punched tickets to state playoffs, others are trying to put together one last win to sneak into the bracket. 
This week's game-of-the-week is Salpointe Catholic-Canyon del Oro in a battle between the top-two running backs in Southern Arizona in Bijan Robinson and Elijah Carey. Robinson has 1,258 yards and 19 touchdowns while Carey is Arizona's No. 3 rusher with 1,686 yards. 
On Friday night, expect both teams to run wild. 
Every game is set for Oct. 27 and will start at 7 p.m. Predicted winners are in ALL CAPS. 
Arizona Daily Star record: 120-28
SALPOINTE CATHOLIC (8-1) at Canyon del Oro (4-5)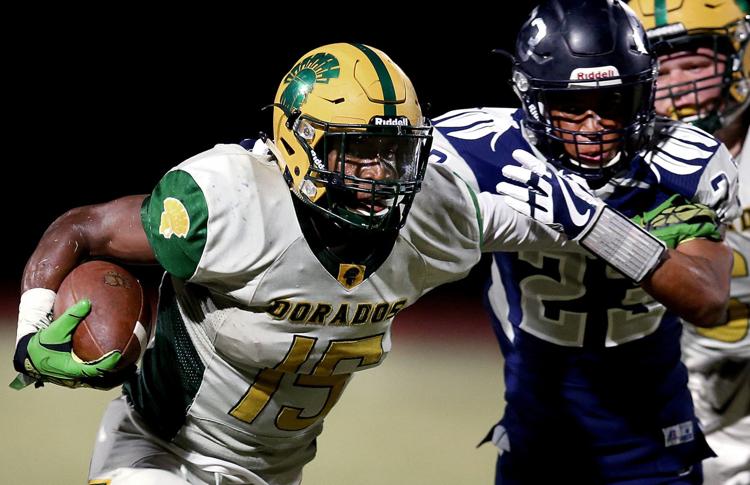 Where: 25 W. Calle Concordia, Oro Valley
Canyon del Oro is officially out of playoff contention, which is unfortunate because we don't get to see more of Elijah Carey. Going up against Salpointe Catholic for the regular season finale means we get a head-to-head matchup between the two best running backs in Southern Arizona. Friday's game will be won in the trenches. The Lancers have a bigger and more skilled offensive line, led by Washington commit Matteo Mele. Carey might have better stats than Robinson, because CDO will continue to feed him the ball all game long. But expect Salpointe to win 49-23 and finish the season 9-1. 
Amphitheater (2-7) at PUEBLO (7-2)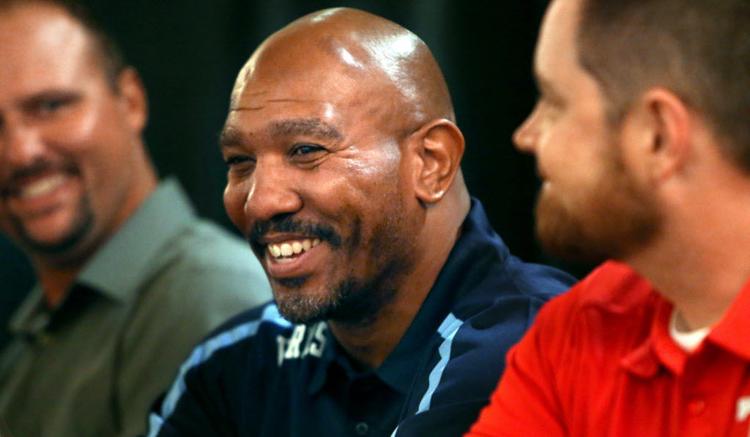 Where: 3500 S. 12th Ave. 
Amphitheater's brief winning streak was ended last week in a 34-8 loss to Rio Rico. Expect Pueblo, which is playing for a home game in the first round of the playoffs, to beat the Panthers handily on Friday. Call it 56-8
CATALINA (5-4) at Sahuarita (3-6)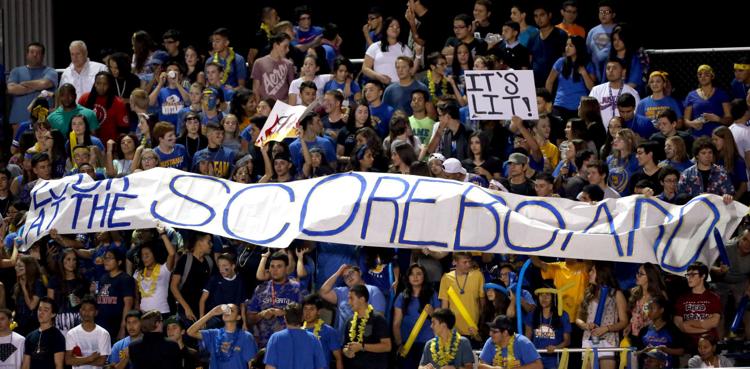 Where: 350 W. Sahuarita Road, Sahuarita 
The Trojans at one point in time were viewed as a dark horse of Southern Arizona. Catalina started the year 5-1, but the hype simmered down once the Trojans lost three consecutive games. Catalina is fighting for a playoff spot while the Mustangs just want to end their season on a high note at home. Call it 31-24 Catalina, with Trojans quarterback Malik Martin running for a game-winning touchdown. 
CATALINA FOOTHILLS (6-3) at Walden Grove (6-3)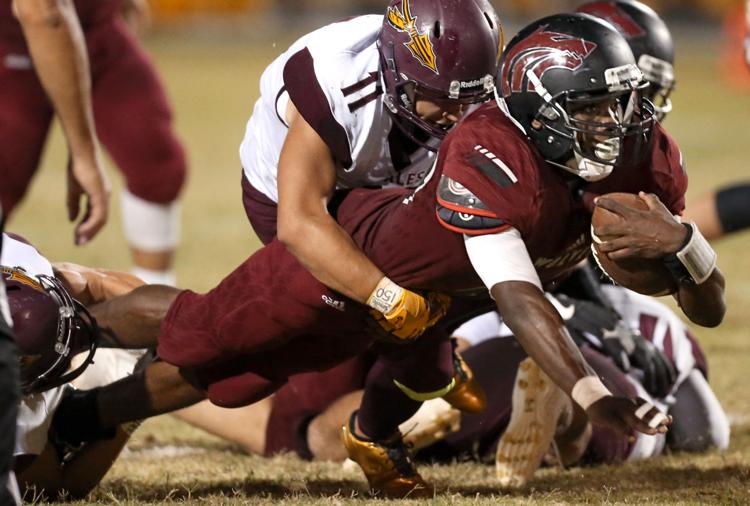 Where: 15510 S. Sahuarita Park Road, Sahuarita
Walden Grove finally got back into the winner's column against Flowing Wells after getting smoked by Salpointe Catholic and Canyon del Oro. Walden Grove running back Jacquez Rice had a season-high 282 yards on 22 carries and three touchdowns. Catalina Foothills' only losses this season came against programs that have a legitimate shot at the state title. Walden Grove lost to Canyon del Oro, which isn't in the playoffs discussion anymore. Foothills cruises in Sahuarita to spoil Walden Grove's senior night, 42-17. 
CHOLLA (4-5) at Flowing Wells (2-7)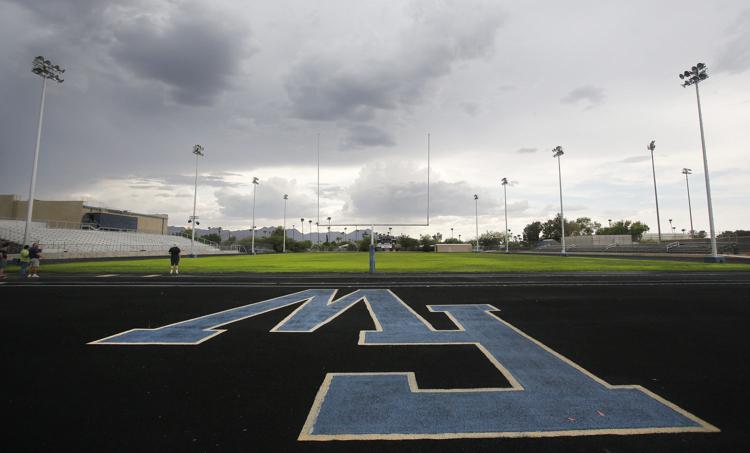 Where: 3725 N. Flowing Wells Road
Cholla quarterback Jordan Porter is No. 2 in Arizona for passing yards, and needs 288 yards to reach 3,000 on the season. How is Cholla is 4-5 on the season with the numbers Porter is putting up? That will always be a million-dollar question, but Porter has a chance to go down as one of the best two-way quarterbacks in recent history in Southern Arizona. Porter has averaged 301 yards per game and is Cholla's leading rusher with 1,528 yards. The second-leading rusher for the Chargers is Christian Villaescusa, who has 219 yards. Porter is Mr. Everything, and he'll show it against Flowing Wells with a 56-27 win.  
Empire (6-3) at SABINO (7-2)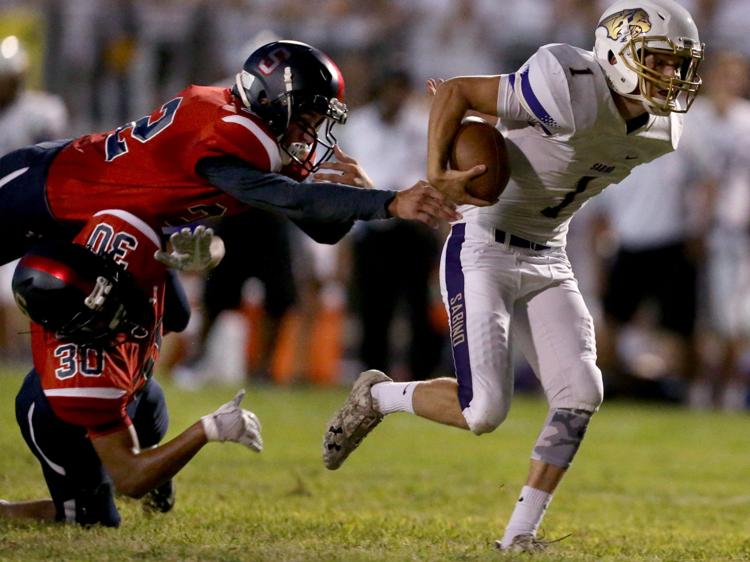 Where: 5000 N. Bowes Road
This game has a second-round playoff vibe to it. Currently the Sabercats are ranked No. 5 in state and Empire is No. 9. Both teams have already made playoffs. The Ravens struggled against dual-threat quarterbacks this season and Friday night won't be any easier against Sabino's Alex Bell considering he's the team's second-leading rusher along with 1,703 passing yards and 22 touchdowns. What makes Bell so dangerous is that he's smart with the ball. It's the final game of the season and he's only thrown two interceptions all season. Sabino wins 34-14.  
MARANA (7-2) at Rincon/University (3-6)
Where: 421 N. Arcadia Blvd.
Rincon coach Cody House has overachieved with three wins this season. The Rangers were outscored 143-16 in the first three games before rallying. Now, Rincon welcomes one of the most high-powered offenses in the state. The Tigers are averaging at least 35 points per game. They'll score more than that Friday, winning 63-6. 
Mountain View (7-2) at CIENEGA (9-0)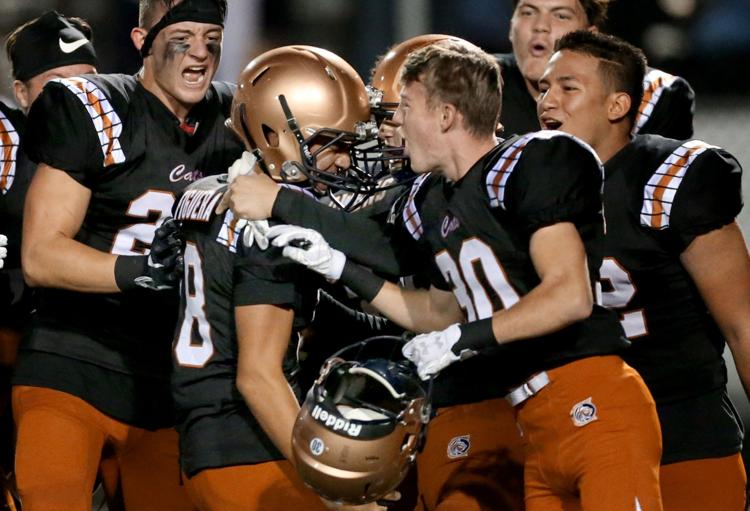 Where: 12775 E. Mary Ann Cleveland Way, Vail
The Bobcats should be counting their lucky stars after barely beating Ironwood Ridge 56-55 in overtime last week. Ironwood Ridge missed the PAT and Cienega's Ezra Figueroa became the hero for the Cats in the end. Mountain View was tested in overtime last week and lost at Sierra Vista Buena. Cienega's offensive line will be tested once again against defensive tackle Kai Golden and linebacker Calib McRae, so look for an interesting first half. The Bobcats should come away with the win, 41-20. 
PUSCH RIDGE CHRISTIAN (9-0) at Santa Rita (0-8)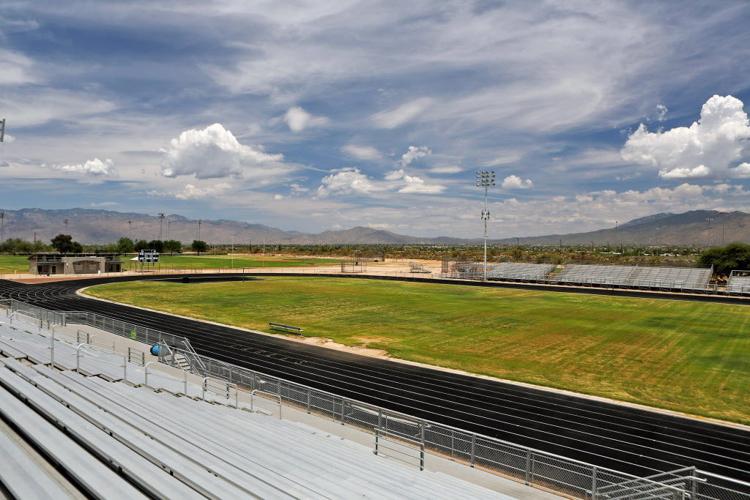 Where: 3951 S. Pantano Road
This game is actually a tale of two teams: One undefeated, one winless. Santa Rita ends its season at home and the Eagles are hoping to find some sort of silver lining moving into next season. Meanwhile, Pusch Ridge Christian has the No. 1 seed secured. If all goes right for the Lions, they'll finish the season undefeated and control their destiny for the second state championship in three years. Pusch Ridge Christian routs Santa Rita, 70-0. 
RIO RICO (2-7) at Douglas (0-9)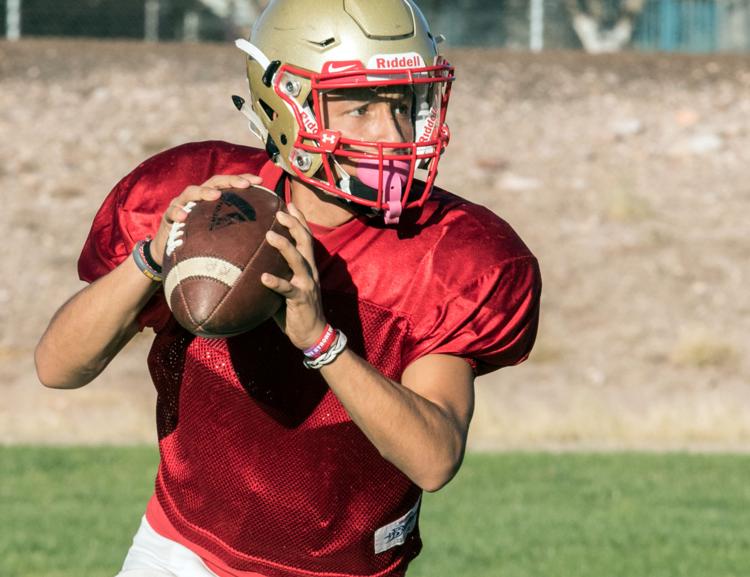 Where: 1500 15th Street, Douglas
Both teams have struggled all season, but this one has the potential to be a nail-biter. Last week on senior night, Rio Rico -- predicted to lose -- disrupted Amphitheater's win streak, so the Hawks have momentum heading into this matchup. Douglas, on the other hand, is aching for a win and will play in front of its home fans one last time. Since Rio Rico has at least two wins on the season, the Hawks should take it 21-7.  
Sahuaro (4-5) at IRONWOOD RIDGE (6-3)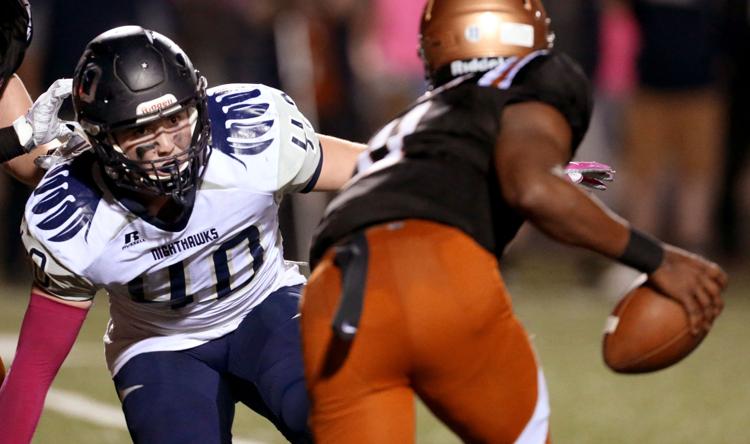 Where: 2475 W. Naranja Drive, Oro Valley
If there was any team that made a statement last week just before playoffs, it was Ironwood Ridge. The Nighthawks took undefeated Cienega to overtime on the road before falling short because of an extra point. Still, they looked the part of a team that could spoil someone's playoff hopes on the road.  Sahuaro won't be a walk in the park, but the Nighthawks should be fine. Ironwood Ridge controls the Cougars, 38-10. 
SAN TAN VALLEY POSTON BUTTE (5-4) at Desert View (3-6)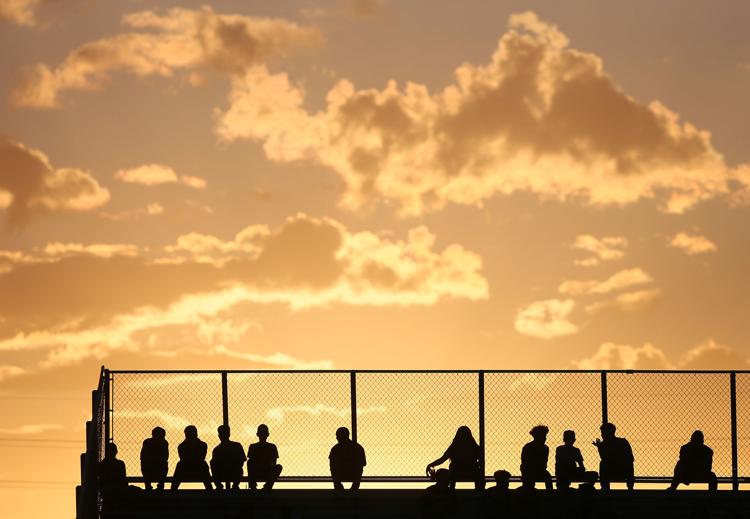 Where: 4101 E. Valencia Road
Half of Poston Butte's schedule has come against Tucson programs this season. They'll need to beat another one, Desert View, and have a bunch of other teams lose to make the playoffs. Expect the visitors to win 35-14, but miss the playoffs. 
SIERRA VISTA BUENA (5-4) at Nogales (3-6)
Where: 1950 Apache Blvd., Nogales
Nogales shocked Canyon del Oro 22-13 at home last week and completely diminished the Dorados' playoff aspirations. Quarterback Josue Tapia went 14-of-18 passing for 134 yards and two touchdowns while running back Martin Rivera had 90 yards on 24 carries. Those two will have to be clicking if the Apaches want to win, because Buena is a better team than what its record shows. The Colts led Cienega at halftime and upset Mountain View in over time last week after sophomore quarterback Jovani Borbon threw for 310 yards and five touchdowns. The passing game favors Buena, which is why the Colts will win. Call it 49-27. 
Yuma Cibola (4-5) at TUCSON HIGH (4-5)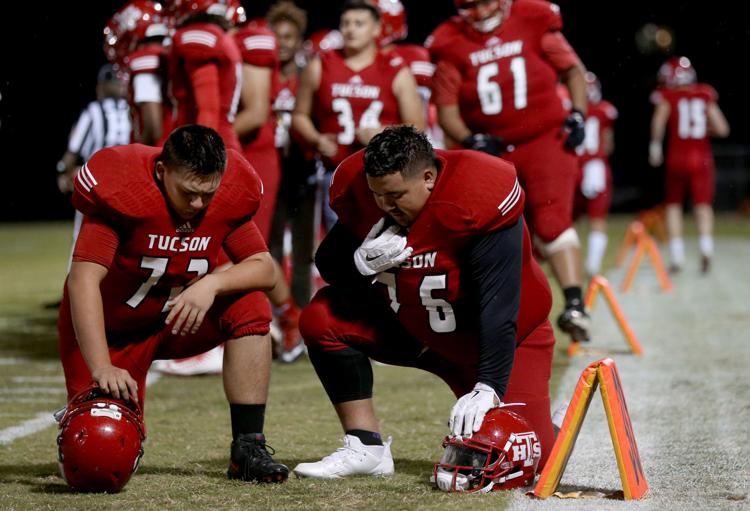 Where: 2500 E. Ajo Way
If the Badgers didn't have the toughest schedule in Southern Arizona, they would be a playoff team. On senior night and playing in front of what is expected to be a packed house for one last time at Kino Sports Complex, the Badgers are destined to beat Cibola. Let's call it 41-13.
Yuma Kofa (3-5) at SUNNYSIDE (2-7)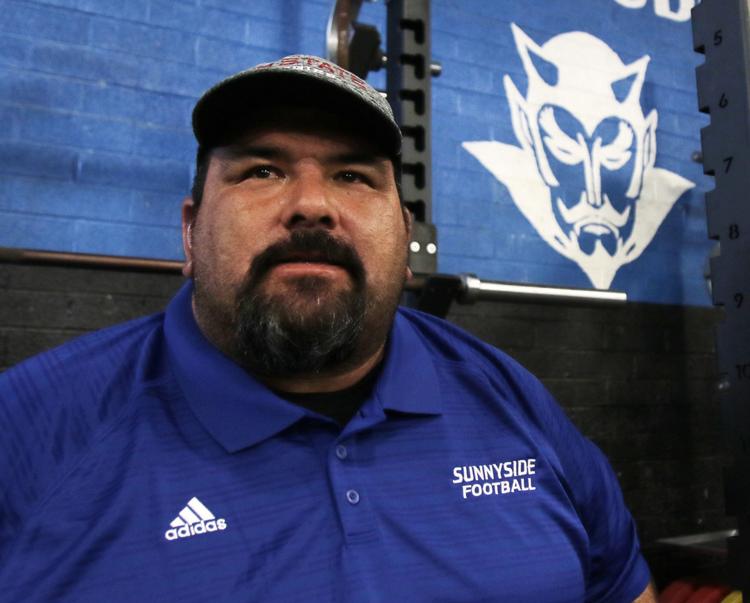 Where: 1725 E. Bilby Road
Sunnyside head coach Roy Lopez will have to wait until 2018 to receive his 100th career win. Lopez has a young and ambitious staff behind him that can make Sunnyside a powerhouse once again. The Blue Devils play a Kofa team that also struggled this season and have three wins against lower-level opponents, which is why Lopez will earn his 95th career win Friday night with a 24-7 win.