Seen and heard before the Arizona Bowl: Dick Tomey offers help, Aggies rate Tucson and a trophy takes the cake
Players and coaches from both teams talked to the media on Thursday about what they're expecting and how they got here. Here's a look:
It's Aggies vs. Aggies in Arizona Bowl
Arizona Bowl III will kick off at 3:30 p.m. Friday, with New Mexico State taking on Utah State in what should be a sold-out Arizona Stadium. Players and coaches from both teams talked to the media on Thursday about what they're expecting and how they got here. Here's a look:
A famous face at Utah State's practice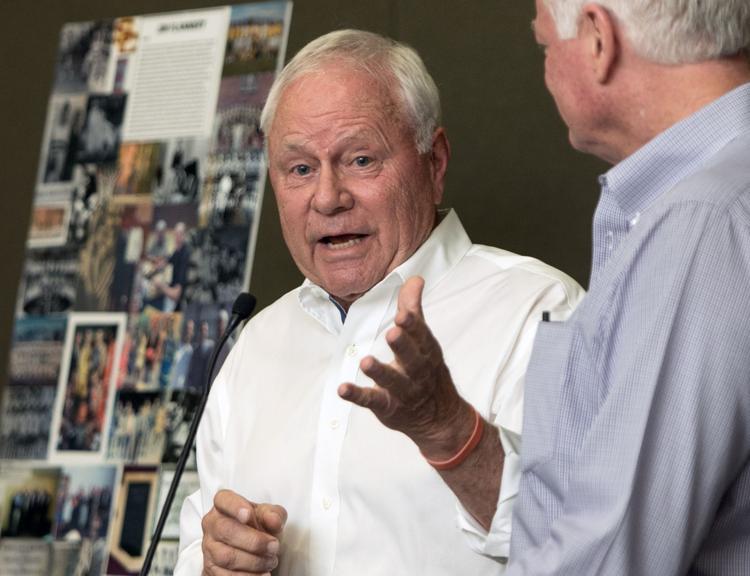 A famous face at Utah State's practice
Utah State had a visitor at NOVA Home Loans Arizona Bowl practice this week, and he's a familiar name to Arizona Wildcats fans. All-time wins leader Dick Tomey spoke to coach Matt Wells' team about his own bowl experiences, and what to expect in the days leading up to the game.
"It was the same thing we've been saying all week," Wells said, except, he noted, that his players may have listened to Tomey.
Wells and Tomey met at an event a few years ago, and have become close in the years since.
"He's kind of put his arm around me and mentored me a little bit," Wells said.
Tomey wasn't the only person to visit Utah State at Kino Stadium this week. The Aggies welcomed brothers Eli and Evan Leishman, who are the sons of Utah State graduates living in Tucson. Both suffer from GM1 gangliosidosis, a progressive neurological disorder.
"They're two special young men," Wells said. "They're growing up in a family that loves Utah State."
Wells became emotional when he talked about the impact that visitors like the Leishmans have on the team. Utah State hosts visitors, many of them sick children, on the Thursday before every home game.
The team does it, Wells said, "to help a family out, to help the kids out, to give them a breath of fresh air — and it ends up having more of an impact on us."
Alums include cowboy poets, headphones inventors and Hansens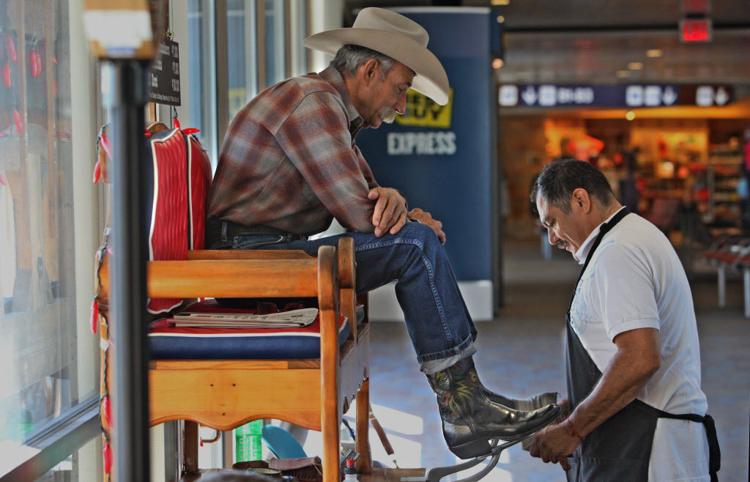 Alums include cowboy poets, headphones inventors and Hansens
Utah State boasts more than 160,000 alumni worldwide, including Star columnist Greg Hansen. Others of note: Nobel Prize-winning economist Lars Peter Hansen, former U.S. Sen. Harry Reid, former Arizona governor Evan Mecham, late football and television star Merlin Olsen, Hall of Fame football coach LaVell Edwards and Ezra Taft Benson, the late U.S. Secretary of Agriculture and president of The Church of Jesus Christ of Latter-day Saints. Engineer Nathaniel Baldwin, the man who invented headphones? He's an Aggie too. (But Hansen's still our favorite).
New Mexico State claims more than 120,000 living alumni, including astronomer Alan Hale (of Comet Hale-Bopp fame), legendary basketball coach Lou Henson, pro golfers Rich Beem and Bart Bryant and Pixar co-founder Alvy Ray Smith. Cowboy poet Baxter Black? Before he was the pride of Benson, he attended NMSU in Las Cruces.
Say what?
Some shots from a great night out in Old Tucson!! #AggieUp #MakingHistory📸@JoePictures55 pic.twitter.com/vshj9mgyiy

— NM State Football (@NMStateFootball) December 28, 2017
Not so fast
New Mexico State's first bowl game since the Eisenhower administration has been the talk of college football. But as Wells was quick to point out Thursday, Utah State isn't exactly a veteran postseason team. Wells figures his roster has "about 10 guys" still on the roster from the team's 2015 appearance in the Famous Idaho Potato Bowl.
Sixteen of Utah State's 22 starters, including quarterback Jordan Love, have two years or less of experience in Wells' system.
"We've got a lot of guys that this is their first bowl game experience," Wells said. "You see the youthful experience, enjoying the bowl week, enjoying practicing. When it's time to practice and time to grind, they go."
Don't touch that trophy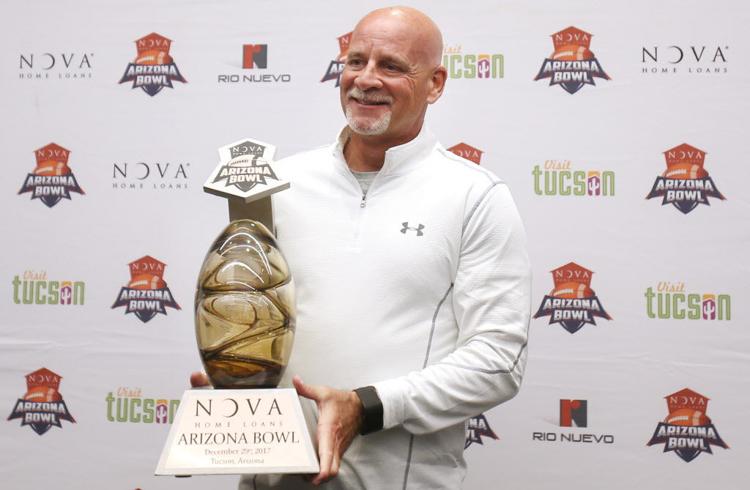 Don't touch that trophy
Both coaches marveled at the new Arizona Bowl trophy, which is a collaboration between two renowned local artists. Tom Philabaum created a blown-glass, regulation-size football that sits inside a metal housing created by Moises Orozco.
As bowl trophies go, it's as impressive as it is heavy. Both Wells and New Mexico State coach Doug Martin posed with it following Thursday's press conference, though the Utah State coach was initially hesitant to lift it up. Something about superstition.
"That's the SI cover jinx, right there," he said.
Praise for Arizona
Praise for Arizona
New Mexico State's roster boasts eight Arizona natives on its roster, including two players — defensive back Austin Perkins and linebacker Gabriel Flynn — who prepped at Tucson-area high schools. There's a reason for that, Martin said.
"The high school coaching in this state is as good as anywhere," he said. "Proof of that is (defensive lineman) Roy Lopez; he started as a freshman for us. He's not only physically ready, but he had been coached. We've found that with almost every kid we've brought in from Arizona. A lot of that is due to the coaching they get here and the competition they're playing against."
Lopez, a sophomore from Tempe, may have gotten some extra coaching along the way. His father, also named Roy Lopez, just finished his second season as Sunnyside High School's head coach. Before that, the elder Lopez coached his son at Gilbert Mesquite.
He said it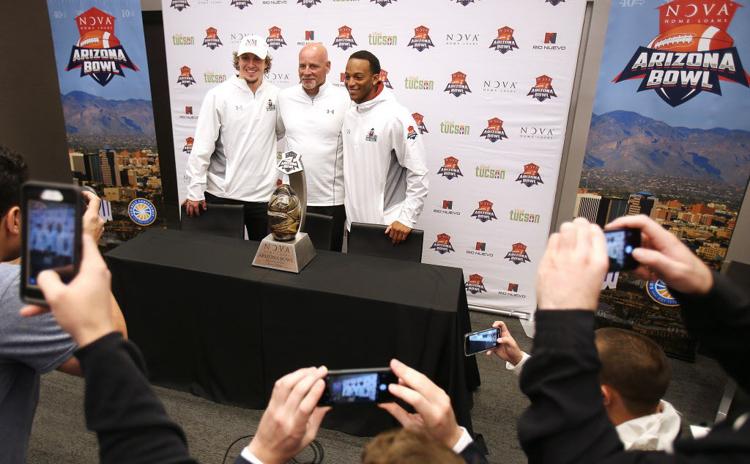 He said it
"I don't know if I'm going to be able to get them to go back home." — New Mexico State coach Doug Martin, on how his players are liking Tucson. We'd never leave, either, if we were staying at the Westin La Paloma and had a gifting suite.
Paint the town red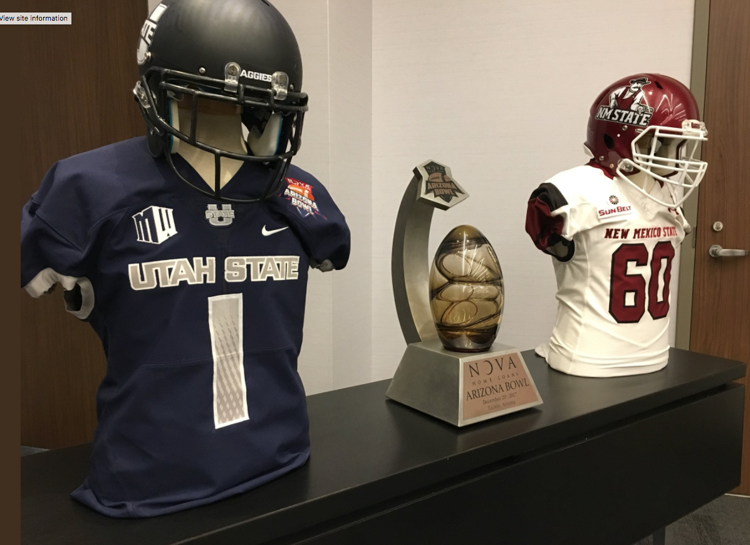 Paint it red
Arizona Stadium will practically glow crimson — official school color: PMS 208 — with New Mexico State fans on Friday. NMSU fans are expected to outnumber the Utah State faithful at least 10-to-1. Utah State will be the designated home team, however, and will wear navy jerseys and helmets. The Aggies will wear white tops with crimson helmets and crimson pants. Which helmet, you ask? Arizona Bowl officials displayed the cartoon "Pistol Pete" lid for Thursday's news conference. The last time NMSU played in Arizona, their Week 1 opener against Arizona State, they wore crossed guns on their helmets.
The big number
NCAA pre @novaAZBOWL meeting!!! CBS folks says the game will be available to 90,000,000 homes across USA! Great exposure for @NMStateAggies @NMStateFootball @nmsu pic.twitter.com/6LZK7fCBDV

— Mario Moccia (@MarioMocciaNMSU) December 28, 2017
The big number
90,000,000
 Friday's game will be carried on CBS Sports Network, which is available in 90 million homes nationwide. That's exponentially more exposure for the Arizona Bowl that it received on over-the-air television and the now-defunct Campus Insiders in 2015 and 2016.