Watch: The best of Herm Edwards' introduction as ASU's head coach
Arizona State introduced Herm Edwards as its head football coach on Monday and it was a press conference for the ages. 
By Justin Spears / Arizona Daily Star
A new era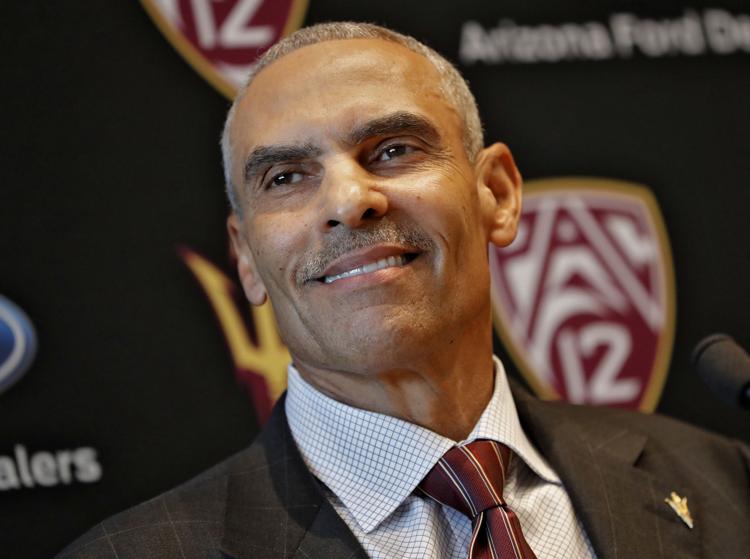 Newly hired Arizona State head football coach Herm Edwards didn't repeat his famous "you play to win the game" line at his introductory press conference Monday, but he certainly didn't disappoint. 
The former NFL coach is now the 46th head coach of the program and it's also the first time Edwards hasn't coached at the collegiate level since 1989, but he made it clear that he's in Tempe to take the program to newer heights as well as evolve young athletes into men. 
If you remember anything about Edwards' presence in his nine-year career as an NFL analyst on ESPN, he always had a way with words and utilized his role on television as an in-studio coach. 
Now for the moment we've all been waiting for. Enjoy the best soundbites from Edwards' press conference! 
Maybe Edwards forgot that the mascot is a Sun Devil?
Herm Edwards at his introductory press conference : "Devils Digest? I'm Catholic now, I'm Christian. Watch out for them devils." Apparently he doesn't realize the new football team he's coaching are called THE SUN 'DEVILS.' pic.twitter.com/fpRVx1kGUy

— Kevin Marchina (@kg_holler) December 4, 2017
Turning football players into men
VIDEO: New #ASU head football coach Herm Edwards talks about accepting the job at Arizona State and about molding young players into men pic.twitter.com/MkDbN3YmaD

— azcentral (@azcentral) December 4, 2017