In less than three months, the kids will be out of school for the summer, which means it's time to start looking for summer camps.
Whether you need a camp for just a couple days or a couple of weeks, there are tons of options in all subjects like science, art and sports. 
And we're here to help you sort through them.
We've created a tool that'll give you exactly what you're looking for so you don't have to scroll through an endless list for hours.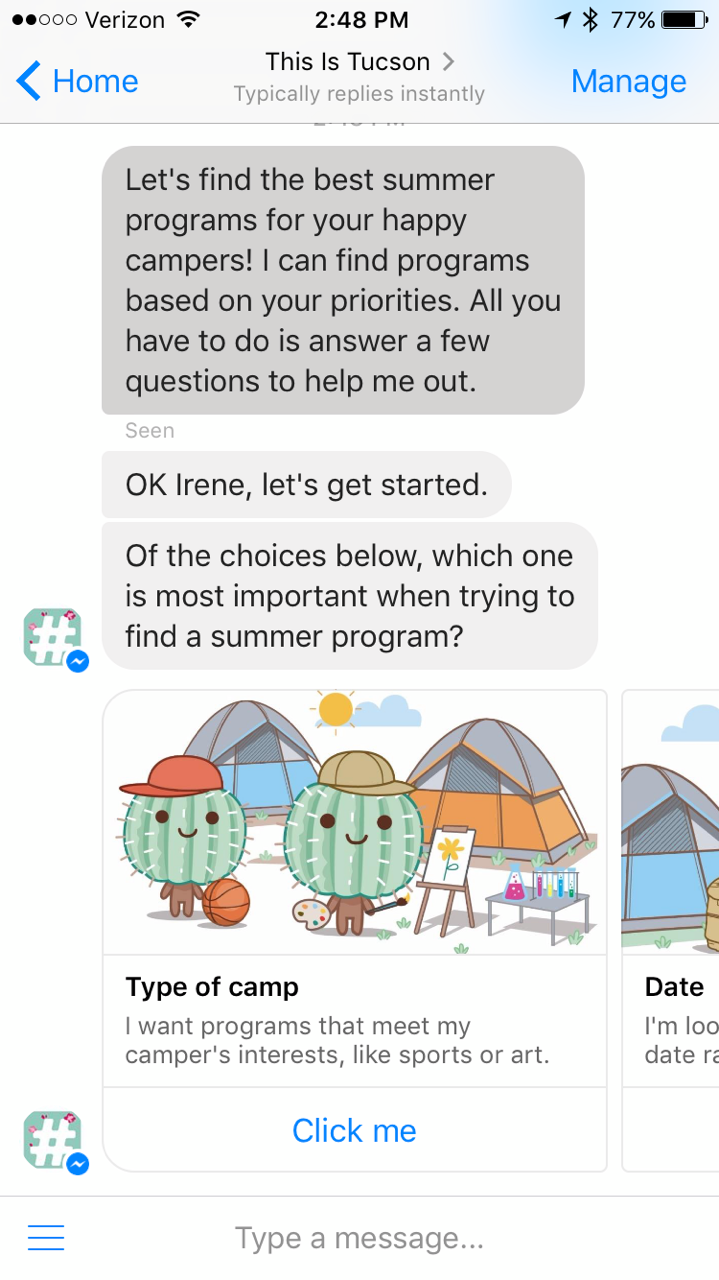 It'll take you to FB messenger, where you'll enter your search specifications. The first question asks what is most important when trying to find a summer camp: type of camp, date, location, time of day, lunch. Tip: To see those options swipe the cactus camper image on your phone. If you're on the computer, click on the little arrow on the edge of the graphic. (Click on the picture to the right of this paragraph to see what that looks like)
After you click on one of those options it'll ask you more questions. Just answer them, and it'll give you camps that match your criteria. You'll have the option to view all of the camp details right there. 
To give you an idea of some of the camps that are listed, we pulled out five camps for kids under the age of 5:
Kindergarten Readiness at Pima Community College East, 8181 E. Irvington Road. For kids ages 4-5. Campers will be introduced to concepts taught in kindergarten such as learning to write their name, singing songs, following directions and finishing projects. It's from 8 a.m. to noon July 10-14 and costs $169. Call 206-6444 for more info. 
St. Mark's Preschool & Kindergarten Summer Camp, 3809 E. Third Street. This literature based program includes drama, music, movement, cooking, crafts, yoga, art, storytelling, games, science, fine arts performances and more. Classes are for kids ages 3-6. There are four two week sessions to choose from and you can either choose full or half day. Prices range from $200 to $370 per two-week session. Call 325-1510 for information. 
International School for Peace Summer Camp, 4625 E. River Road. Children will be immersed in Spanish language learning and multicultural experiences all summer. It's for kids ages 2-5 and costs $120 per week. Call 299-8908 for more information. 
Silly Sloppy Messy Camp at Heart & Soul Kids Activity Center, 8363 N. Oracle Road. Kids will get their hands dirty doing science experiments, paint projects, sloppy games and messy crafts and activities. It's for kids ages three-and-a-half and potty trained to 12. Single day or week long sessions available. Prices range from $33 to $229. Click here for more info and to register.
Princess Camp at Dance Force-1, 5445 N. Kolb Road, suite 123. Princesses will learn to dance to their favorite fairy tale tunes. There will be a special princess tea party and performance to end the week. It's for ages 3-6 and costs $150. Click here for more info.