Tucson in December may not be snowy but it's full of holiday events, shopping and lights. We've rounded up the 10 must-do Christmas traditions — the ones you hear about every season. Pick a new one this year and go check it out.
1. Winterhaven
Winterhaven Festival of Lights is the big Christmas light display in Tucson. The midtown neighborhood has been lit up for 66 years. It's free to visit, although donations for the food bank are collected.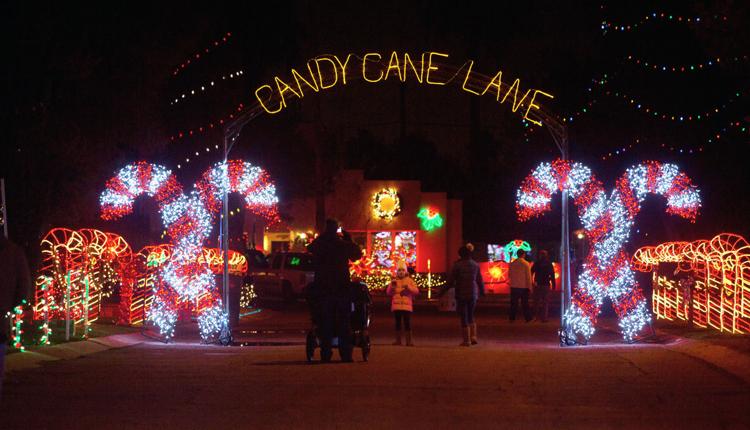 When: Dec. 10-26, 2016; 6-10 p.m. every night. Monday, Dec. 26 is the drive-through night.
• If you plan to walk, look for parking on Tucson Boulevard and Prince Road and wear comfortable shoes.
• If you're driving, try entering the neighborhood at Prince Road and Treat Avenue or Tucson Boulevard and Kleindale Street or Country Club and Kleindale Street. The main entrance at Country Club and Fort Lowell roads tends to get congested.
2. Eat some tamales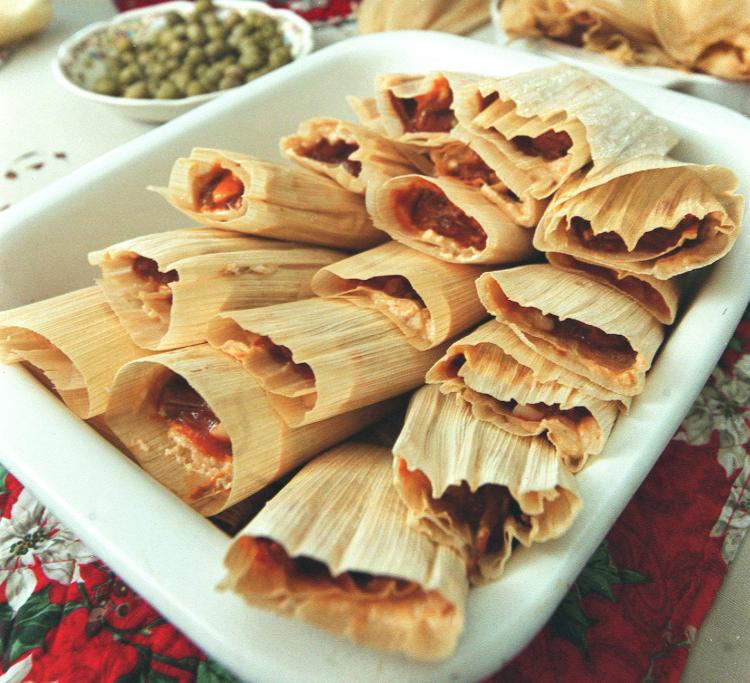 Make them, buy them locally or visit the 12th Annual Tucson Tamal & Heritage Festival on Saturday, Dec. 3, 2016 from 10 a.m. to 5 p.m. at The AVA at Casino del Sol Resort and Casino, 5655 W. Valencia Road. Admission is free.
3. Las Posadas
Carrillo Elementary students dressed as angels carry the nacimiento through the neighborhood streets, part of the procession dramatizing the search for shelter by Joseph and Mary.
Since 1937 students at Carrillo K- 5 Magnet School, have been enacting Las Posadas with a procession through the historic Barrio Viejo neighborhood.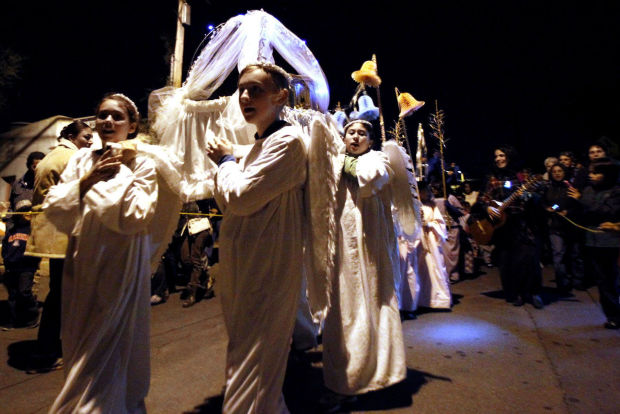 When: Dec. 16, 2016, event starts at 5 p.m. with food and entertainment. The procession begins at 7 p.m.
4. Tucson Downtown Parade of Lights
The downtown parade of lights begins at Armory Park at 4 p.m. with a holiday festival. Stay to see the mayor light the tree. The parade begins at 6:30 p.m. Watch for Santa being pedaled on a giant bike-powered float.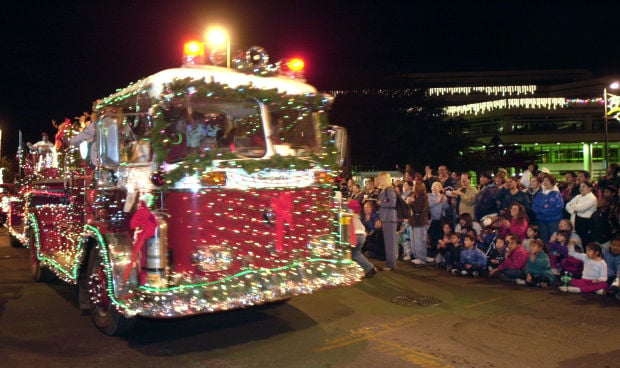 When: Saturday, Dec. 17, 2016, 6:30 p.m.
5. Arizona Inn Christmas decorations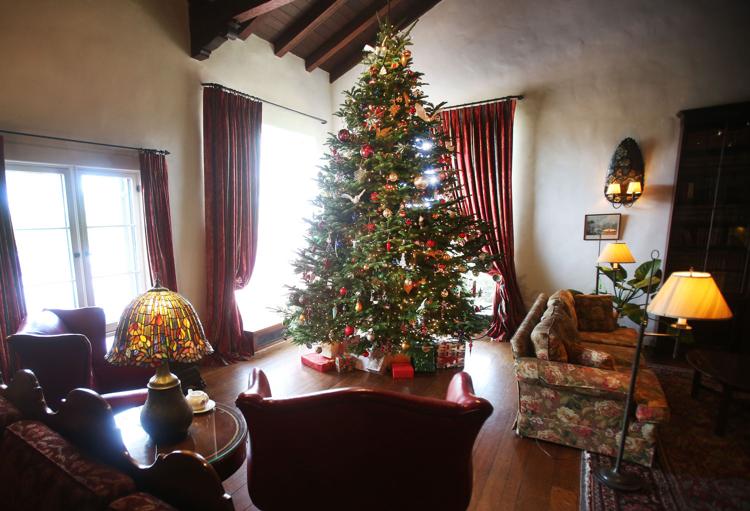 Relaxing in the library of the Arizona Inn at the foot of the 14-foot Christmas tree with a champagne cocktail or a steamy cup of holiday cheer — as a cozy mesquite fire crackles nearby — is bliss. Visit this piece of Tucson history to take in the festive décor, take a portrait by the fire or unwrap gifts in the library.
6. Christmas at San Xavier
Experience Christmas in Southern Arizona's 18th century landmark, a treasure of Spanish mission architecture and Baroque art. The Sons of Orpheus and Tucson Arizona Boys Chorus will perform. Fun fact: Linda Ronstadt headlined the first Christmas concert in the mission.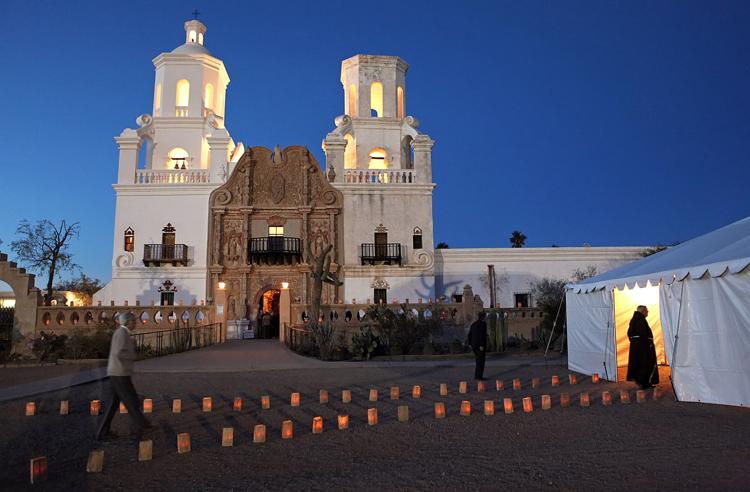 When: Dec. 13, 14, 15, 2016 at 6 p.m. and 8 p.m. (Tickets go fast)
7. Rooftop Santa show
Santa Claus climbs a midtown roof and showers the audience with candy during the annual Poet's Square Christmas Pageant. The show was moved in 2014 to the Peter Howell Neighborhood in midtown at 4054 E. 4th St. (Near Alvernon and 5th Street). Free, but bring a canned food donation.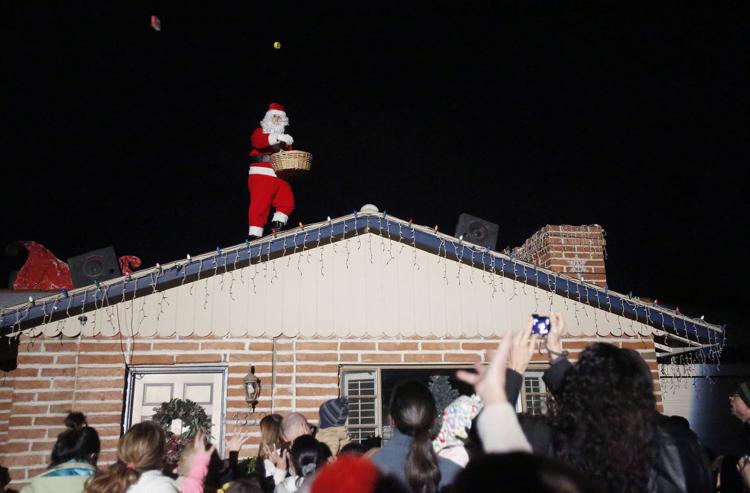 When: Friday, Dec. 23, 2016 at 6:30 and 8 p.m.
8. Enchanted snowfall at La Encantada
White Christmases are a rarity in Tucson but you can experience the fake stuff at La Encantada mall at Skyline and Campbell during the holiday season.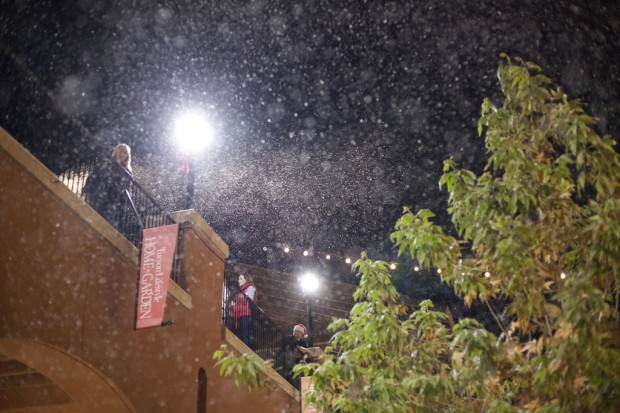 When: Now through Dec. 17, 2016, Friday and Saturday evenings, 6 and 6:45 p.m. 
9. Reid Park's Zoo Lights
Reid Park's Zoo Lights displays include animal-themed light sculptures throughout the park, live entertainment and a visit from Santa. Tickets are $9.50 for adults, $5.50 for kids, kids under 2 are free, members get $2 off.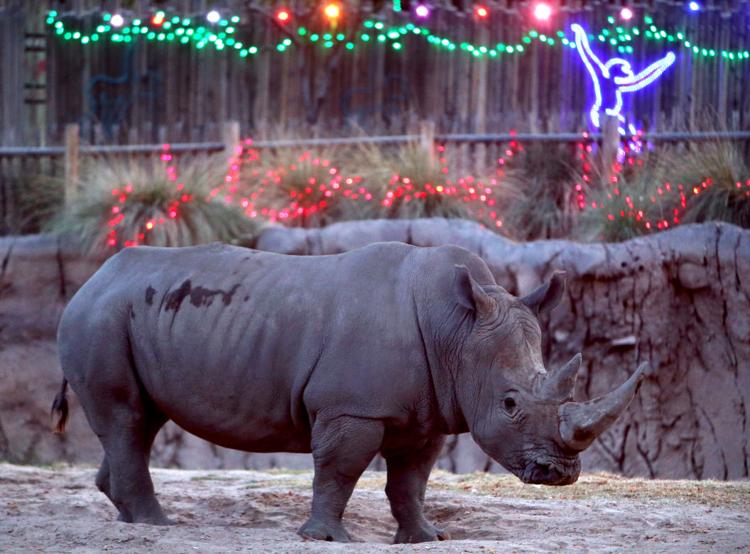 When: Wednesday, Dec. 7 through Friday, Dec. 23, 2016, 6-8 p.m.
10. Winter-break Arizona Wildcats basketball
UA basketball games during the winter break break have a festive feel and it's easier to get tickets. The holiday ticket pack contains one ticket to the Grand Canyon (Dec. 14), New Mexico (Dec. 20), Utah (Jan. 5) and Colorado (Jan. 7) games and starts at $112.