Local food options have landed at the Tucson International Airport. Now you can grab a pint at Noble Hops Craft Beer and Fine Fare before you go through security. The Oro Valley gastropub opened its second location last week, inside the departures area between Southwest Airlines and Delta. 
Noble Hops is located outside the gate in a 1600-square-foot space that was previously a walkway. The open area has patio seating as well as several electronics plugins. Next door is the recently-opened Arroyo Trading Post which offers soups, boxed items and baked goods by Agustín Kitchen.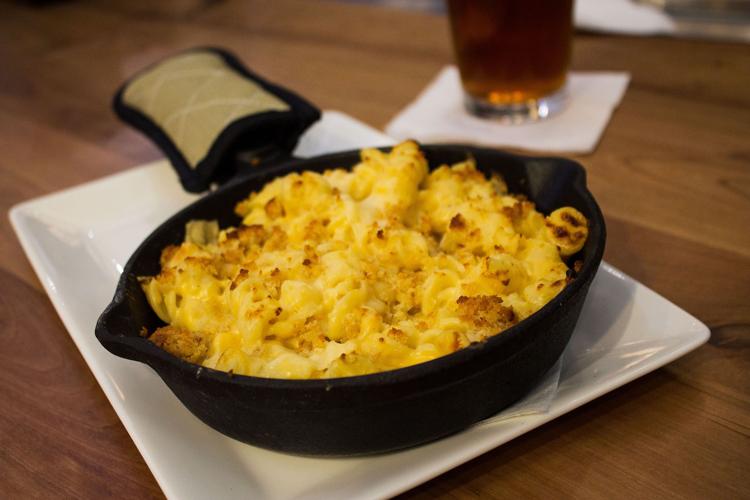 The menu at the airport location is small, with nine items that range from $6 to $18. Each dish on the paper menu lists a beer recommendation, like the cast-iron mac and cheese with a Railhead Red ale from Lumberyard Brewing Company in Flagstaff. The hops in the beer cut through the rich cheese sauce, making it really satisfying for an airport meal.
Other food options include housemade pretzels, a portabella vegetarian burger, Sonoran dog and bread pudding with rum-soaked raisins and praline sauce. The restaurant also serves breakfast starting at 5 a.m.
For beer, they have 12+ taps with brews from Barrio, Dragoon, Four Peaks and more. Hours are 5 a.m. to around 9 p.m. every day.  
Coming up
Sir Veza's, Beyond Bread, Empire Pizza and the Maverick country bar are all expected to open inside Concourse A (Aeromar, Southwest and United Airlines). Sir Veza's and Beyond Bread are expected later in October. 
 
El Charro, a second Beyond Bread, Built Custom Burgers, Dunkin' Donuts and Bruegger's Bagels are all expected to open in Concourse B (Alaska, American and Delta). 
 
Arbuckle Coffee is coming to the baggage claim area.