There's some funky stuff going on at the BTO frozen yogurt joint on North Silverbell Road. Walk in at the right time, and you'll see a dude squeezing a bunch of liquid onto a panel then chopping it up and rolling it into tiny cylinders. 
You may wonder, "Is this by the pound as well?" The answer is no. It's actually a separate venture inside the yogurt shop, called Simply Rollie's. 
Simply Rollie's is the product of Hemang Patel and his brother Mihir Patel, who franchises out the northside yogurt shop at 8245 N. Silverbell Road. In late December, they started making Thai ice cream, a showy street food that's super trendy on the east coast where the Patels are from. 
Mihir was inspired by Facebook videos he saw, where Thai vendors pour liquid ice cream onto a freezing cold panel and then scrape the frozen sheet into mini rollups. They add in all sorts of sweet treats like Oreos, fudge and fresh kiwis. After they put the rolls in the cup, they top it with whipped cream, chocolate sauce and more.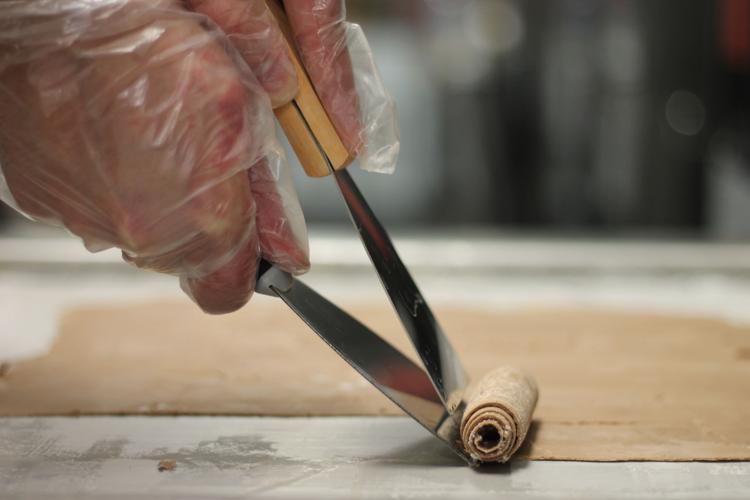 Mihir spent several months perfecting his technique, and now uses a 20 x 20 inch stainless steel slab that he sets to about -25 degrees Celsius. Thai ice cream's quick freezing method produces smaller ice molecules, making it naturally creamier without any extra fat or emulsifiers, according to the New York chain 10Below. 
Mihir's mixture is gluten free, kosher, halal and contains no added sugars. In fact, it is mostly just milk and wheat proteins. Of course, once you put the gummy bears or the Fruit Loops on top, the health benefits seem to dwindle.
On a recent afternoon, a couple friends and I split the strawberry ice cream and a make-your-own combination with brownies, pecans, chocolate chips and caramel sauce. The strawberry was a clear favorite because it was less sweet and more fruity/flavorful, kind of like "Dippin' Dots for adults," we all agreed.
The shop offers several flavor combos like the Classis S'mores with chocolate, wafer sticks and graham cracker crumbs for $4.99. Or you can make your own with two ingredients for $4.99, and add extras for 50 cents apiece.      
Despite the BTO being open every day, Simply Rollie's is doing limited hours from noon to 8 p.m. Fridays through Sundays. That is until springtime rolls around. Heh ...