These local gifts could be for the foodie in your life. Or they could be for Bob, who seems to like food, but that's just 'cause he's a living breathing human being (or so it appears). 
Don't really know Bob that well? Get him some chocolate! Don't know his spouse Bobelina? Get her a gift card to North! You can't go wrong. Bob and Bobelina will have the best night and love you forever. Here are a few more gifts to impress your friends, whoever they are ...
Fancy coffee beans 
Stocking stuffer? Office party gift? You can never go wrong with locally-roasted coffee. 5 Points Market and Restaurant has an exclusive collaboration with Cafe Aqui and selling their washed Ethiopian Kochere and washed Guatemala Huehue Tenango for $12 and $16 a bag. Decorative mugs by Julia DeConcini coming soon. Other trendy roasters include Exo Roast Co., Presta Coffee Roasters, and now even Prep and Pastry. 
Whiskey Del Bac Distiller's Cut
This special release by Tucson's Hamilton Distillers features whiskey that was finished in a Madeira wine cask. The blend has a rounded palate with notes of "Madagascar vanilla, stewed fruit and toffee" with a silky mouthfeel, according to head distiller Nathan Thompson Avelino. You can pick up a bottle for $62 at the distillery, 2106 Forbes Blvd., this Monday through Saturday 11 a.m. to 4 p.m. It's also available at Plaza Liquors and Rumrunner. 
"America The Great Cookbook"
This hard-cover cookbook published by Weldon Owen features recipes from every region of the United States, with installments by celebrity chefs Dan Barber, Rick Bayless and the Sioux Chef Sean Sherman. But more importantly, Tucsonans Barry Infuso and Gary Nabhan contribute recipes for five sisters succotash and mezcal-flavored coleslaw. Proceeds go to No Kid Hungry to fight childhood hunger. Order a copy here.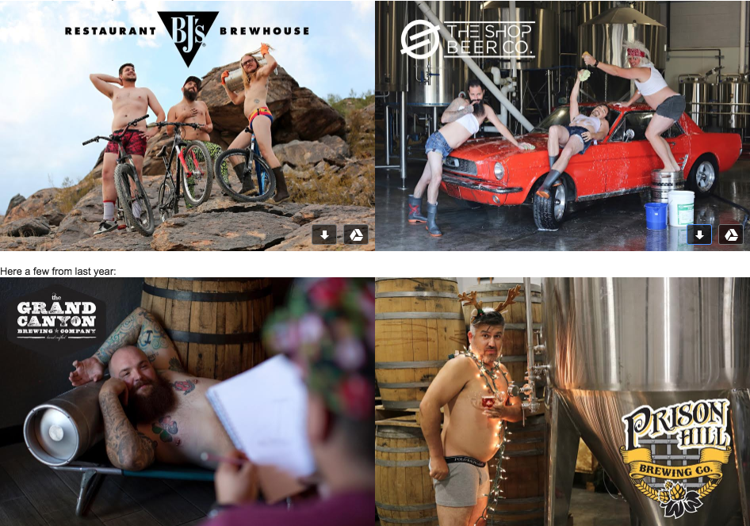 "Beerdoir" sexy beer guy calendar 
The picture speaks for itself: sexy beer dudes from all over the state get together for this promotional calendar. Tucson's Borderlands Brewing Co. makes an appearance in the hottie Hofbrau portrait (pictured up top). Proceeds support the Theresa Sorrels Legacy Foundation which helps people in the beer community with medical emergencies. Bonus: The more you drink, the better they look! Order one here.  
Restaurant gift cards
This is the gift that gives back. This time of year, many restaurants around town will throw in an extra gift card with your purchase. Bisbee Breakfast Club is offering various deals including $50 gift cards for $40. Fox Restaurant Concepts will give you a bonus $20 for every $100 for Culinary Dropout, North, Wildflower and more. Ra Sushi is giving a bonus $10 for $50 orders. And Bird Modern Provisions will give you an extra $20 for each $100 purchase.