Let's take a moment to consider pizza. Not as a wonderfood or an antidote to the maladies of the maddening world, but pizza from a purely physical standpoint. What makes a perfect pizza? And more importantly, who makes a perfect pizza? 
This is an attempt to figure that out ...
Let's call it, The Pizza Project (yeah, I know). Over the next couple months, I will travel to practically every pizza place in Tucson and utilize scientific principles such as hypotheses and mathematics to discover who serves the best in town.
For this, I will employ the help of experts. I will boost my knowledge by reading some articles online. And I will eat a whole lot of 'zaa. Since there's no sense in putting up a thin crust against a fat slice of doughy deep dish, I will separate the pizza into categories. First off, New York ...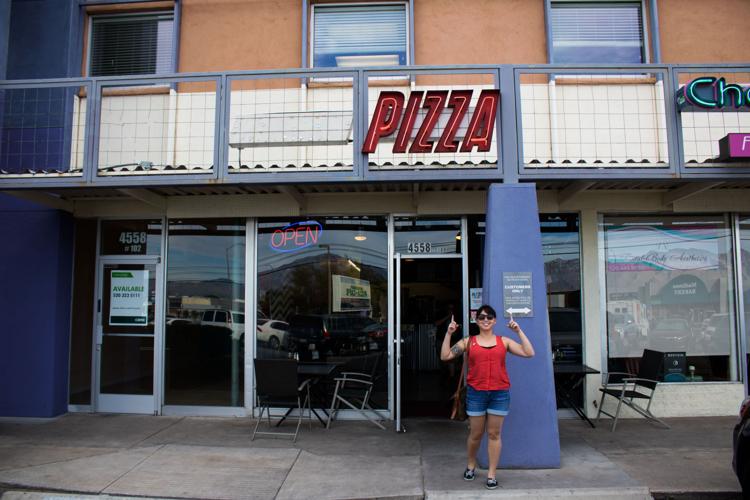 Elements of a perfect New York pizza 
🍕 Crust must feature an interplay of "bready, chewy," and "crispy" textures. You must be able to fold it so you can eat it with one hand, with minimal "tip flop." Must have purely delineated handle, or outer crust.  
🍕 Sauce must taste "bright and like a ripe, sunny tomato." It can't have too many added sugars and other crap. 
🍕 Cheese should be tasty and stretchy, not gloopy or sliding off the pie. "In general, less is more."
Here are our pizza experts/obsessives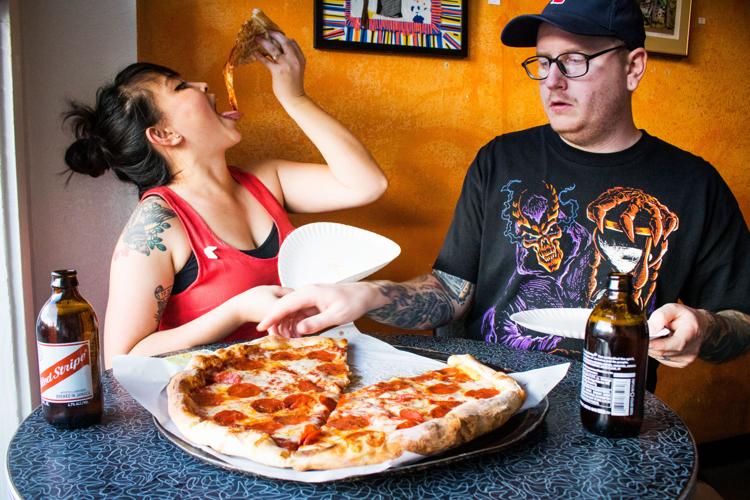 Alexis Favis and Adam Pierce are the Tucson couple behind the popular @Pizzagrateful Instagram. Last year, they ate and snapped photos at a different pizza place every single week. They are fierce quoters of Tony Gemignani's "Pizza Bible," which Alexis was forced to read out loud during a grueling trip home from Las Vegas one time. For this mission, she wore a cute little pizza pin and he wore a black shirt with a cartoon demon on it, which I dunno, felt appropriate.  
On Saturday we visited five different pizza places and ordered a basic pepperoni at each one. Sizes varied from restaurant to restaurant. (Our five locations were determined by word-of-mouth as well as "expert opinion" and internet research.)
Then we rated each pie by its crust, sauce, cheese and overall flavor, on a 1-5 scale. When we added up the results, we determined ...
The Winner!!!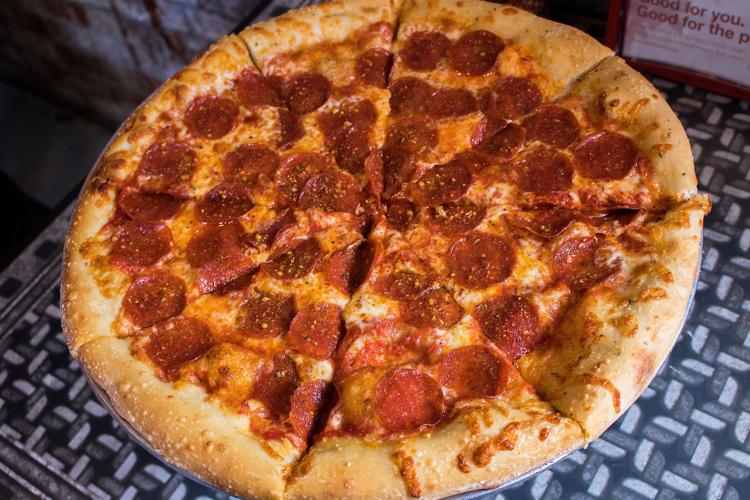 Empire Pizza & Pub, 137 Congress St.
"We should have come here last," Adam lamented as he bit into the godly 16-inch pepperoni at this late-night pizza joint downtown. Unfortunately Empire was our first pizza of the day, but the team could tell we really had something special. The crust here is perfectly shaped with a good pizza handle and varying thicknesses that indicate handrolling. (Although Adam thought it could have used another 45 to 60 seconds in the electric oven.) I think I love it the most because of the sauce, which had a natural sweetness from the pear tomatoes they mix into the paste. The place does a stiff slice biz, but I recommend getting the full pie.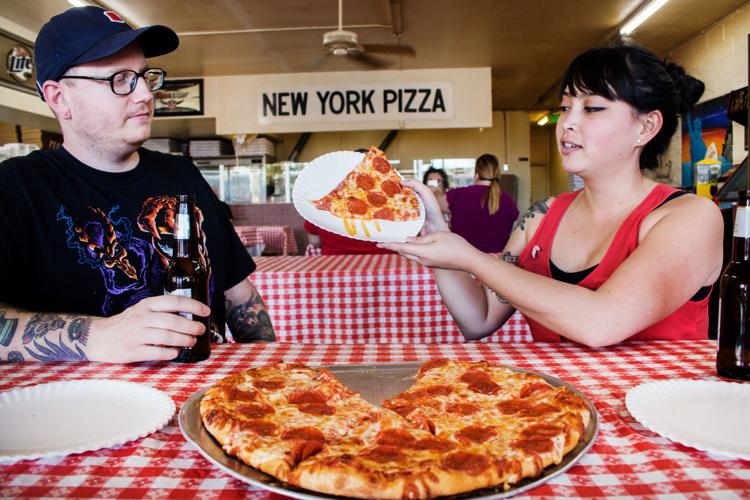 New York Pizza, 8771 E. Broadway
This east-side parlor has been in the biz for more than 40 years, and the inside has an awesome retro vibe with murals and a lineup of funky old arcade games. The pizza is "serviceable," arriving piping hot with a significant grease factor. The crust is denser with a nice char on the bottom from the brick oven. Alexis said it reminded her of being a kid. "You go to the pizza parlor, you get a root beer, you beg your parents for quarters to buy video games, and the pizza is sometimes the least important part of the experience."  
• Overall flavor: 2.5 / 5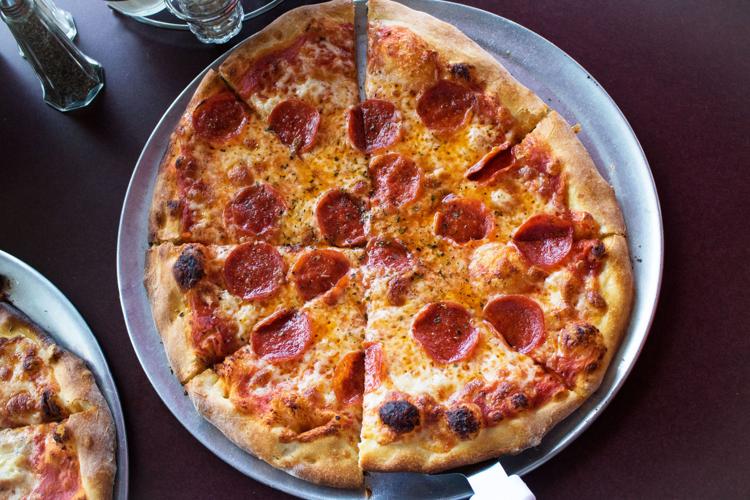 Broadway Pizza Cafe, 4558 E. Broadway
The underdog award goes to Broadway Pizza Cafe, an obscure but fiercely-loved storefront in the Zivaz parking lot. (This was Alexis and Adam's choice.) The 12-inch pepperoni clocked in at second place, with a fluffy crust that was flawlessly executed due to the long proofing times that serve to activate the yeast. Broadway Pizza Cafe is one of the only places in town that uses the high-grade Bacio cheese, which imparts a zesty zing of water buffalo milk on the pie. Plus, on game days they do a 2-for-1, so we got an artichoke pizza too.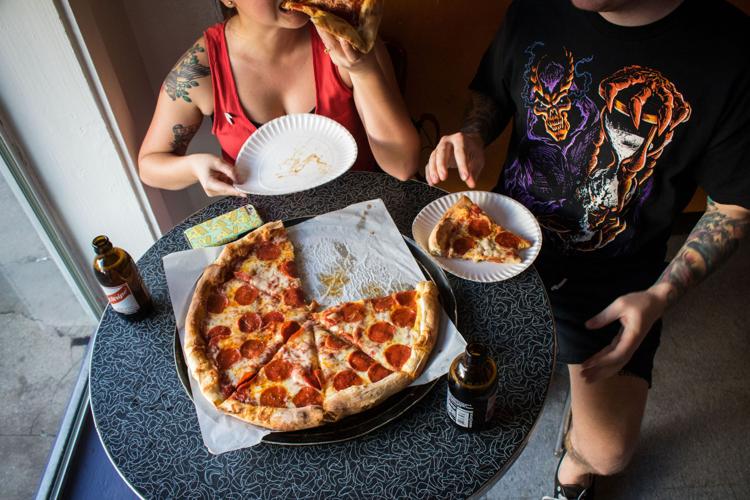 Brooklyn Pizza Company, 534 N. Fourth Ave.
Brooklyn has the most "aesthetically pleasing" pie of the bunch, Alexis noted as she took a sip of Red Stripe. "The puffy edge is super sexy." But this pie had some serious issues that only came out when you got to know it. Mostly, it was undercooked, with no crispiness or chew to the crust. Just puff. Perhaps since it was so busy at 5:30 p.m., the solar oven was running cool. "Of all the days to underperform," Adam said. "Maybe because it's the fourth *ucking pizza place of the day, but this just doesn't taste like regular Brooklyn ... Every time I look down at this piece of pizza, I involuntarily shiver."     
Note: This may have been entirely our fault. Scared of waiting an hour for pizza, we ordered ahead and the pie was done by the time we got there. Who knows how long it had been sitting. 
• Overall flavor: 3.5 / 5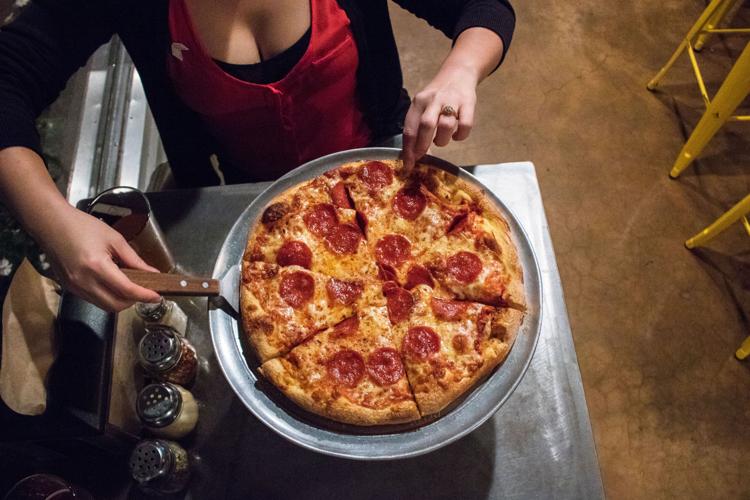 Upper Crust Pizza, 1909 E. Grant Road
Tired and #pizzawasted as the sun went down, we struggled through this last one. Fortunately Upper Crust puts out a solid effort: a "tasty pizza" with minimal tip flop and a nice gooey cheese pull. The crust was memorable for me, as it had sprinkles of cornmeal that rubbed off onto the pan. Sometimes cornmeal can make the crust too dense, but "the crunchiness made up for the thickness of the crust," Alexis said. Not sure if she still meant it when she had to carry all those heavy pizza boxes into the house. Don't worry, the leftovers were not wasted. 
• Overall flavor: 3.5 / 5
Stay tuned for Pizza Parts II, III, IV and V, where we explore Tucson's best Chicago, Neapolitan, Old School and Hipster pizzas. Oh me oh my oh pizza pie!