It looked like any other day here at the gateway to Nogales, Sonora. Nothing but a gray building and a woman carrying a blue wreath through the checkpoint, patiently maneuvering her flowers around the steely rods of the revolving gate.
Once you're in Mexico the scene gets a little livelier. You walk through a corridor of pushy pharmacists, taxi drivers and chiltepin vendors to get to downtown. There's a steady stream of customers at La Espiga de Oro, a downtown bakery that advertises its selections of pan dulces through the glass window.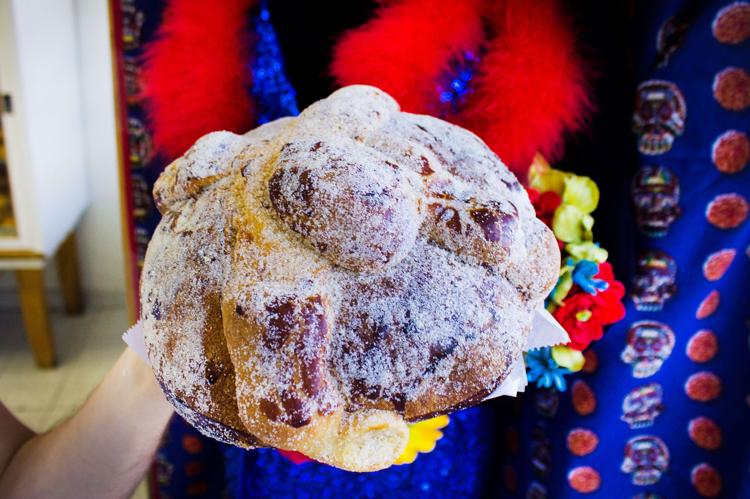 This afternoon the shop is mostly selling pan de muerto or "dead bread," a sugar-dusted roll that's only eaten a few weeks a year. The fluffy bone loaf is used as an offering during the Mexican holiday Dia de Los Muertos, or Day of the Dead. 
Most of the people who come into the shop are picking up loaves to bring to the cemetery, where the real shebang is going down.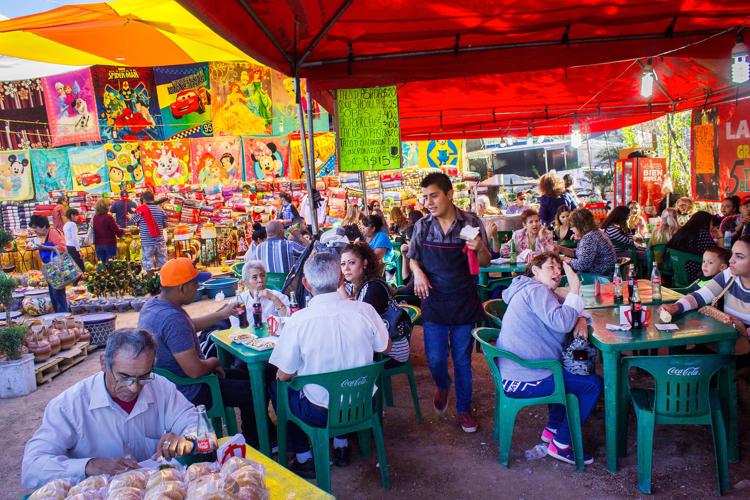 The city of Nogales comes together each year for a weeklong festival called the Feria del Hueso or "Bone Fair," to celebrate this holiday with Ancient Aztec roots. My coworker and I went Nov. 2 during the most popular day of the festival. Less than a third of a million people live in Nogales and its surrounding areas, but dang, there must have been thousands of people packed in here.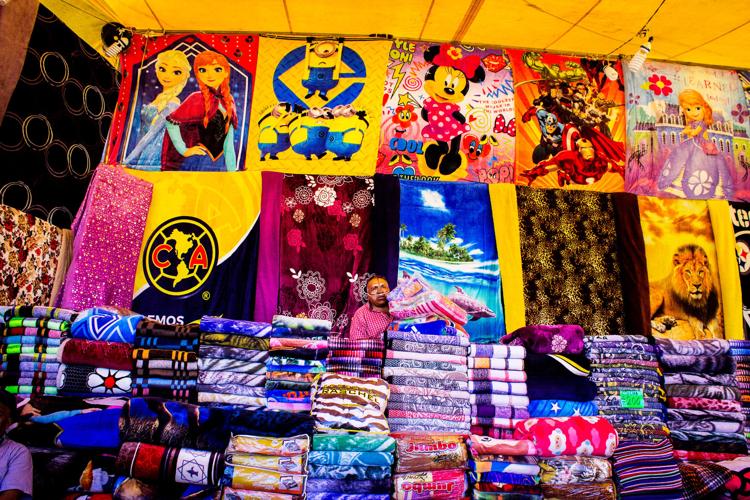 It's a little bit of a trek and if we hadn't asked we might have missed it ... To get to the Panteon Municipal de Nogales from downtown, you walk west on Calle Reforma, which hugs the fence for a spell until it curves south to a smaller cemetery, which we initially thought was the main one.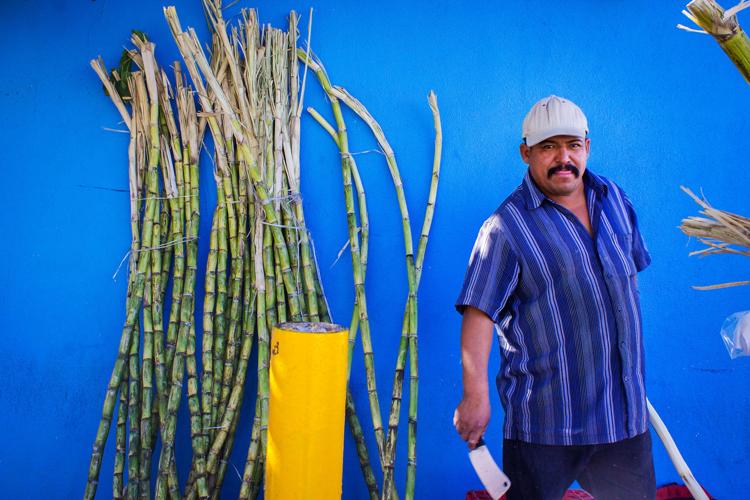 Outside of the cemetery we saw vendors selling colorful flower displays and this man, cutting up stalks of sugarcane imported from the state of Colima in Central Mexico. You bite down on the sugarcane, and it fills your mouth with a sweet juice.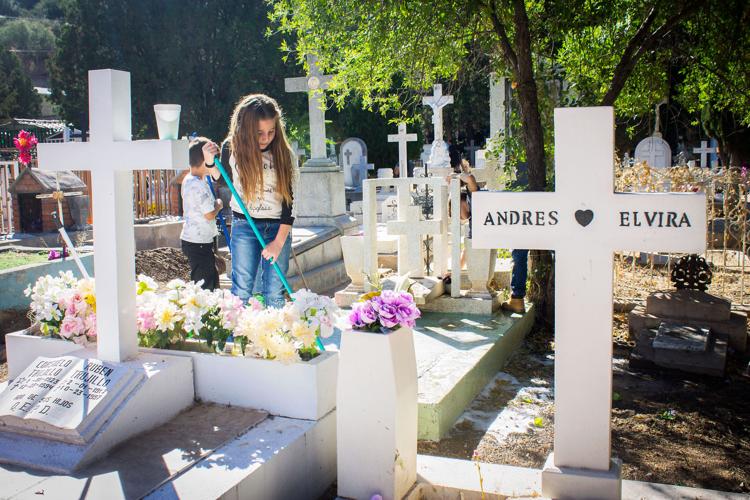 This portion of the cemetery was pretty calm, with families sitting and chatting around graves of their loved ones. When you walk in through the gate, kids carrying brooms come up to you and ask in Spanish if you'd like them to clean a grave for you. I saw a group of kids sweeping a raised tomb, and they told me it belonged to their grandmother.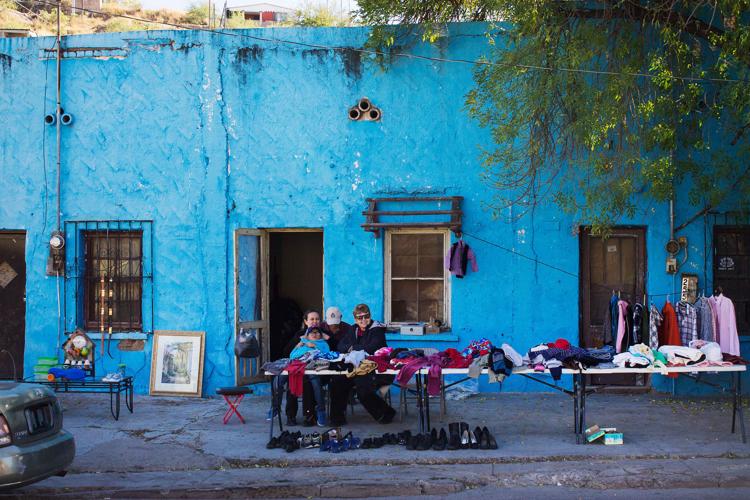 Get back on Reforma and keep going, and you begin to see the yard sales. Nearly every house on the street was selling their belongings: old shoes, shirts on hangers, houseplants, etc. ... Pretty smart business move, if you think about it.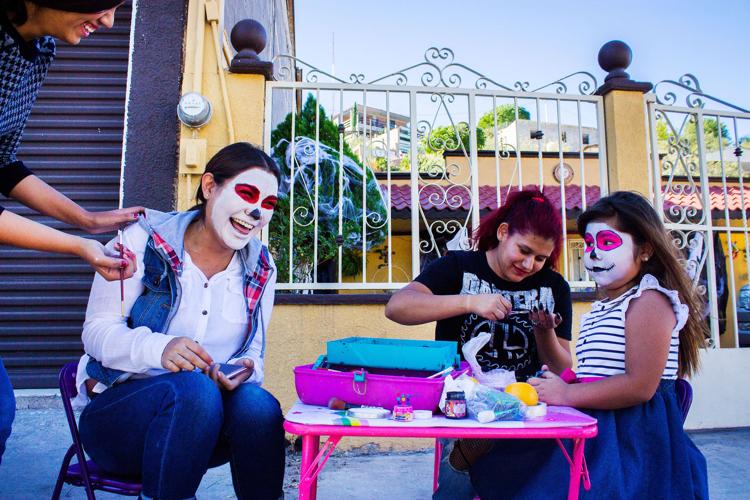 We also saw a small group doing face painting in the style of the Catrina. If you've been to All Souls or seen James Bond, you might think everyone's wearing this stuff. But in reality, almost everyone in the crowd was plain-faced, in regular clothes. (Note: The Catrina was actually popularized in the 20th century after a satirical cartoon. It's not part of the original holiday.)
Although we did see these guys later at the top of the hill. They were pretty cool ...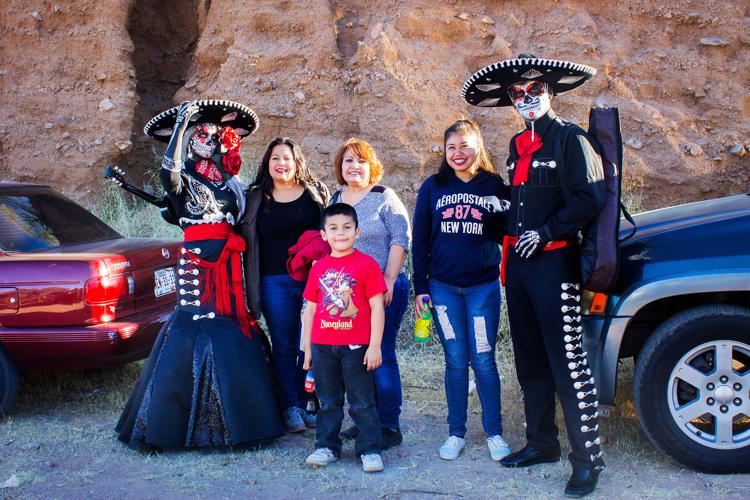 A little further down the street, we came up to the traffic jam. The small road that led to the cemetery was packed with dozens of cars, some of them filled with skeleton people. Follow the blaring cumbia music and you'll arrive at the carnival, set up in a dirt lot next to the cemetery.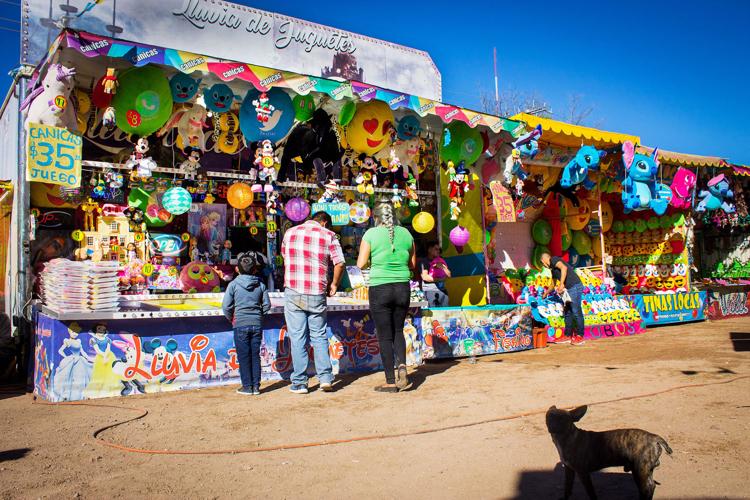 Lots of fun games over here: You can try to lift an old Corona bottle with a stick, or toss a peso onto a paper diamond. (It's harder than it looks.) But be careful about the spinning teacup ride. Its $2 price tag obscures the fact that this thing lasts forever; you're spinning hellishly for like 10 straight minutes while a little man blasts Sonora Dinamita cumbia music from a speaker that whizzes dangerously close to your skull.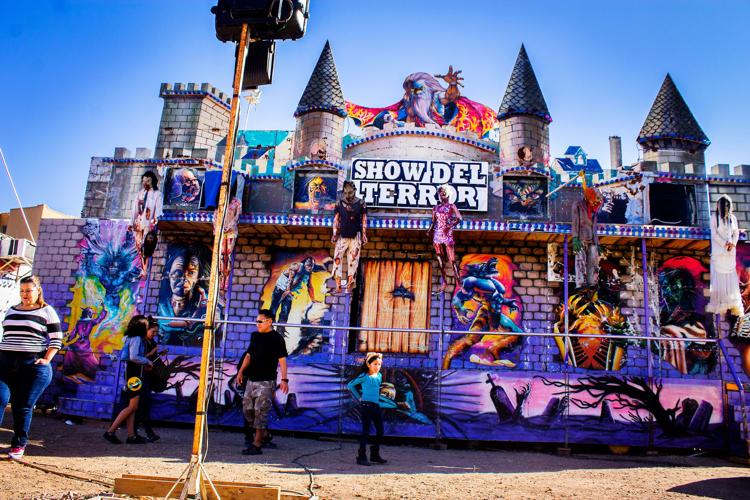 We both turned out to be fine — had we eaten more at the al pastor taco place, there could have been a disaster on our hands ... but honestly, I can't remember having that much fun in years. 
Once you come out of the carnival you're met with a colorful array of food vendors selling dishes from all over Mexico: intricate fruit displays with Oaxacan grasshoppers, corn masa huaraches and spinning pillars of chile-glazed pork.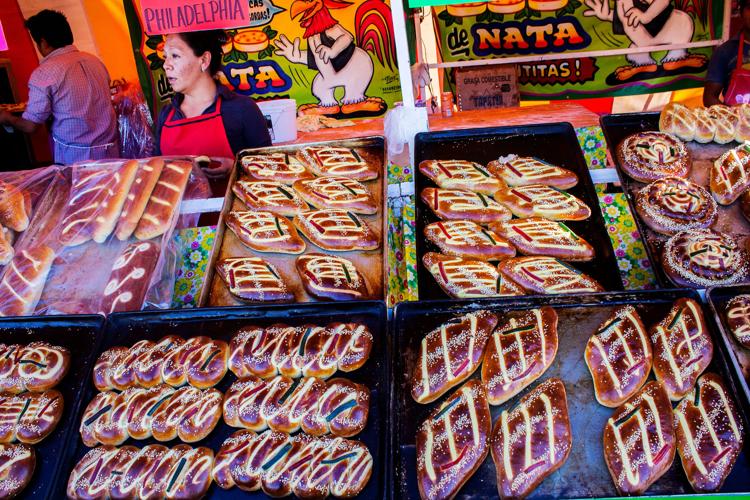 And of course: the eggy pan de muerto and its sweet bread cousins, which look curiously like pretzels. Vendors ripped off fluffy sweet samples as you walked by. Behind the counter, you could see people furiously rolling dough to make more for the crowds.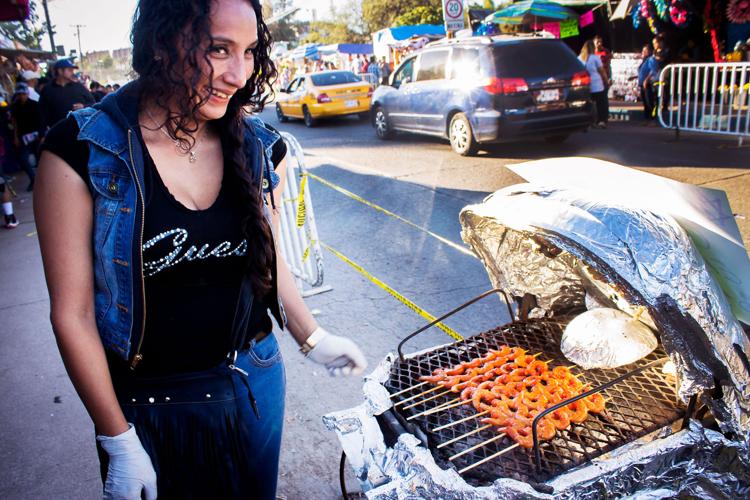 This woman was selling shrimp kebobs done up Jalisco-style in a saucy secret recipe that tasted of spicy mayonnaise. She called them Camarones Embarazados, which means pregnant shrimp. But it was actually a pun: the shrimp are cooked "en barra" (on a stick) and "asado" (grilled).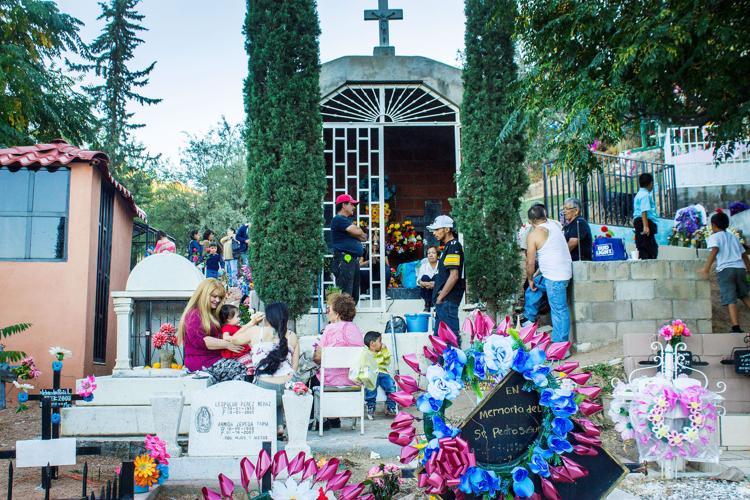 All of this leads up to the sprawling old cemetery, built onto the sides of a big hill that rises above Nogales, offering a spectacular view of leafy canopy below. The stone altars were punctuated by flowers of every color, with elaborate displays often overflowing with crosses and willowy fabrics.
Families would sit around the graves in circles passing around foods, smoking cigarettes and pulling beers out of iced coolers. Some were laughing and chatting together. Some were holding back tears and looking into the sky.