About 40 first-grade students sit in the shade of a ramada on a hot autumn day at the Cooper Center for Environmental Learning.
They're visiting Camp Cooper for a half-day field trip with TUSD's Lineweaver Elementary School.
"You know, this is also a classroom," says Kellie Sheehan, AKA Night Hawk. "The floor is dirty. The ceiling is blue and the walls are different colors of green and brown. And, we have lots of neighbors."
Each camp leader has a different nickname that relates to nature — Night Hawk, Tortoise, Bear and Elf Owl to name a few.
After hearing from all of the camp leaders, the children split into two groups to go for a nature hike through the lush desert of the Tucson Mountains on the west side of town. 
Around each curve there's something to learn from — mesquite trees, dead and living saguaros, roots, animals.
The group stops to look at a majestic saguaro with 13 arms.
The camp leader talks with the students about how long it takes for saguaros to grow — meaning this one must be pretty old. 
"What would you do if you had 13 arms?" asks group leader, Gabe Gerson, AKA, Tortoise. 
"Play more video games," a student yells out, earning a few giggles from the rest of the kids. 
The class observes the differences between the landscape they were in when they were walking along the wash and when they were walking in the desert. Most notice there were more cactus and fewer mesquite trees outside of the wash.
This goes on for the duration of the one-hour trek through the wilderness. Observations are made and questions are asked and answered.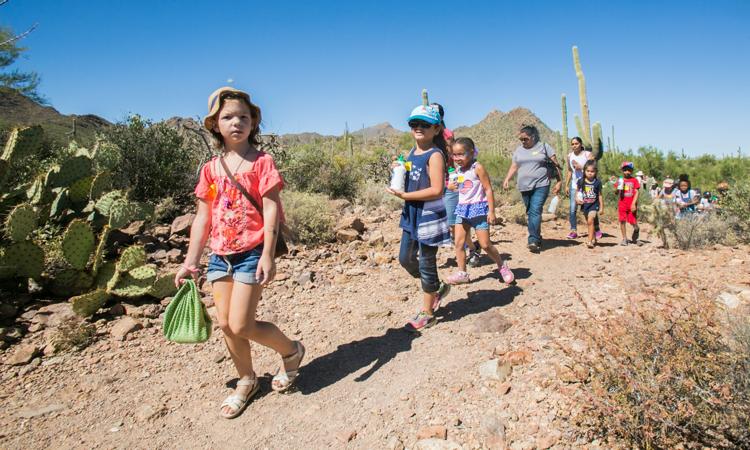 For Tucson Unified School District, field trips are planned at the teacher and school level. Budget cuts and time constraints mean teachers are finding it harder to go on as many field trips as they'd like. 
Teachers have to fill out paperwork and explain how the trip supports what is being taught in the classroom, find funding and secure transportation.
"We have to be very specific and list standards and objectives to justify any field trip," said Cindy Smith a fifth grade teacher at Kellond Elementary. "For example, our Pima Air and Space trip supports our models and design unit we started off the year with and our solar system learning we are doing now."
One set of forms teachers have to fill out is six pages long said Elizabeth Bouwens, a second grade teacher at Hollinger K-8. And those forms have to be turned in at least six weeks in advance if they plan on using a school bus. 
Since there are costs involved — a TUSD bus is $150 and local-attraction entry fees run between $2 and $8 per student — teachers have to find ways to fund their trips. 
As an example of what that looks like, it would cost $275 for a class of 25 students to take a bus on a field trip that has entry fees of $5 each. 
Bouwens, who's been teaching for 24 years, said she takes her class on four to six field trips per year. 
"It used to be more — six and sometimes 8 — but we cannot afford them anymore," Bouwens said. "We are lucky at my school to have an active parent association. They do fundraisers and use the money to help us with our trips. For example, Cooper was $8 per student plus the bus. We asked the kids for $4 each. Many donated more than that, some did not donate anything ... For other trips, sometimes we don't get enough so I pay the difference. Other times our parent association pays the difference."
To help ease costs, Bouwens tries to find trips that don't cost anything. For example, Sabino Canyon is not charging for field trips this year and DeGrazia Gallery in the Sun has not charged in the past, she said. 
"If a place does not charge admission, like the rodeo, costs are simply transportation," Bouwens said. "We walk to the rodeo so it is our only completely free trip."
Parent Teacher Organizations are a key element in funding trips, usually covering the costs of transportation. If not, teachers have to rely on parent volunteers to drive.
Families are often asked to pay entry fees, but if they can't, teachers sometimes pay for it themselves, use tax credit money or donations.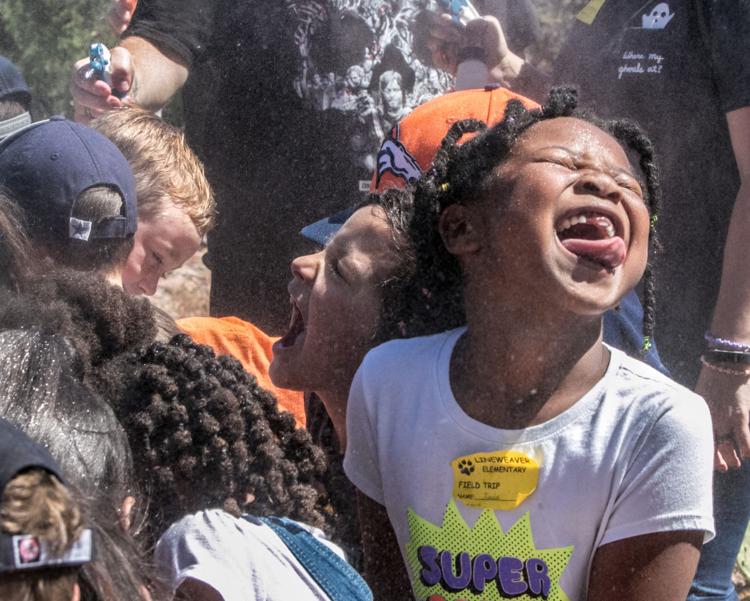 "We can ask for donations from families but if students can't donate (many can't) we have to find funding," Smith said. "I have paid out of pocket, used tax credit money that is donated to the school and PTO will sometimes help out. They usually will fund a bus, but we like to use buses with another class since it is more cost effective."
Smith takes her classes on two to five field trips each year, depending on what she can find that has minimal cost and supports the learning. 
However, it's not always an easy feat.
"Paperwork nightmare, cost, getting volunteers, the push to increase test scores — it's all part of the job but takes a lot of planning and prep," Smith said. "Example: I went to Pima Air and Space last weekend for a dry run to plan out our visit a little. Don't need to do that all the time but it makes for a smoother, fun learning experience."
Costs for a Camp Cooper field trip are $5 per student for a half-day; $8 per student for a full day and $10 per student for overnight experiences. But Waite said these trips are so important and valuable to a child's education that he would never turn a group away because they couldn't afford it. 
"Ninety percent of the audience at Cooper is TUSD schools and every TUSD school has Title 1 students and those are the kids who need it the most," Waite said. "Their families are not going to the Desert Museum or national parks. They have parents working two jobs or don't make enough to do those things so when those kids arrive at the center it's brand new. They may have never been outside of their neighborhood or city...If we charged at Cooper what it cost to run programs we would eliminate our audience. I would never turn away a group because they couldn't afford it. I would find the funding. We would find a way because it's that important. It's the kids who need it most."
Why field trips are important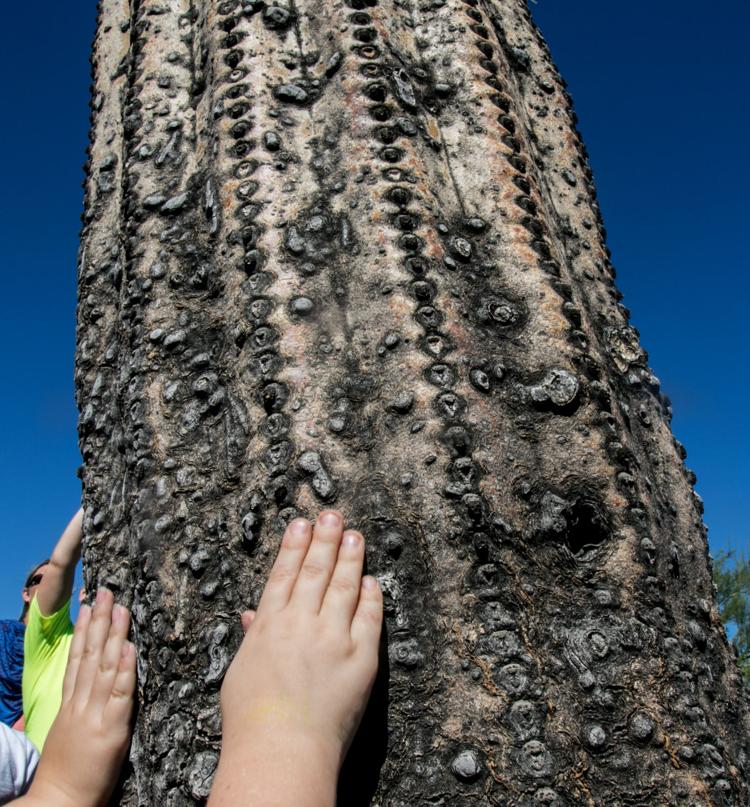 Fans of field trips say getting students out of the classroom gives lessons real life context, making learning more enjoyable and successful. 
"If you're learning reading, writing, math in a vacuum that has a curriculum that doesn't relate to the world they live in, they're less likely to enjoy and appreciate learning it," said Colin Waite, director of Cooper Center for Environmental Learning. "If you teach a concept in the classroom and you come to Camp Cooper and see it in action — you're using senses to explore and see wildlife and saguaros are towering over you — there's this inspiration that happens that makes them more successful."
Amber Gurney, a parent chaperone on the Cooper trip wants the real world experience for her kids. 
"I want them to learn real stuff and not just book stuff," Gurney said. 
First-grade teacher at Lineweaver Elementary, Elizabeth Cummins, says another important aspect of going on field trips is that it gives students the chance to go to places they might not be able to otherwise.
And, it teaches important skills.
"Not only do they learn a lot on our field trips, but they also learn about how to ride on a bus, sit in a hall as an audience, etc.," Cummins said. 
Cummins tries to take her classes on four or five field trips each year and has since she started teaching 15 years ago. 
Taking trips together is a way for the kids to build community, says Elizabeth Bouwens, a second grade teacher at Hollinger K-8.
"Field trips are very valuable both to my kids individually and as a group," Bouwens said. "Field trips are special experiences that students talk about. We also have a scrap book with photos from the trips we take together; my students can read the scrapbook during reading groups. So, field trips are a great way to build community based on shared experiences. Individually, many of my students would not be able to visit the places we go because of money and/or time restraints. Additionally two of the field trips we take are not open to the public."
Because of the economic challenges its families face, the Sunnyside school district places a high value on field trip opportunities, said Victor Mercado, Sunnyside spokesman.
"Field trips — whether they are academic, athletic, social or related to the fine arts — offer our kids opportunities to travel to different cities, visit college campuses and interact with students from other districts who come from diverse backgrounds," Mercado said. "Field trips enrich the student experience at all levels."
Families can help by donating tax credits to their child's school. 
They can also join or get involved with their school's parent organization to help with fundraisers or donating money.
That's not the only way to help, though.
Parents can go on the field trips as a chaperone and, if possible, volunteer to drive a few children to the destination.
"Also, they can offer suggestions of field trips they think would be beneficial to our kids," Bouwens said.
'I learned about the desert'
After the Lineweaver students had lunch, Costas Manoli, associate director of Cooper Center had a surprise for them.
Upon removing a pink and green pillowcase from his arm, the children gasped in surprise. 
"Is it real?" a few of them asked of the king snake in Manoli's hands.
"Shhhh," he tells the children. "This is a king snake. Do you know why they call it a king? Because it can actually kill and eat a rattle snake."
After talking about the species, Manoli takes the snake around so the kids can touch it, but not before going over some basic rules — be quiet so as not to scare it and to only touch the part he tells them to.
Ooohs and awwws fill the room as the kids take turns touching the king snake. 
"I like having fun," said Mercedes Howard, 6, about her day at Cooper. "I liked feeling and touching the dead cactus. I learned a lot about the desert."
---
Briana Apodaca, a University of Arizona journalism student who is an apprentice at #ThisIsTucson contributed to this story.