For two years, crossing guard Kathy Engdahl has brightened the mornings of motorists and school children crossing the street at Camino Seco and Kenyon Drive with her friendly smile and enthusiastic wave.
That friendliness and dedication to getting children across the street safely is why she was named  the 2017 AAA Crossing Guard of the Year at a surprise assembly at TUSD's Harold Steele Elementary School Friday morning.
AAA Arizona started searching for the 10th annual award winner at the beginning of the school year. The organization received hundreds of nominations from people describing why their school's crossing guard should receive the title.
Here's what some of Engdahl's nominators said:
"She calls most students by name and really keeps an eye on them."
"She takes her job seriously to get the kids to their destination safely while trying to add a little something positive to their day."
"Kathy takes the mundane and brings smiles to the kids. She dresses up to fit the occasion, ranging from Halloween to Easter to Valentine's Day to Christmas."
Finalists were chosen by AAA traffic safety staff before observations were made of each guard on duty.
Valerie Vinyard, a spokeswoman for AAA, observed Engdahl in action. 
"She stood out because she waved at me. She does that to everyone and she made eye contact," Vinyard said. "And she's really conscientious."
The school's principal, Lisa Thomas, said being a crossing guard at that location is a high-anxiety job because of how busy the street is, and requires somebody to "be really aware." 
"And she does it with a smile on her face," Thomas said. "And she's often the first school personnel member the kids face in the morning and it's nice that they feel welcome and taken care of."
When the announcement was made to an auditorium full of cheering children and staff, Engdahl covered her face in surprise. 
"Kathy, out of every crossing guard in Pima County, won Crossing Guard of the Year this year," Vinyard announced to the children, as she handed Engdahl her award.
Until that moment, Engdahl had no idea why the school was keeping her there longer than her shift. 
The title came with a plaque, a $500 gift card for Engdahl and a $500 gift card for the school.
"This was just so overwhelming," Engdahl said. "It's great."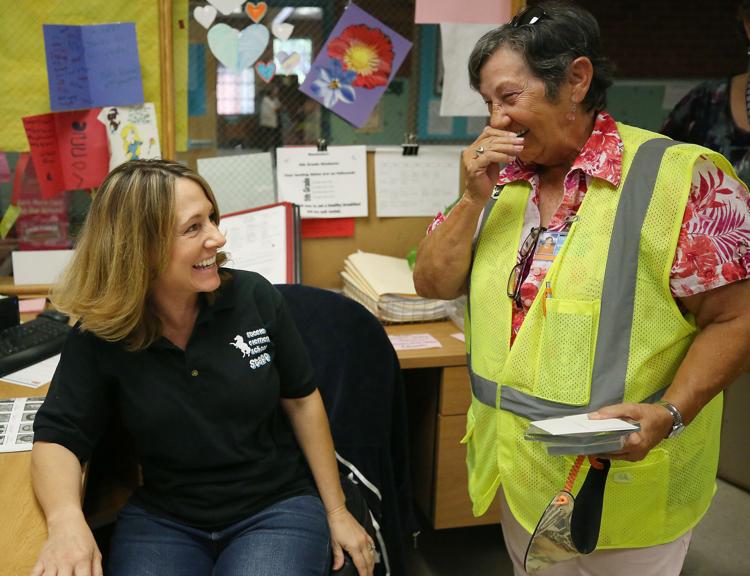 We caught up with Engdahl after the assembly to ask her a few questions. Here's what she had to say:
Why did you become a crossing guard? 
My husband and I were retired and we kind of got bored a little bit, so we decided to try something. He's a crossing guard at Henry Elementary.
Why do you continue to do the job?
I just love the kids. I really do. And you know, waving at people that go by, if we can give them a smile, it's awesome. It's just a great feeling.
What has been your most memorable moment on the job?
The Friday song. I sing it to the kids on Friday. It's Monday's a bummer, Tuesday's only fair. Wednesday's getting better, Thursday's almost there. But Friday, Friday is my favorite day. And the kids sing with it.
Do you have any words of wisdom for motorists driving in a school zone?
Please stay off your phones and slow down.
How about for parents that might be walking their kids to school?
Keep your eyes open. Get off your phone. Spend that time with your kids.