Brittney Regalado, a 17-year-old senior at Sunnyside High School scrolls through her phone looking for a "professional photo" of herself. 
She holds up a selfie with a Snapchat filter on it for approval from her teammates.
"No, let's take one on the white wall," Evelyn Acosta, 17, suggests. 
The girls walk over to the blank wall in Sunnyside's library to snap the perfect candidate photo, while the rest of the team works on a speech.
Brittney is running for Congress at Running and Winning, a nonpartisan, one-day interactive workshop that teaches high school girls about running for office.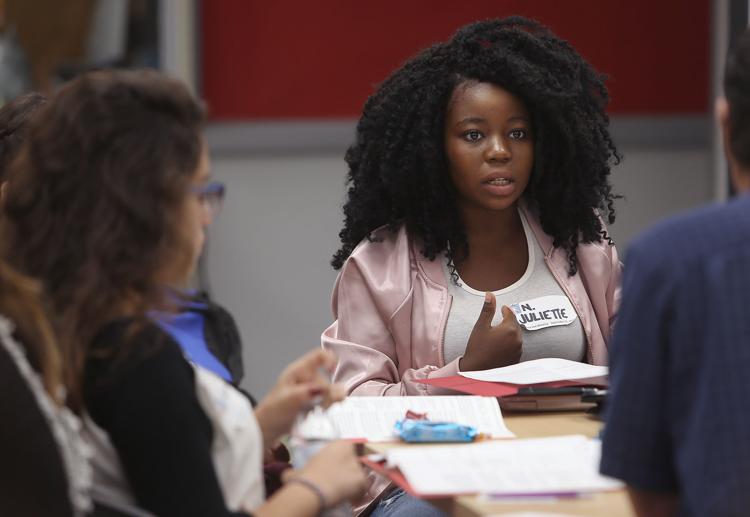 About 60 girls from the school were chosen by teachers and counselors to participate in the event, which included the chance to talk to women from Tucson, Pima County and Arizona who have served — or currently serve — as elected officials. Three justices of the peace, women from the TUSD governing board and Rep. Martha McSally were among the lineup.
It was moderated by Lisa Abrams, a judge serving on the family law bench of the Pima County Superior Court.
The event is important to Abrams because she wants girls' voices to be heard.
"We've all had that feeling that you may be sitting at the table but your voice isn't being heard," Abrams said. "How do you overcome that? I think it's resiliency."
Abrams shared a story of a problem she faced in law school that ultimately shaped her and helped her find her voice.
"In my experience as a law student, the associates were going to lunch at a topless bar. I didn't want to go so I said 'No thank you,'" Abrams recalled. "I got back to a note on my desk that said, 'You stood me up for lunch you whore.'"
She used that experience to develop sexual harassment policies and it created a passion in her to become a lawyer specializing in issues such as sexual harassment and domestic violence.
"I turned that negative experience into something empowering," Abrams said. "We (women) need to be at the table where decisions are being made."
This is the 15th year for the Running and Winning program. The event is coordinated by the League of Women Voters of Greater Tucson and was co-sponsored this year by the Tucson and Casas Adobes branches of the American Association of University Women, the YWCA of Southern Arizona and The Center for Community Dialogue.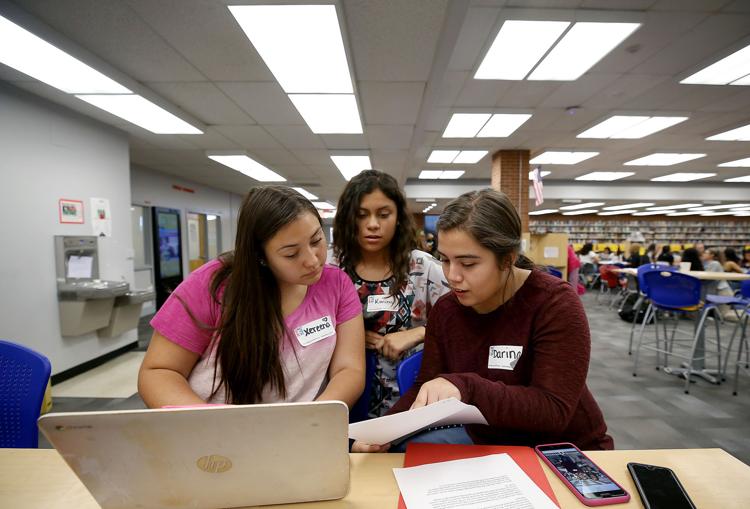 "We want young women to be aware of government and how politics work and hopefully some of them will grow up and run for office," said Phylis Carnahan, Running and Winning's chairperson. "We (women) make up 51 percent of the population but are underrepresented in Congress."
During the event, girls were broken up into 10 groups. One girl in each group was chosen to run for Congress. The rest of the girls became campaign managers, communication directors and publicity committee. They chose an issue that would serve as the platform for their campaign, created a presentation and then presented it to the entire group.
"We don't want special treatment. We want equality," says Evelyn Acosta, 17, as she assisted her team with the speech. Their platform was equality for the LGBTQ population. "It's always been a big issue, especially for two of us. Honestly, me being a lesbian, I love this so much. All opinions are great, even those that don't agree with me. I love that they think we should all be equal."
Another team, using LGBTQ equality and racism as their platform, says it's a major topic.
"Racism happens every day. Discrimination happens every day and it should be stopped," says Velynda Camberos, a 14-year-old freshman. "We can stop it by teaching people at a younger age so future generations don't face these problems."
Odeth Amador, a 17-year-old senior was the candidate on her team. The issue they chose was free tuition for college. The issue is important to her because she has set lofty goals for herself, but can't afford college. 
"I believe everyone should receive free tuition," Odeth says. "I want to run my own business in the future, but I don't have the funds to pay for college."
"We believe those who work hard in high school deserve an opportunity to go to college," adds teammate Litzy Aparicio, 17. "Even though there are pros and cons, it will benefit the future of America."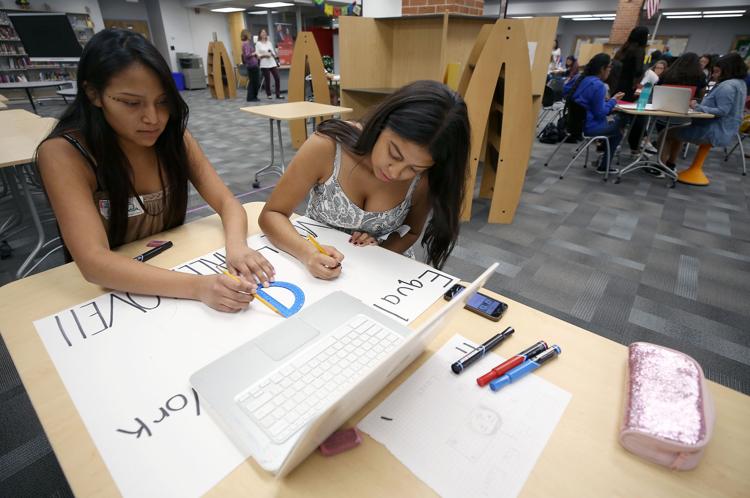 Isabel Reyes, a 14-year-old freshman, says she wants to be an environmental lawyer when she gets out of high school and this experience has reinforced that dream.
"They gave us a lot of advice for the future," Isabel says. "This one lady said that when somebody told her she couldn't do something it made her want to do it more. I think I will always remember that."
Gema Molina, a 16-year-old junior also wants to go into law. She is already working toward that by taking a law class and has found Running and Winning helpful.
"I want to help teens who get arrested get back into school," Gema says. She says Running and Winning "is helping me see it's possible and there are people who care."
After each team made their presentations, the girls voted for their favorite candidate — Jennifer Duran, a 17-year-old senior. The topic her team chose was mental health.
"Her speech was very impressive," Carnahan said.
Jennifer was sworn in by Judge Abrams with the same oath given to actual members of Congress.