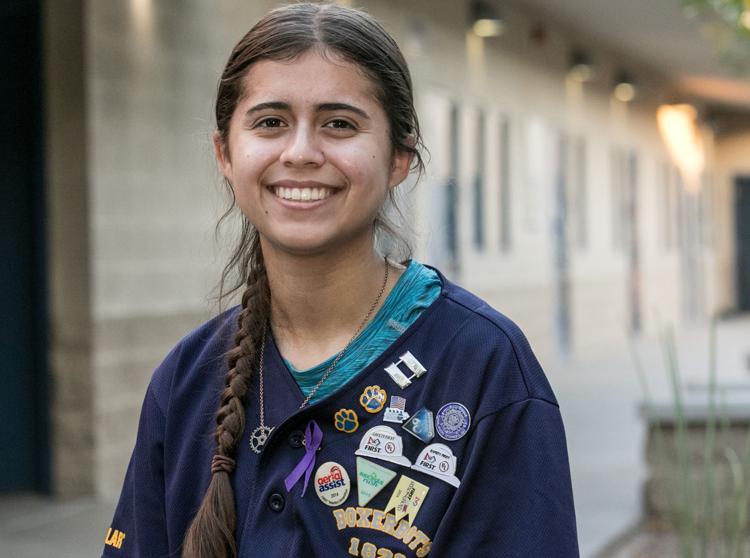 The first time Trinity Peters saw the 1828 BoxerBots compete, she knew she wanted to join the team.
Peters, 18, is now captain of the BoxerBots, the robotics team for Vail School District.
Peters, a senior at Empire High School, is in her second year as captain and fifth year on the team. She joined in eighth grade.
"One of the most amazing things about Trinity is how well she runs our robotics club," says Empire High School chemistry teacher Hillary Ward. "She has taken that leadership position and extended the club to the larger community. She does speaking events, for example, going to speak at Raytheon to get them to donate funds. She looks for outreach events to take robots to let other people try."
Peters said BoxerBots meets twice a week from July to December. Starting in January, they have six weeks to build, program and wire a robot for competition. In 2015, the Vail team won state.
This year, the team has more than 40 students, each in specialized teams such as building, media and business. Peters oversees all of them.
The team does outreach in elementary and middle schools and works with other STEM (science, technology, engineering and mathematics) clubs and camps.
For the last two summers, Peters has also worked with the Youth Engaged Stewardship program, restoring and preserving the Cienega Watershed.
She wants to put her passion for math, science and the environment into studying environmental engineering. The robotics team promotes "varsity engineering." Peters already has her letter jacket.
Peters envisions using her STEM skills to teach others, particularly those in lower socioeconomic situations, about environmental issues and how to address them.
"I would want to help with working towards providing better quality education (to include STEM programs I was fortunate to be part of) to students living in impoverished areas, so they can achieve their goals in the future," she said.
Or maybe she'll just run for president. She hasn't ruled that out yet.
Peters has also taken an interest in encouraging other girls to pursue STEM careers.
Girls make up about one-third of the robotics club. Peters would like to see that rise to 50 percent.
"I have seen that a lot of her peers are outwardly excited about science, especially the girls," Ward said. "It's really cool to see that (A) being a nerd is cool, and (B) being in robotics and doing coding is all of a sudden cool among these girls."
How she would encourage her peers
Peters said she struggles with anxiety, but that hasn't stopped her.
Those personal challenges — and the challenges inherent in math and science — make her a better problem solver and critical thinker.
"The challenges of (STEM) might seem difficult, but they are needed to advance in society and progress our current society to a better future," she said. "STEM helps you with that."