You don't have to sell your princess tiara to spend a day at the Arizona Renaissance Festival. 
If you cringe at spending $26 per person to enter Ye Olden Times, we have some tips for stretching your budget and having a very magical day. 
First of all, look at a trip to the Renaissance festival as a mini staycation (or experience) — make it a girls trip and you'll only have to pay for yourself, or take a date and pay for two. 
Standard admission to the festival is $26 for adults and $16 for kids, ages 5-12. Kids younger than 5 are free and seniors and military personnel can purchase tickets for $23 with ID at the festival box office. Parking is free. 
Expensive. Yes. But now let us wave our magic wand. 
If you purchase your tickets at Fry's, not only will you skip the mega box office line at the festival, but you'll save $2 a ticket. If you purchase your tickets online, you'll save a dollar and avoid the line as well. 
But it gets better. You can pick up a free admission ticket for kids ages 5-12 at a Wendy's or Hall of Frames, 4811 E. Grant Road, or just download the coupon here. 
Note that with both the coupon or donation options, you'll have to deal with the box office line. 
Once you're in, though, everything is free or relatively cheap. 
On our trip on President's Day, we fed a unicorn ($1), threw four battle axes ($3) and watched a joust and a few other shows (all free). 
From what we could tell, most activities were just a few dollars or free and the shows are all free.
Besides exploring the shops, we founds lots of other free activities: A petting zoo, hula hoop and juggling-sticks hut and a folk life village, for example. Plus, lots of performers seem to enjoy engaging kids during their shows, adding to the experience.
Really, you could spend the whole day here without paying for anything other than your admission and some food.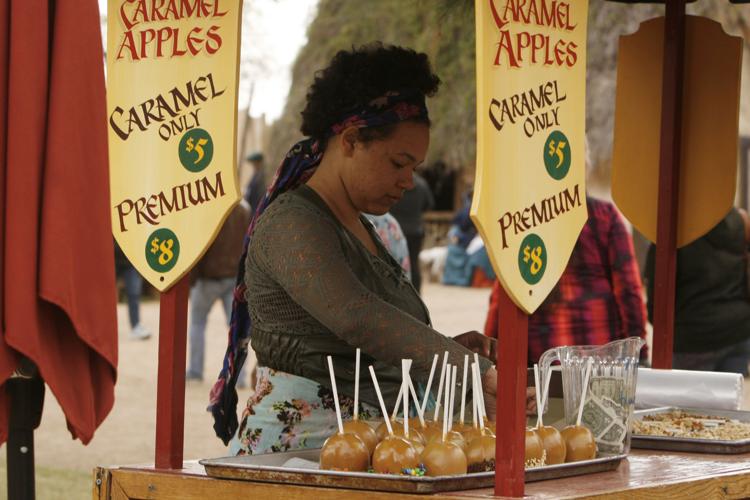 At lunch, we ate like queens. The bread bowls seemed like the best value for your money at $6 each. Plus there's lots of variety — beef stew, chili, broccoli and cheese, spinach artichoke. And then there's the iconic turkey leg for $9 and an ear of corn for $4. All of that was palatable for us. Only the $9 steak on a stake felt severely overpriced for a tiny hunk of skewered meat. 
Save a few bucks on food by eating a big breakfast before you go, so you're less hungry, then splurge on one or two items to share. You're not allowed to bring food into the festival but you CAN bring your own water, which will save you $2 per person. Sounds small, but it adds up if you have a family. 
As a sweet end to our day, we bought six clusters of chocolate-covered strawberries for $12. Pricey but so yummy. (It's worth nothing there is potential here for free samples).
We also saved some money by making DIY flower crowns with dollar store materials a few days before our trip. Great deal considering we have enough leftover supplies to make something else. 
Also, it's free to enter contests and it'll add even more magic to your experience. For example, March 10 and 11 is all about pirates. If you're taking the kiddos, dress them up for a costume contest on Saturday. 
SOURCES: Arizona Renaissance Festival press materials.
---
If you go
What: Arizona Renaissance Festival
When: 10 a.m. to 6 p.m. Saturdays and Sundays through April 1 (rain or shine)
Cost: $26 adults; $16 children 5-12; free for kids under 5. (If you don't use any of our budget tips above).
More info: Click here. Tomorrow, we'll have a more detailed account of our festival experiences.