---
Maria Molina is a wife, mother, Pascua Yaqui tribe member and crisis counselor.
She's also a survivor of domestic violence. The kind that makes her wonder how she survived. 
The thing about Molina is that even through all she's endured, she's not angry. Instead, she uses her experiences — experiences she says she's thankful for — to help others. 
"I feel obligated to create change," Molina said. 
She earned her bachelors and masters degrees in social work, teaches at Pima Community College and is part of a core group with Emerge, a domestic abuse crisis intervention and housing organization, that educates men on unhealthy masculinity and how those dynamics play out in society. 
"It's about being able to contribute to something in a bigger way," Molina said. "As a woman I know I can't stop violence against women. It's the offenders. But I'm totally committed to helping with organizing and loving them in the process and being the voice of what their behaviors potentially do to women because I am a survivor of that."
Chaos, uncertainty as a child
Molina's parents moved away from the Pascua Yaqui community when her mother was pregnant with her to escape chaos.
"Mom and Dad had a lot of trauma from their childhood experiences, so they would drink a lot and my dad was really violent to my mom," Molina recalled. "So I grew up in that environment of chaos and unpredictability and not knowing what was gonna happen from one moment to the next."
Molina's mother was bipolar which led to more instability.
"I loved my parents a lot, but I don't think they knew how to love me the way I needed," Molina said.
When she was 13, Molina left home to live with a boyfriend and dropped out of school.
Her boyfriend was never home and his mother drank. So Molina started drinking too.
"I went through a lot of bad experiences because of my mental health," Molina recalled. "When I look back now, it was PTSD from everything I grew up around."
It got to the point where she was afraid all the time. She wouldn't leave the room. She couldn't sleep. She drank, popped pills and started cutting herself. 
"When I look at my daughters that are that age, I think 'Oh my gosh. I can't believe I went through that by myself,'" Molina said. "I was a cutter. I did a lot of things. I harmed myself a lot. I had no self-worth, no self-value. I was kind of just out there."
At 18, Molina went to work at the casino.
She met a guy there who was "super charming, amazing and beautiful," Molina said. "This Yaqui man who totally swept me off my feet."
He was 11 years older than her and she immediately fell in love. 
"We bonded because we were the same," she recalled. "Being with him was like being with my family. We drank together."
But, being on the reservation was hard for her.
"I found myself there around his people and it was hard because when he started getting violent nobody paid attention," Molina said. "People would talk about it but nobody would ever interfere or intervene when things were pretty bad. There were just a lot of violent episodes between me and him that when I think about them I wonder how I survived."
During one of their fights, he pushed Molina out of their third-floor window and broke her back.
When the cops showed up at the hospital, her boyfriend played the part of tender partner, washing her hair and taking care of her. 
"People would see the way he would attack me and nothing was ever done. I was like a punching bag in public. When I think about it now it makes me so sad that it's so normal for that to be happening in the community and nobody feels like they have the responsibility to stop it. It makes me really sad."
The relationship lasted a couple more years until one day after an argument at a bar, he was hit by a car and died. 
"I went out there and it was a huge horrific mess and my brain didn't register it right," Molina said. "I just remember the tattoo being on the wrong side of the body...After he died, I didn't really give myself the opportunity to mourn and grieve. I didn't know how."
Making connections, feeling guilty
After the accident, Molina ended up at home with her parents. 
By that time, her dad was no longer physically abusive to her mother, but was cold and distant.
"He didn't even know how to be near me," Molina said. "So, one day he came home and I was sitting on the couch crying and he walked up to me and he had an ice cream cup with a wooden spoon and he gave that to me, patted me on the shoulder and walked away. That was the extent of what he was able to do with all that he knew."
That moment made her realize that part of the problem is the way men are socialized. Yaqui men, especially, she said.
"When they talk about our people, they talk about being warriors, but I feel like there's this unspoken thing that's like, 'Look what happened to us,'" Molina said. "I think because our men are oppressed they have this rage that they take out on the people that love them. ... Experiences like that have really put a lot of connections together for me. It's like a weaving that happens and one day I was able to see the end product and I was like, 'Whoa!' I never blamed my dad. I never blamed my boyfriend and never felt any hurt or hate."
Guilt that she was alive and he wasn't.
Whenever she saw his family she wanted to run and hide.
But, at the same time, she always suspected he could have killed her.
"The way the universe remedied this was for me to survive," Molina said. "He passed away in 1996 and it was just this year, like three months ago, that I finally decided to accept the person that he was and to accept that the way I thought that he loved me was not it and also to forgive myself because I talked to women about their relationships. People would come to me in the work that I do, but I was never able to leave."
In the moment, she never thought anything was wrong. She didn't consider leaving. It was normal.
"I couldn't have lived without him. That's how I felt at the time," Molina said. "It took me a long time to realize I was confusing the intensity of the cycle of violence with 'It was intense because we loved each other so intensely.'"
The Yaqui people stay connected to those who have died through ceremonies and traditions. 
Molina stayed connected to her deceased boyfriend that way. 
That is, until the object she used in ceremony to represent him broke earlier this year.
"I think I realized that I had to accept who he was and what the relationship was," Molina said. "And I had to forgive that 20-year-old girl for not leaving and not knowing better. That was really hard and I'm still sitting with it. But, I finally feel ready to let go. Sometimes, I feel shame that it took me this long."
Even though it was so long ago, Molina is still healing, but she says it definitely shaped who she is.
When she was in graduate school, she interned at Emerge and then worked there as a temp before she started working for the tribe a year ago. 
She works with men at a men's rehab to deconstruct systems of oppression and unhealthy masculinity by creating a safe space for them to talk about their issues.
"It's interesting trying to develop a healthy relationship with men who aren't used to having a relationship with women," Molina said. "I love working with them."
It's important to Molina to use her voice and her experience to help people understand what it's like.
"Our lives are precious," Molina said. "We need to talk about these things. If we don't talk as survivors, there's no way for people to understand what it's like, especially for our men to commit to making changes. We have been dehumanized as women and we need to be humanized and show the world who we really are."
In 2004, as she started to recover, Molina met her now-husband.
It was a rocky start because of the trauma she was carrying. During that time, she looked to her culture and ceremonies to reflect, reconcile and heal her wounds. 
"That helped me find my light and my truth that I could use as my armor," Molina said. "I learned to love myself and see just how precious I am and all I deserve."
The couple is going strong now, and have been married for 12 years. 
He went through Emerge's educational program for men and is now a facilitator of the program. 
"He holds himself accountable to our sons and daughters," Molina said. "He was never a physically violent person to put his hands on me, but would do the typical puffing his chest, storming out, or the sighs — and he's really worked on those things. Now I feel safe to bring up a concern that I have. And all the years in my life I have never felt safe to confront a man about anything."
One of her favorite things about her husband is his sense of humor.
"He makes me really happy because he's a funny person," Molina said. 
Though she feels good about her secular work, Molina says that her biggest contribution in life is stopping the negative cycles in her family.
"I have six children, " Molina said. "They live in a home where there's no violence. I was able to finally be sober after a lot of years and they are growing up so different than I grew up. It blows my mind. They're amazing and they look at me and think I'm amazing. Sometimes I remember the person I was and look at the people around me and think, 'How did I get here?' Sometimes I'll just swim in that glow in their eyes and drown myself in it because I feel really blessed."
As for the violence and trauma, Molina says she wouldn't change a thing about her past.
"My experience is something I can use to elevate my children and use as medicine for the people in my community," Molina said.  "I'm just really thankful of that."
---
October is Domestic Violence Awareness Month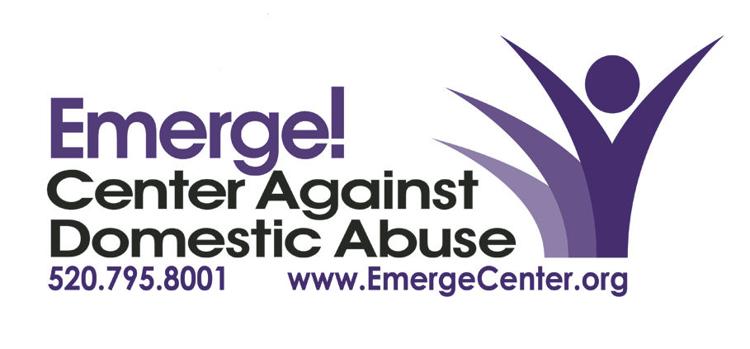 Emerge! Center Against Domestic Abuse believes that everyone in our community deserves to be safe.
Emerge! invites you to answer the call to end domestic violence and be part of the solution to create safety for all.
Together, we can end domestic abuse in Pima County.