Tanline Printing is not your typical print shop.
Trading pristine counter tops and institutional beige walls for piles of papers, stickers, t-shirts, supplies and cool machines, it's more like walking into your high school art or stagecraft class. 
When you first walk in, you're greeted by dogs, a cat, the shop's owners, Jeik Ficker and his wife, Amanda Beekhuizen, and volunteers. 
Jeik and Amanda are creatives with a passion for all things print, especially letterpress, book making and screen printing.
Tanline does offer custom printing — services such as postcards, stickers, posters, wedding invitations and more — but the shop is way more than that. It focuses on creating a space for artists to make prints, stickers, books, records and t-shirts and education.
"An important aspect is working with artists so people can come in and do their projects," Beekhuizen said. "Education is a big component of what we do. That's either in a formal way of taking a class or informal in that we have a lot of volunteers that come in."
The shop operates differently in that it basically runs on a work-trade model, meaning those interested in learning how to print or who want to work on their own projects can volunteer to help produce paid projects for Tanline in exchange for free use of the equipment to work on their own projects. 
"How we work is, you help us, we help you," Ficker said. 
Erich Irving recently moved back to Tucson after spending 32 years in New York where he managed a print shop. He said he was lucky to meet Jeik and Amanda because it has given him the chance to work on his art.
"You were like, 'Yeah come and be part of the community and print with us,'" Irving said to Ficker. "And it's the community that you create here that's really a special thing."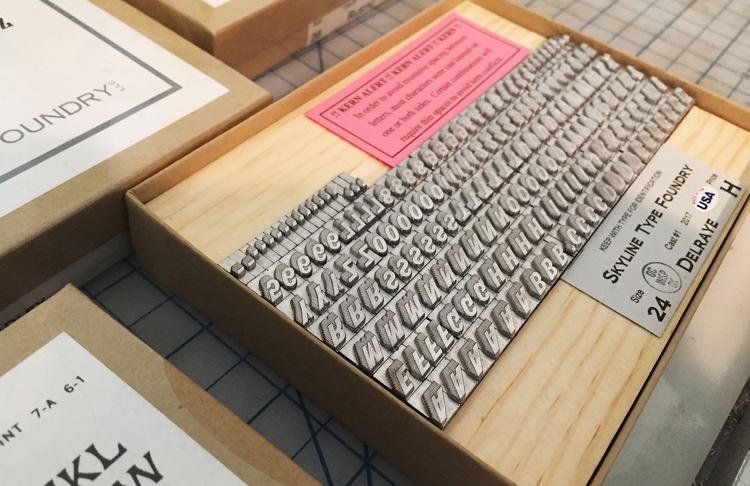 Beekhuizen is a book maker, writer and type-setter who enjoys having the space to practice and share her craft.  
"It's a more labor-intensive way of printing text, but it's really tactile and really beautiful and you have a lot of control because you put in your own space," Beekhuizen said. "You have to make all those decisions with a physical thing. I type set a lot of my own writing and I find it's a final editing process which I really love."
Tanline also co-owns Tiny Town with Ellen Wagner and Alex Roessler, a retail shop and gallery space on North Fourth Avenue that sells everything from books and stickers to art prints and cds, most of which is printed by them. Artists who use Tanline to print their own work agree to give part of their run to Tiny Town to sell in the store as part of the work-trade deal. 
"We decided to do retail because we all print a lot," Ficker said. "It's been a complete success. ... The people here who make stuff, instead of paying studio fees, we take part of their runs and sell it in the store. The model is always evolving."
Stickers created and printed by Tanline are sold in vending machines placed in different businesses such as Hotel Congress, Che's, St. Charles Tavern and La Cocina. Ficker said he has three more that need homes. 
Tanline also produces a quarterly publication, "Tiny Town Times," which is full of poetry, art, stories and more. 
"It really has an emphasis on making things in the community and telling different stories and it's a place for people to find an outlet for their writing," said Liz Levine, the paper's editor and copy editor. "It's a really exciting thing to do."
The centerfold of each edition is a piece of art readers can take out and hang on their wall.
"It's great," Ficker said. "I feel like everything we're doing ties with each other, like the magazine we're doing, Tiny Town and the print shop. ... It's just fun being able to work on these projects with people."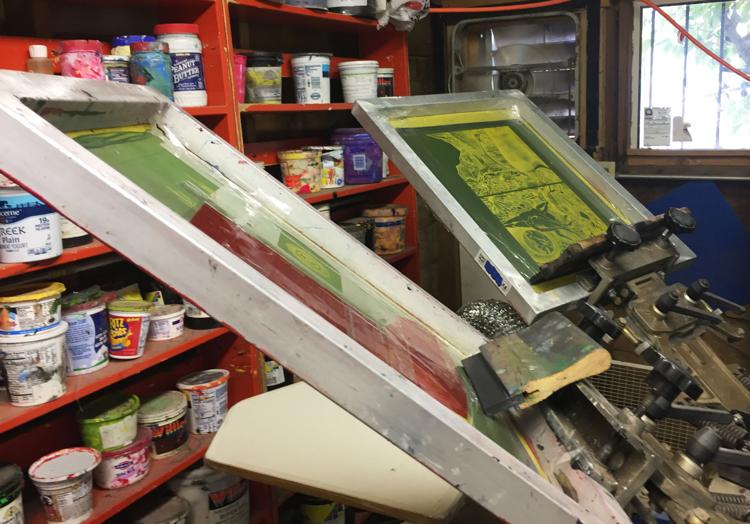 Upcoming classes
Tanline offers screenprinting, letterpress and bookmaking classes periodically.
What: All-Levels Letterpress
When: 10 a.m. to 4 p.m. Sept. 16
Where: Tanline Printing (you'll get the address when you sign up)
Volunteer info