Anita Kellman's kind eyes, welcoming smile and small frame immediately put you at ease when you meet her. 
But she is a force to be reckoned with.
Participants in her twice-weekly Beat Cancer Boot Camp classes — and people all over the country — call her Sarge. And for good reason. 
"If you're looking for a touchy feely support group, I'll send you somewhere else," Kellman says. "You got 30 seconds pity party with me then it's back to push-ups."
+1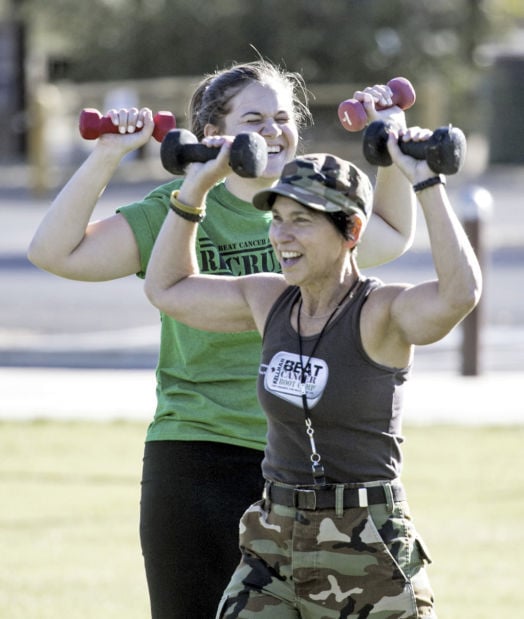 As a certified patient navigator in a breast surgeon's office, Kellman is with patients when they get a cancer diagnosis.
She sees the way they feel when they lose control of their daily lives going to treatments, seeing doctors, having surgery. 
That's why she created Beat Cancer Boot Camp, an eight-week session of boot-camp-style workouts, social time and support for cancer patients, survivors and anybody who wants to go. 
"I don't care if they do anything," she said. "Just come out and sit with us. The whole idea is to do something positive...Being around positive people who have been-there done-that helps you see the light at the end of the tunnel."
Kellman has been involved in healthcare, mostly women's health, for more than 35 years. 
She first started teaching boot camp workouts for the City of Tucson. Inspiration to focus on cancer patients came when a woman attending her class was diagnosed. Kellman told her to keep coming to boot camp because it was good to be outdoors.
A year later, Kellman got great feedback from the woman.
"She said, 'this really got me through it...getting outside being with positive people,'" Kellman recalled. "So it wasn't like I was this big smart person with an idea. It just kind of evolved on its own. I started teaching boot camp for cancer survivors. Then I opened it up to everyone. It evolved based on the needs of the community."
The boot camp class is based on exercises from "The Complete Guide to Navy Seals Fitness" by Stew Smith.
"I used his book like it was my Bible," Kellman said. "There's nothing fancy. It's basic exercise. It's pushups, lunges, squats...Using your mind and body to control your actions."
"People of all ages, sizes, stages, some without hair, some older, younger," Kellman said. 
Kellman noticed that people would stay after working out to share their stories. They needed to talk. So, she created a social aspect by hosting monthly dinners or coffees.
"Boot camp isn't like a fitness class you sign up for eight weeks and you're done," Kellman said. "It becomes more like a community. I like to call it a fitness support group...It's fun. I like seeing their faces after they do something after they feel so beat up and torn apart from their diagnosis to feeling stronger and saying it made a difference and helped them get through treatment. And it's kinda like once people get involved they're like ambassadors because they know how much it helped them and they take newbies under their wings."
After a few years, she was approached by a woman who wondered why Beat Cancer Boot Camp was only in Tucson. 
"Someone came up to me and said, 'you're being really selfish' and I said 'what do you mean?' and she said 'why are you keeping this in Tucson?'" Kellman recalled. "So she helped me create this licensed trademarked program where I'm able to put it in other communities."
Since then, Kellman has launched Beat Cancer Boot Camp in Pittsburgh, Wisconsin, California, Virginia, Massachusetts and Utah.
"It's like a franchise where you get what you need to make it successful," Kellman said. "So I go and help them kick off programs."
Kellman also loves helping with events and donates her time to other organizations nationwide, usually motivating and leading warm-ups for runners and walkers before a race. In Tucson, she regularly participates in the Light the Night Leukemia and Lymphoma Walk.
She was also featured as a guest trainer on the TV series "The Biggest Loser."
Earlier this year Mayor Rothschild presented a proclamation declaring Sept. 10 as Beat Cancer Boot Camp Day.
"What I like to do is bring awareness to how important fitness is to surviving cancer," Kellman said. "It helps prevent some cancers and the recurrence of cancer. So, it's my goal to get the word out on how important it is to stay fit throughout your treatment and beyond."
Kellman loves the fact that she's changing lives.
"I give people hope. There are so many that I constantly get thank yous from, not only people going through boot camp, but family members will say 'thank you for giving me my wife back,'" Kellman said. "I just love doing it, giving them hope, motivating them. I don't realize the impact I have until somebody says 'wow, thank you.'"
When she's not teaching boot camp or working, you can find Kellman hiking or running outside. 
"I find that very relaxing and therapeutic," she said.
She also loves spending time with her grandchildren. They don't have to call her Sarge, though. 
---
Sarge's fave exercises
Push-ups: "They don't have to be scary. You can do them against a wall, then a table or chair, then modified on your knees. In boot camp we do 100 push-ups but I sneak them in and don't tell them till we're done."
Squats: "I think they're important to strengthen your legs. You need that as you age to get up off of a chair, to sit down, to walk."
Planks: "Because it's good for your core."
"Even if you have five minutes, you can knock out push-ups, squats and planks and feel like you did something," Kellman said. 
---
Click here to learn more about Beat Cancer Boot Camp.