Wildcats in the NBA draft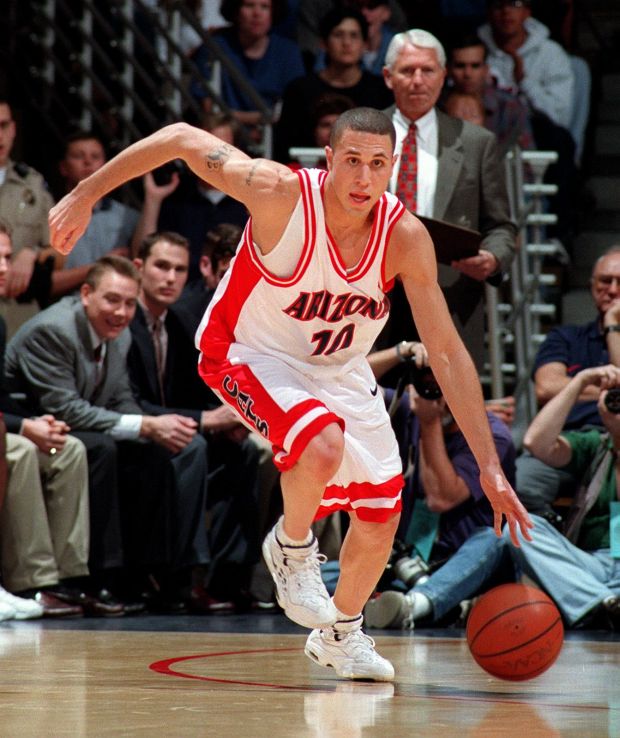 Mike Bibby • G
Drafted: 1998, Round 1, No. 2 overall to Vancouver (now Memphis) Grizzlies
Teams: Vancouver (1998-2001), Sacramento (2001-08), Atlanta (2008-11), Washington (2011), Miami (2011), New York (2011-12)
Notable: Perhaps the best freshman in UA history, Bibby led the team at point guard to a national title in 1997. Was a consensus first-team All-American in 1997-98 as well as Pac-10 Player of the Year. Tied with Derrick Williams for highest-drafted former Cat (No. 2 overall). One of only four players to have his jersey retired (along with Jason Gardner, Steve Kerr and Sean Elliott). A son, Michael Bibby, Jr., is currently a freshman at Shadow Mountain High School in Phoenix - where the elder Bibby starred.
Former Arizona star Mike Bibby dribbles during the first half of an Arizona-USC at McKale Center on January 5, 1998. Bibby was ranked third among Arizona's NBA-drafted players who appeared on a ESPN list that ranked the colleges with the best NBA players. Arizona was No. 6 on the list.
Related Stories