Wildcats in the NBA draft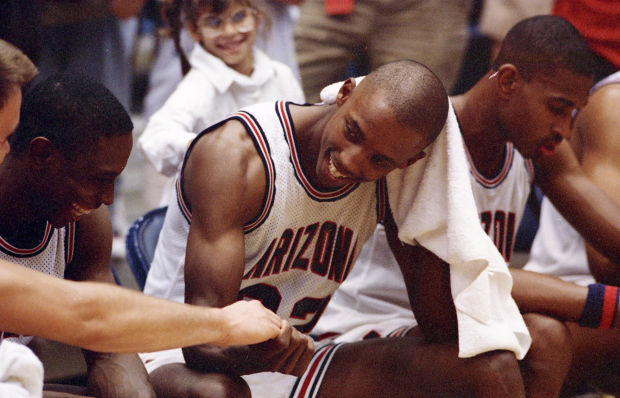 Sean Elliott • F
Drafted: 1989, Round 1, No. 3 overall to San Antonio Spurs
Teams: San Antonio (1989-1993), Detroit (1993-94), San Antonio (1994-2001)
Notable: Born and raised in Tucson and a graduate of Cholla High School, Sean Elliott helped Lute Olson and Arizona set a high bar for an incredible run of success through the world of NCAA basketball since he enrolled at the UA in 1985. Elliott is Arizona's career scoring leader with 2,555 points and is the UA's career leader in free throws made (623) and attempted (786). Only player in UA history to score more than 700 points in a season more than once (1987-88 and 1988-89). One of four Cats with a retired jersey (No. 32). Two-time consensus All-American in 1987-88 and 1988-89. Is Arizona's only Wooden Award winner as the NCAA's best player (1988-89). Won the Pac-10 Player of the Year award in 1987-88 and 1988-89. Is a three-time All-Pac-10 player in those years and also in 1986-87. Was Pac-10 Freshman of the Year in 1985-86. In the NBA, played for the San Antonio Spurs for 11 of his 12 seasons. Was named to the NBA All-Rookie First Team in 1990. Was a two-time NBA All-Star (1993, 1996). Won an NBA title with San Antonio in 1999. Had a kidney transplant in 1999 and became the first NBA player to return to action after such a procedure. His No. 32 jersey was also retired in San Antonio, where he currently works as a color commentator for local Spurs' broadcasting. 
Sean Elliott laughs during a postgame ceremony for Elliott at an Arizona-UCLA basketball game on Feb. 18, 1989. Elliott was ranked fourth among Arizona's NBA-drafted players who appeared on an ESPN list that ranked the colleges with the best NBA players. Arizona is No. 6 on the list.
Related Stories