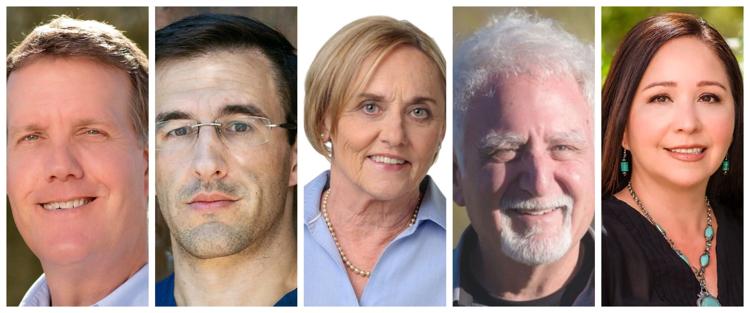 District 1: Rex Scott (D) vs. Steve Spain (R)
Rex Scott is the best choice to represent this northwest Pima County district that includes Marana and Oro Valley. Scott is a rational, reasonable centrist with a career of public service as a teacher and school principal — positions that require a cool head, smart ideas and the ability to problem solve amid competing interests.
Steve Spain, backed by retiring supervisor Ally Miller (R), has shown himself to be a science-denying flame-thrower whose ill-conceived positions and reliance on public personal attacks make him unsuitable to effectively represent a district that is ideologically, demographically and economically diverse.
Scott has demonstrated independence in his positions, a focus on District #1 in his priorities — including his plans on fighting COVID-19 — and his steady leadership is the right fit for a Pima County Supervisor.
District 2: Matt Heinz (D) vs. Anthony Sizer (R)
In the race for Pima County Supervisor, District 2, the Arizona Daily Star endorses former Arizona Representative and Congressional candidate Matt Heinz.
Seemingly always active on the Democratic side of the ballot this time of year, Heinz is in the position to represent the diverse district that stretches from Sahuarita to South Tucson after challenging and defeating incumbent supervisor, Ramon Valadez.
Heinz has smartly chosen to make his campaign focus the same as his everyday job: health. As a hospital physician at Tucson Medical Center, and as someone who has helped treat COVID-positive patients, Heinz offers a unique insight and perspective on an issue the county will face into the foreseeable future.
When it comes to the nitty-gritty of policy making, Heinz' background in the state legislature will help him with the horse-trading and deal making that comes along with getting things done at the county level.
Ultimately, in perhaps the most uncertain time facing the county in recent memory, Heinz' background in medicine, coupled with his prior legislative experience, makes him one of the most qualified supervisor candidates on the ballot.
District #3: Sharon Bronson (D) vs. Gabby Saucedo Mercer (R)
Sharon Bronson is the best choice to represent this vast district, which includes the Flowing Wells area of Tucson, small communities like Picture Rocks, Arivaca and Ajo, the Tohono O'Odham Nation, the U.S.—Mexico border and vast natural areas. Bronson is deservedly best known for her work on the County's Sonoran Desert Conservation Plan and in on a board with at least three new Supervisors, her institutional knowledge will be essential.
District #4: Steve Diamond (D) vs. Steve Christy (R)
Steve Diamond is the better choice to represent this large district that includes the county's east side, including Coronado National Forest and Saguaro National Park East, and southeast to the U.S.—Mexico border.
We value Steve Christy's business perspective on the Board, but we find two of his positions so extreme as to be disqualifying: "Is climate change the fault of man? No, I don't believe so. I don't believe man has the capacity to affect Mother Nature in that regard;" and putting political philosophy over public health: "A mask mandate does not coincide with our ability to make our own decisions."
Steve Diamond strikes us as a common-sense candidate who supports sustainability and science, but is mindful of businesses' contributions and won't be a rubber stamp for the Pima County administration.
District #5: Adelita Grijalva (D) vs. Fernando Gonzales (R)
Adelita Grijalva is the best choice for this district that encompasses Tucson's west side, part of Saguaro National Park West and most of the Pascua Yaqui Nation.
Grijalva is a known quantity from her years on the Tucson Unified School District Governing Board, and her experience on that fractious board and dealing with strapped budgets, state mandates and an engaged public prepares her the broader Pima County Supervisor role.
Grijalva listens to constituents and centers her problem-solving perspective on those without institutional power, a needed and useful point of view especially when making decisions that affect more than 1 million people.
Be the first to know
Get local news delivered to your inbox!