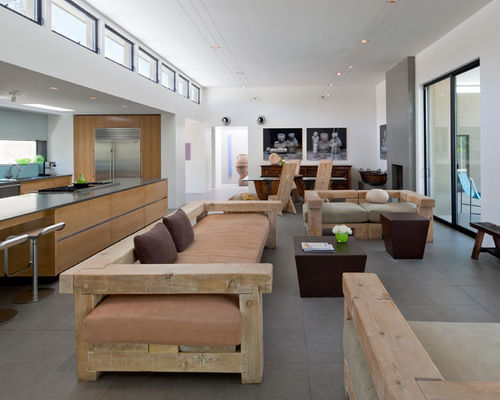 Location: Tucson, Arizona
Who lives here: Margarita and Willie Joffroy
Team: Architects: Ibarra Rosano Design Architects; builder: Repp McLain Design + Construction
It was a standard-issue, 1970s town home with vaguely Southwestern architecture — slump-block walls that were meant to evoke adobe; ramada-like patio covers — and dark, compartmentalized interiors. Owners Margarita and Willie Joffroy lived in the space while they pondered building a large, single-family home elsewhere, but in the end, they remodeled their existing home because they liked its central location in the foothills of Tucson's craggy Santa Catalina Mountains.
The couple asked the architectural team of Luis Ibarra and Teresa Rosano to give them a contemporary space that conformed to the development's homeowner's association design guidelines, and that would offer a roomy backdrop for their modern art and rustic, large-scale furniture, created by California designer Ron Mann.
An intangible bonus of the remodeling? "You can now see the mountains from the interior," says Rosano.
They demolished numerous walls to open up the interior and add 1,000 square feet in the form of an extended living, dining and kitchen space, a gallery for art and an expanded guest bedroom wing.
A high ceiling in the living room, clerestories and extra windows throughout help illuminate the interior with natural daylight. The Ron Mann–designed dining table and chairs provide one seating option for meals. The 18-foot-long kitchen island, which terminates in a table, provides another.