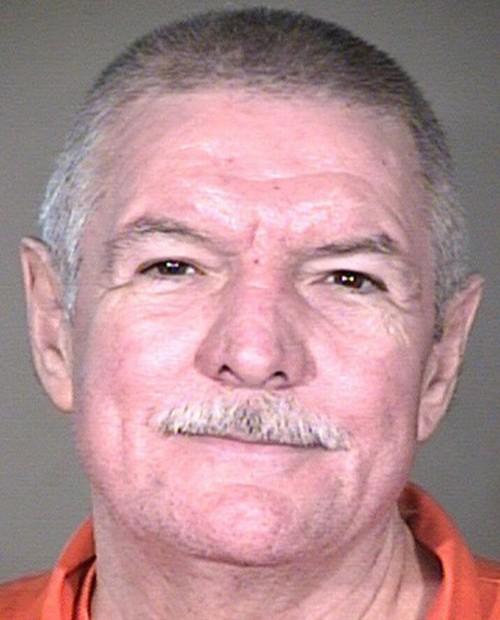 PHOENIX — One of two men convicted in the 1991 sex-killings of two 13-year-old girls is already free after serving 20 years in prison.
The second man is about to be executed.
Richard Dale Stokley's execution by injection is scheduled 21 years and 5 months after Mandy Meyers and Mary Snyder went missing and then were found dead.
Both were raped, beaten, strangled, stabbed and stomped before being dumped in a partly flooded mine shift in a ghost town in rural Cochise County.
Stokley, then 38 and now 60, was sentenced to death on two first-degree murder convictions. He also was convicted of sexual assault against a minor.
The man now free is Randy E. Brazeal, who was 19 when the girls were killed. He was 39 when released July 2, 2011 after serving the full prison system imposed under a plea agreement for second-degree murder convictions.
The girls were participating in a community campout in Elfrida on the July 4th holiday weekend when they left a tent, saying they were going to a restroom. They never returned.
Instead, they went with Stokley and Brazeal to a nearby ghost town, where they were attacked and killed.
Acting Cochise County Sheriff Rod Rothrock, who was the lead investigator on the case, said it remains unknown whether the girls went voluntarily for some reason or were abducted.
But circumstances, including belongings left behind in the tent "would indicate they weren't going off on an adventure with anybody, but we don't know," he said.
After calling his father and turning himself into police in a Phoenix suburb the next day, Brazeal told authorities that he'd been abducted and that Stokley had killed the missing girls.
Meanwhile, Stokley was apprehended in Benson where he was hitchhiking, and he told authorities that both men raped and killed the girls.
Stokley confessed to police during an interview that was cut short because he agreed to show authorities where the bodies were hidden and there was hope that one might still be alive, Rothrock said.
However, a search already under way found the bodies a short time later.
Stokley, once he had a lawyer, didn't consent to being interviewed again, and he was convicted of both killings and sentenced to death.
Meanwhile, Brazeal's lawyer invoked his rights to a speedy trial even as authorities awaited results of DNA testing, which was in its infancy at the time.
The then-county attorney agreed to the plea agreement with Brazeal because he didn't want to risk Brazeal being acquitted and going free if he went on trial without conclusive DNA evidence, Rothrock said.
The county attorney has since died, and a former deputy who was the lead prosecutor in the case did not immediately respond to inquiries from The Associated Press.
However, Matthew Borowiec, the since-retired judge on the case, told Phoenix television station KPNX in 2011 that prosecutors were afraid Brazeal could be acquitted without DNA evidence. Borowiec did not return a call Friday from The Associated Press
Ironically, the DNA evidence came back several weeks after the plea agreement was reached, and it confirmed Brazeal's involvement, said Rothrock, who said he didn't support the plea agreement but had no say. "I don't think Randy Brazeal is any less guilty than Mr. Stokley."
Stokley's lawyers made the disparate sentences imposed on Brazeal and Stokley the centerpiece of one of two last-minute appeals filed Friday seeking to block the execution.
It violates Stokley's constitutional rights on due process of law and on protection from cruel and unusual punishment for Stokley "only a matter of days away from his scheduled execution" while Brazeal is already a free man, the appeal to the U.S. Supreme Court said.
Stokley's appellate lawyers suggested that Brazeal arranged for the girls to leave the campground with him, while Stokley only went along because he wanted a ride to a water tank where he could bathe.
Rothrock said during an interview he hadn't heard that suggestion before, but said, "I've always kind of suspected that Mr. Brazeal was the catalyst for what happened but to this day I do not know exactly all of what transpired."
Stokley's lawyers said in court papers that Brazeal has returned to Arkansas, where he lived before moving to Arizona before the killings. Efforts to find a telephone listing for Brazeal were not immediately successfully.
Because Brazeal didn't plead guilty to a sex crime, "he's free and clear, " said Rothrock, who will witness the execution at the invitation of Mandy Meyers' mother. "He's just out. He doesn't have to register as a sex offender. He's not on parole."