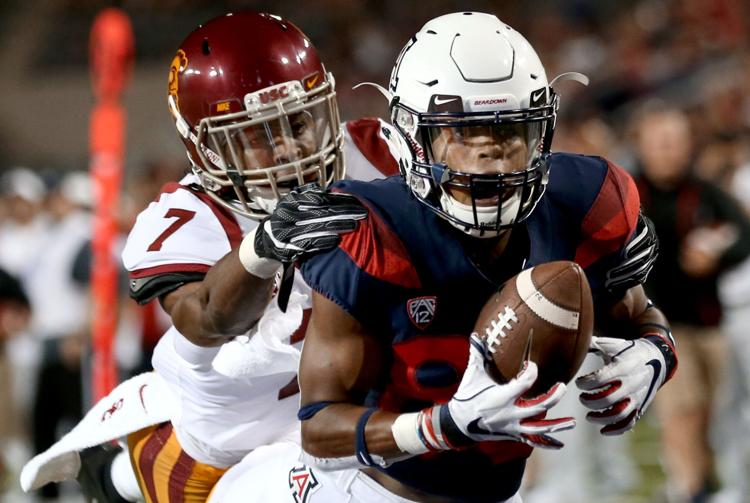 As is customary, Arizona Wildcats coach Kevin Sumlin rattled through announcements at the end of a team meeting. Then the last slide came up.
"Oh yeah, and this," Sumlin said.
The words projected on the giant screen behind Sumlin pertained to redshirt-freshman receiver Stanley Berryhill III. At first, he didn't know what was happening.
"It took a while to comprehend what was going on," Berryhill said. "All I know is I'm getting hit by all the players because they're so excited. Then it clicked in my mind: You're on scholarship now."
The big reveal happened on Aug. 18. Berryhill, a Tucsonan who came to Arizona as a walk-on, had achieved one of his primary goals. He couldn't wait to tell his family.
He began by conveying the news in a group chat to his parents and older sisters.
"No one really responded," Berryhill said. "Then I called them one by one. They're like, 'Oh my god, we're so proud of you!' I was like, 'I send you guys a text message, and I don't get a response?' "
Berryhill told his grandparents in person. The tears were flowing.
But Berryhill understands that earning a scholarship isn't the end of his story. It's merely the next chapter.
"I get a lot of crap from the guys: 'Scholarship boy, scholarship boy.' But it's still the same thing," Berryhill said. "I still do what I did when I was a walk-on – work hard.
"I have a lot of little goals that I keep with me and my dad. It's just one of many goals. Becoming a starter next year, stuff like that."
Berryhill began his high school career at Mountain View before transferring to Orange Lutheran in Orange, California, for his senior year. He had opportunities to play baseball in college but decided to walk on to the football team at his hometown school.
After redshirting last year, Berryhill earned a spot as the No. 3 slot receiver behind Shun Brown and Tony Ellison. In his fifth collegiate game, Berryhill scored his first touchdown.
Arizona was trailing USC 24-0 in the third quarter last Saturday when Khalil Tate connected with Berryhill for a 33-yard score. The play was called "91." Berryhill ran a fade route from the left slot and got past Trojans safety Marvell Tell III.
"I run this route quite often in one-on-ones and in practice," Berryhill said. "I kind of had an idea that this is the time it's going to come to me. So I just took off, gave him an inside move and saw that I was two steps ahead. And Khalil threw the ball."
A flag was thrown on the play. It was against USC. Berryhill could celebrate another milestone with his family.
"My family members come to every game," he said. "They said they're going to keep coming until I score. Hopefully they keep coming."
The Berryhill clan most assuredly will be on hand for Arizona's Family Weekend game against Cal on Saturday.