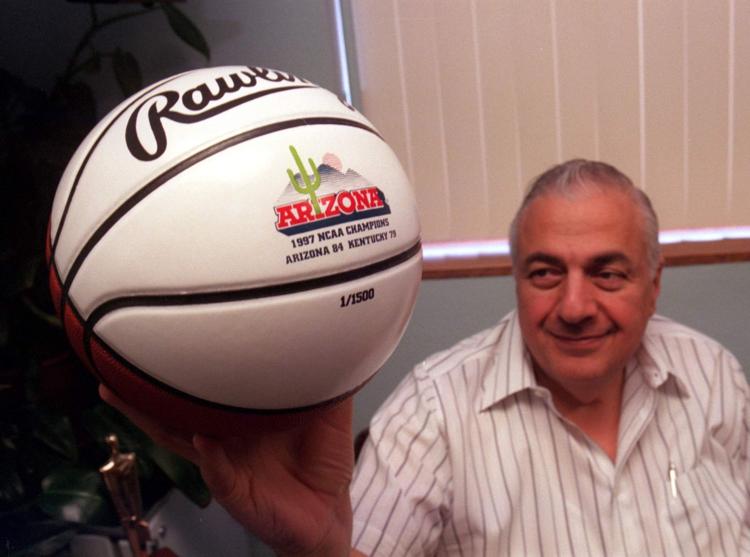 Former Arizona basketball coach Fred Snowden died January 17, 1994, three days before No. 9 Arizona was scheduled to play No. 2 UCLA at Pauley Pavilion on a Thursday night.
As he had done for 21 seasons, George Kalil boarded the UA's flight and watched as his Wildcats lost to the Bruins 74-66.
The president of Kalil Bottling Co., a Tucson High grad who never played basketball in his life, had missed just two Arizona games since 1973 — a road game at BYU in 1977 and the 1982 home opener against Florida International.
That put his streak at 360 consecutive games. He was the most well-known fan in Pac-12 sports, a man so (unintentionally) visible that in 1976 WAC Commissioner Stan Bates banned Kalil from bringing his $22, UA-decorated drum into WAC arenas, a One-Man Band who annoyed fans from El Paso and Albuquerque to Salt Lake City and Laramie, Wyoming.
It was so ironic because George Kalil was one of the most humble and unassuming men you'd ever meet.
After the 1994 Arizona-UCLA game at Pauley Pavilion, Kalil flew alone back to Tucson to attend Snowden's funeral, missing the USC-Arizona game held the same afternoon at the Los Angeles Forum.
He didn't miss another game until 2006, when he did the math and told me he had attended 1,047 of 1,050 games since Snowden welcomed him as something of a surrogate father to the UA basketball program in 1972.
In the end, the numbers had no meaning. It was Kalil's unconditional friendship with the UA basketball community that will carry on long after his death last week at 81.
"I loved Freddy," he said in 2008, sitting at the funeral service for Snowden's widow, Maya, at East Lawn Cemetery. "I always consider him part of my family." Kalil broke into tears as he sat with some of the foundational players of Arizona's McKale Center era — Russell Brown, Herman Harris and Robbie Dosty.
It had been 25 years since Snowden coached at Arizona. It didn't matter; Kalil was in it for life.
One of seven children of Lebanese parents who moved to Tucson from Georgia, Kalil was hard to miss. When Lute Olson was hired in the spring of 1983, Kalil weighed 428 pounds. Sitting in his front row seats behind the UA bench that year, he told me he vowed to lose a pound for each of Olson's victories.
He spoke boldly of losing 100 pounds.
At the end of the 1989 season, Kalil weighed 252 pounds. He had lost 176 pounds, which even out-paced Arizona's burst to national prominence. Olson won 141 games in that period.
As the Wildcats won, so did George Kalil.
Since taking charge of the family bottling company in 1970, Kalil became a wealthy man, donating millions to the UA athletic department and to Salpointe Catholic High School, whose basketball gym now bears his name. But he wasn't a money guy at all.
He was a reliable, good-natured, friendly face, one of the pillars of Tucson's sports community for a half-century. Basketball at McKale Center won't be the same without him.