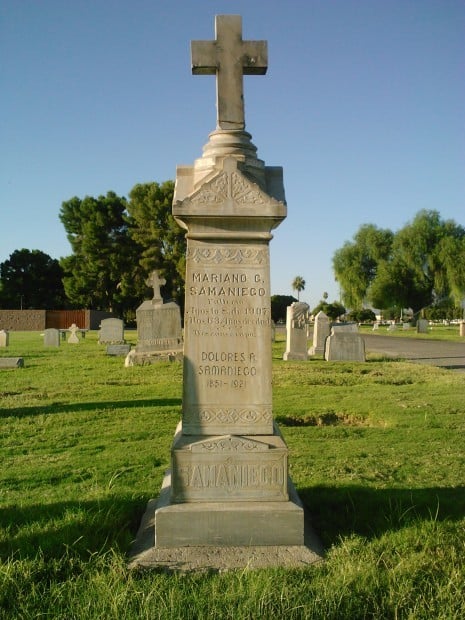 Samaniego Avenue, located south of the Tucson Convention Center downtown, is named in honor of a naturalized U.S. citizen who became one of the most powerful men in early Tucson.
Mariano Guadalupe Samaniego was born in Sonora, Mexico, in 1844. His parents, Bartolo and Ysabel Samaniego, were born there also.
Ysabel's father, Pedro Luna, was a soldier from Sonora; Bartolo's father, Tiburcio Samaniego, was a large land owner, magistrate and adviser and friend to the Opata and Yaqui Indians. His family was one of the oldest in Sonora.
After Bartolo's death in Mexico in 1850, Ysabel moved to what is now Mesilla, N.M., where she and Mariano ran a store. A few years later they became naturalized as a result of the Gadsden Purchase.
Mariano Samaniego attended St. Louis University, graduating in 1862. Next he signed on as an interpreter for the Confederate Army. In 1864, he began freighting supplies to and from multiple posts, traveling as far east as the Missouri River.
After marrying Dolores Aguirre in Las Cruces, N.M., he came to Tucson in 1869, and was awarded numerous contracts to carry supplies to various Arizona forts.
In 1881, after the murder of his brother Bartolo Jr. in an ambush by Apaches, he sold his contracts and started raising cattle, which he continued until his death. He also owned a large amount of real estate, including the Canyon del Oro and Rillito ranches, both north of Tucson. The Canyon del Oro ranch is now the site of Biosphere 2.
Mariano Samaniego served as a Tucson city councilman, Pima County assessor, chairman of the Pima County Board of Supervisors and representative in the Arizona Territorial Assembly. He also was on the University of Arizona's first board of regents and served two terms as president of the Arizona Historical Society.
During the last decade of the 1800s, when he was at the apex of his career, he was one of the most powerful men in Tucson. He died in 1907, at the age of 65.
Note: Samaniego's house, built in 1876, is at 222 S. Church Ave., south of La Placita Village.
Each week the Star tells the stories behind Tucson street names. If you have streets to suggest or stories to share, contact writer David Leighton at streetsmarts@azstarnet.com.
Sources: Special thanks to Christine Seliga of the Arizona Historical Society. James H. McClintock, "Arizona Prehistoric, Aboriginal, Pioneer, Modern: The Nation's Youngest Commonwealth within a Land of Ancient Culture," The S.J. Clarke Publishing Co., 1916 Thomas E. Sheridan, "Los Tucsonenses: The Mexican Community in Tucson, 1854-1941," University of Arizona Press, 1992 Pima County Bar article: www.pimacountybar.org/images/stories/LookbackatCourthouse.pdf Samaniego's CDO Ranch, now Biosphere 2: www.b2science.org/who/history