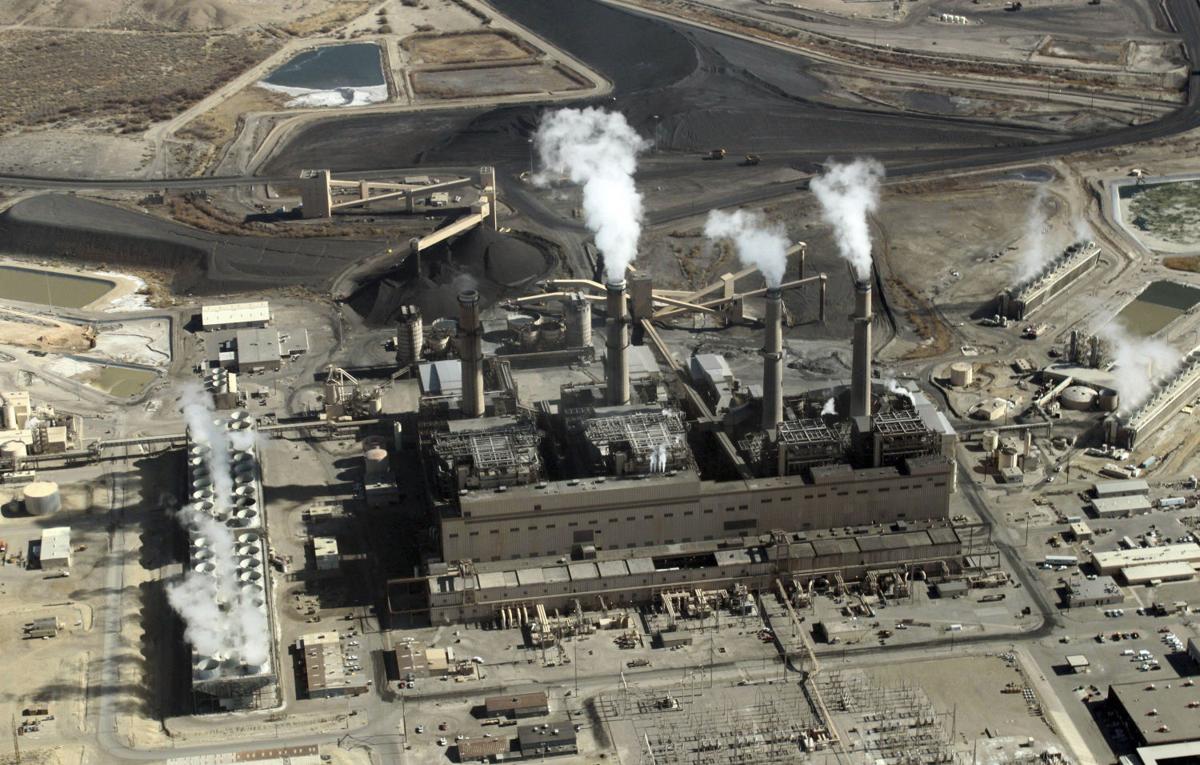 Editor's note: This story has been corrected to reflect the accurate date at which the Sierra Club wants Tucson Electric Power to pull out of the San Juan Generating Station. An earlier version had an incorrect date.
Tucson Electric Power Co. will keep buying power from a New Mexico coal-fired plant despite a campaign by environmentalists to divest its holdings there in the name of clean energy.
The Sierra Club, as part of its national Beyond Coal campaign, had asked TEP to pull out by the end of 2022 from the San Juan Generating Station that's burned coal near Farmington for nearly 45 years.
While TEP has agreed to cut its stake in the plant by half, the utility believes its most cost-effective measure is to continue to buy electricity there on a reduced scale, a TEP spokesman said Friday.
The statement comes as the plant's lead owner, Public Service Co. of New Mexico, is on the legal hook to provide New Mexico regulators — by Saturday — formal plans on how the plant will be owned and managed after 2017.
At issue is TEP's 20 percent share of the controversial San Juan Generating Station, which provides about 14 percent of TEP's total power load today.
The Tucson utility has signed a restructuring agreement with other parties at the plant including PNM to shut down two of the power plants' four generators by the end of 2017. That agreement will cut in half the amount of electricity Tucsonans get from the plant by the end of 2017. TEP has agreed to invest about $30 million in environmental improvements in one of the remaining generators.
The total amount of coal burned will be cut in half, and TEP will have a 50 percent interest in one of the remaining generators.
The restructuring agreement is highly controversial, however, and a hearing examiner for the state's utility regulatory commission recommended against it in April. New Mexico's governor and the business community strongly favor it, but the state's attorney general and a host of conservation and alternative energy groups oppose it.
Said the Sierra Club's Dan Millis, "We're trying to get TEP to take advantage of a unique opportunity to reduce their dependence on coal. The very strong majority of TEP's power comes from coal — 80 percent in 2014. It's too much greenhouse gases. Tucsonans don't want dirty energy. We want clean energy."
He said TEP should switch from San Juan power to buying power on the open market. While such purchases could include coal-fired electricity, they would have no long-term contractual commitment, giving TEP freedom to look for more renewable sources in the meantime, he said.
TEP should also continue to add solar programs as it has been doing and stop its efforts to reduce financial benefits that rooftop solar owners get from net metering, he said.
"It's too risky. It's too dirty for Tucson," Millis said of the New Mexico plant.
But a total exit from San Juan by the end of 2022 would raise cost and reliability issues, countered TEP spokesman Joe Barrios. One alternative — building a natural gas-fired plant to generate the power lost from San Juan — would cost $150 million, he said. Overall, while he didn't have specifics on the cost of buying power on the open market, he said the company's calculation is that staying in San Juan "is the least-cost option for us right now."
"The reliability considerations are that to pull out of any resource, that would not happen quickly," he added. "It takes a little time for us to do anything because of the scale and planning that's required. That's why we have a resource plan in the first place, to look ahead 15 years."
The utility has reduced coal from 79 percent of its total electricity supply a year ago to 61 percent today, Barrios added. That came from buying a Gila Bend natural gas plant and reducing its electricity purchases from a unit of the coal-fired Springerville Generating Station, he said. The utility pledged two years ago to reduce its dependence on coal by 30 percent in 5 years, he noted.
Nationally, the Sierra Club has claimed credit for winning the shutdown of or commitment to a shutdown of 200 coal-fired plants around the U.S. The national political website Politico has called the Beyond Coal effort "the most extensive, expensive and effective campaign in the club's 123-year history, and maybe the history of the environmental movement."
The group has hoped that if TEP exits San Juan entirely, that would put more pressure on PNM and hopefully trigger the shutdown of San Juan, a club official in Albuquerque said.
"By increasing the amount of power we get from clean energy like solar, we can create good jobs for workers here at home, protect families and small businesses from expensive coal rate hikes, and secure a stronger future for our communities. All while reducing our risky dependence on dirty, expensive out-of-state coal-fired power plants," said the club's Nellis Kennedy-Howard.
A PNM spokesman, however, said its plan "best balances reliability, affordability and environmental protection. The Sierra Club and other opponents of PNM and the plan for San Juan Generating Station have twisted the truth and used misinformation in an attempt to influence public opinion.
"In a January hearing in front of the NM Public Regulation Commission, PNM clearly showed the company's plan for San Juan was the most cost-effective of all the viable alternatives," said PNM's Pahl Shipley in a statement.
But four of the plant's nine investors — the city of Anaheim and three power cooperatives — have announced they're pulling out when the plant's current operating plan expires at the end of 2017.
The city of Farmington, which lies near the coal plant, had agreed to increase its stake in it after 2017. But it canceled that plan in January, citing prolonged negotiations over the restructuring plan, reliability concerns about one of the generating units — not the one TEP will own part of — and uncertainties about future coal supplies.
Also, PNM said in public testimony in January that the restructuring plan would cost about $1 billion more than originally thought. Opponents called that a cost overrun; PNM says the term is inaccurate and that it's mistaken to assume these costs will be borne by consumers. Those costs are PNM's and won't be felt by TEP ratepayers, TEP's Barrios said.
Contact reporter Tony Davis at tdavis@tucson.com or 806-7746. On Twitter: tonydavis987.