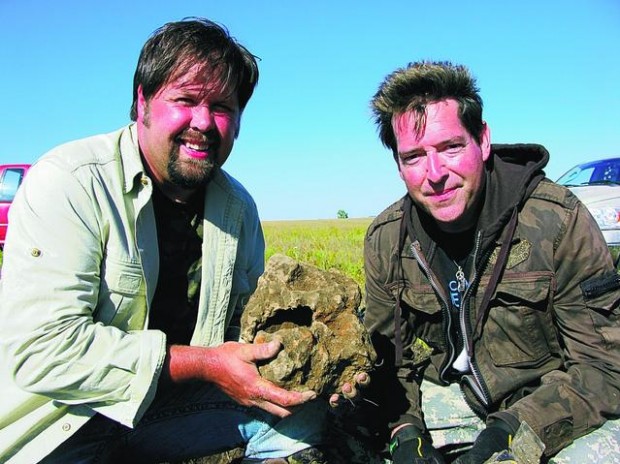 Geoffrey Notkin and Steve Arnold are the Felix Unger and Oscar Madison of the meteorite-hunting world.
Notkin is a liberal, single guy living in Tucson. Arnold is more conservative and resides in small-town Arkansas with his family.
Notkin is a vegetarian. Arnold eats meat.
Arnold grew up in rural Kansas. Notkin was raised in London.
If they didn't share a deep passion for tracking down space rocks, they probably wouldn't have much to talk about.
"I think there is an oddness to our relationship," Notkin said in a phone interview from his Tucson home this week. "We are very respectful and great friends, but we tease each other. There is a comedic element to our adventurous lifestyles."
Notkin hopes that rapport will be evident in the duo's new series, "Meteorite Men," debuting at 6 tonight on the Science Channel.
The pilot episode follows the two trackers, who have worked as a team for more than a decade, as they search for undiscovered pieces of heavenly bodies that have fallen to Earth.
Brenham, Kan., is their first stop. It's an area of the country well-known for its extraterrestrial remnants.
Notkin and Arnold have hunted these grounds, made up of mostly private farmlands, since 2005. Their efforts have yielded hundreds of thousands of dollars worth of meteorite bits in return.
The farmers they lease the land from get a portion of the booty.
Finds are sold through Notkin's and Arnold's joint ventures and individual businesses.
Notkin, a longtime gem show fanatic and resident since 2004, unloads most of his pieces through his Tucson-based company, Aerolite Meteorites.
"Brenham is a famous site," Notkin said. "It is almost a rite of passage for meteorite hunters to go to Brenham. It is quintessential farmland, quiet and flat with gentle, rolling hills. There are few indigenous terrestrial rocks there so it makes for an ideal hunting ground."
The two also will visit an area of the country Notkin refers to only as the "Alpha" site.
He describes the region as unfarmed pasture land, known to meteorite hunters but largely untouched.
Notkin and Arnold were so hush-hush about filming at "Alpha," they made members of the film crew sign confidentiality agreements before setting out.
"Meteorites that come from 'Alpha' are extremely rare and valuable," Notkin said. "Our biggest fear was that word would get out and other rockhounds and hunters would come to the land that we've secured."
Even Arizona gets a little screentime as the two friends visit Arizona State University's Center for Meteorite Studies in Tempe.
"It is one of the foremost scientific establishments of its kind in the world," Notkin said. "They confirmed the meteorites for the show and brought an academic element to balance the adventure aspect."
The pilot is the latest in a string of shows Notkin and Arnold have been featured on together. Over the last few years, they have appeared on several channels, including National Geographic, History and on the Travel Channel show "Cash & Treasures."
Notkin hopes the pilot leads to a full season and gives new insight to viewers.
"If we are successful, we are the very first humans in history to see these meteorites that have been buried underground for thousands of years after an extremely long journey," he said. "Being involved in this field and helping to recover these meteorites, in a small way helps us understand our place in the universe."
"Meteorite Men" debuts on the Science Channel at 6 tonight.