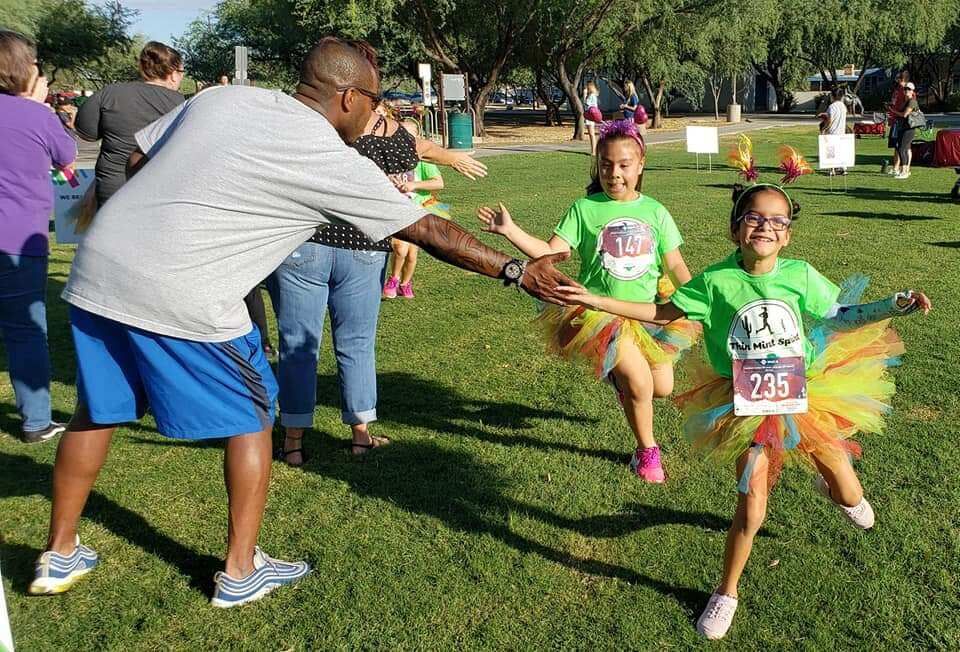 As members of Girl Scouts of Southern Arizona (GSSoAZ) prepare to kick off their 2021-2022 fundraising season, the organization is promoting cookies plus much more.
"Many know us for our Girl Scout Cookie Program, which is the largest girl-run business in the world that teaches five critical business skills. We are proud of that, but as we come out of the pandemic, we also want folks to know us for the greater work that we do. We are hyper-focused on providing sound experiences for girls and informing the community about their fantastic take-action projects that are much more robust and sustainable than just community service projects," said Kristen Garcia-Hernandez, CEO of GSSoAZ.
Garcia-Hernandez hopes to take awareness up a notch with events such as the family-friendly Thin Mint Sprint on Sunday, Sept. 26 — available both virtually and in-person at Brandi Fenton Memorial Park — and Over the Edge on Saturday, Nov. 13.
"These are fun, exciting and engaging events. With the Thin Mint Sprint, we are hoping to bring in $25,000 directly to support girls across Southern Arizona. With Over the Edge, we would love to raise $75,000 or more. It is a unique event that speaks to the mission of Girl Scouts. What better way to propel girls forward than to rappel off of a building? This fosters courage and confidence and adventure, which is what we are all about for girls," said Garcia-Hernandez.
The events highlight the return of real-time indoor and outdoor programs after more than a year of virtual programming during which Girl Scouts completed activities with specially created home kits. Approximately 3,800 girls participated in the virtual programming and socially distanced outdoor programs that were reinstated this summer.
Among those is Carolyna Loss, 10, a fifth grader at Academy del Sol and member of GSSoAZ Troop 283. Carolyna's mom, Clarissa, is the troop co-leader and "cookie mom" who helps coordinate cookie sales.
Clarissa said that during the pandemic, the troop met virtually every two weeks and chose to focus on attaining "fun patches" in topics such as art, nutrition and science.
"The girls were in school virtually all day and we knew that was a lot, so we took a different approach. The girls would research a topic that interested them and then present it to the whole troop. Carolyna picked healthy snacks, so we bought the supplies for fruit sushi and parfaits and left them at the girls' doors and she taught them how to make them. It was a lot of fun," said Clarissa.
Carolyna said she enjoyed the research and the fruit sushi and parfaits were a big hit with the other girls.
"If they are at home and their mom and dad aren't there and they can't cook, this is something easy and good they can do on their own," she said.
Cookies were another big project for Carolyna, who sold 725 boxes this past cookie season, primarily through the digital cookie app.
Clarissa said that cookie sales provided a great experience in everything from goal-setting and customer service to technology, money-handling and inventory.
"We discussed with the girls how customer service is more important now than ever and how some customers had lost their jobs or had changes in their lives because of COVID so they might not buy. They had to weigh all of that and take into effect how the world changes and figure out how to still accomplish their goals," said Clarissa.
Community service has also been a constant for Troop 283. They donated cookies to those who provided vaccinations at the Tucson Convention Center through "Cookies for Our Heroes" and in the past have raised funds for Diamond Children's Medical Center, the Ronald McDonald House, local women's shelters and Pima Animal Care Center.
"People and animals all need to have the chance to survive and see the world around them," said Carolyna.
For now, Carolyna is excited to meet up again with the girls she has known since kindergarten.
"They are really nice girls and we have fun and get to help others. I want to keep doing this," she said.
Garcia-Hernandez emphasized that in-person indoor gatherings will include safe pandemic protocols as programming ramps up to serve the anticipated influx of at least 200 girls across seven counties during the next month.
"Our girls and volunteers are really excited about having that in-person connection. We are still requiring masks indoors because the largest population of girls we serve are not of age to be vaccinated," said Garcia-Hernandez.