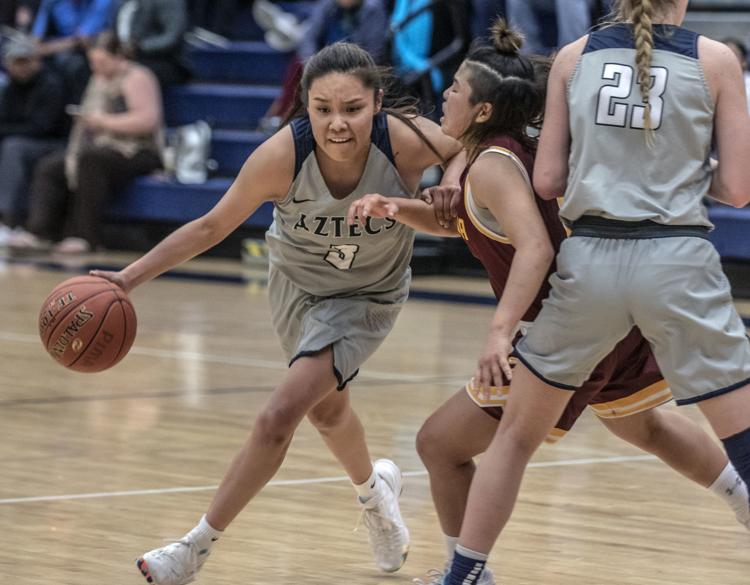 Pima College men's and women's basketball teams gathered for an all-inclusive press conference Friday morning at the West Campus Gym — something never done at the school, but certainly something to celebrate.
The school distributed a photo of 44 happy faces via its Twitter feed as the teams prepared to leave for the NJCAA finals Saturday morning.
Over the last four years, the PCC men's and women's basketball teams have won a cumulative 146 games. They've produced six first-team NJCAA All-Americans. They've won this, won that, and been a source of pride for a community college that often sits in obscurity.
It's not easy for a budget-pinched athletic department like PCC to qualify for and then go to a national tournament for what head coaches Brian Peabody and Todd Holthaus hope is a week-long stay.
The men, 26-6 and ranked No. 3, will play in Danville, Illinois, beginning at 9 a.m. Tucson time on Tuesday. Peabody's club finished No. 2 a year ago and it won't be any easier: Top-seeded Kirkwood College of Iowa is 27-4, but the Aztecs are on an 11-1 run.
Holthaus' women's team, 10-2 across the last five weeks, finished No. 2 nationally eight years ago and No. 3 in 2016. The Aztecs also open at 9 a.m. Tuesday, but they'll play in Harrison, Arkansas. The Aztecs are the No. 6 seed in a loaded women's NJCAA bracket.
Of the combined men's and women's rosters at PCC, 17 of the players are from Tucson.
"Everyone counted us out early," said Holthaus, "but the cream rises to the top."
Said Peabody: "After we finished second last year, a lot of people thought that was our high mark. We've had a lot of roster turnover but we're back and we're not going there to lose."