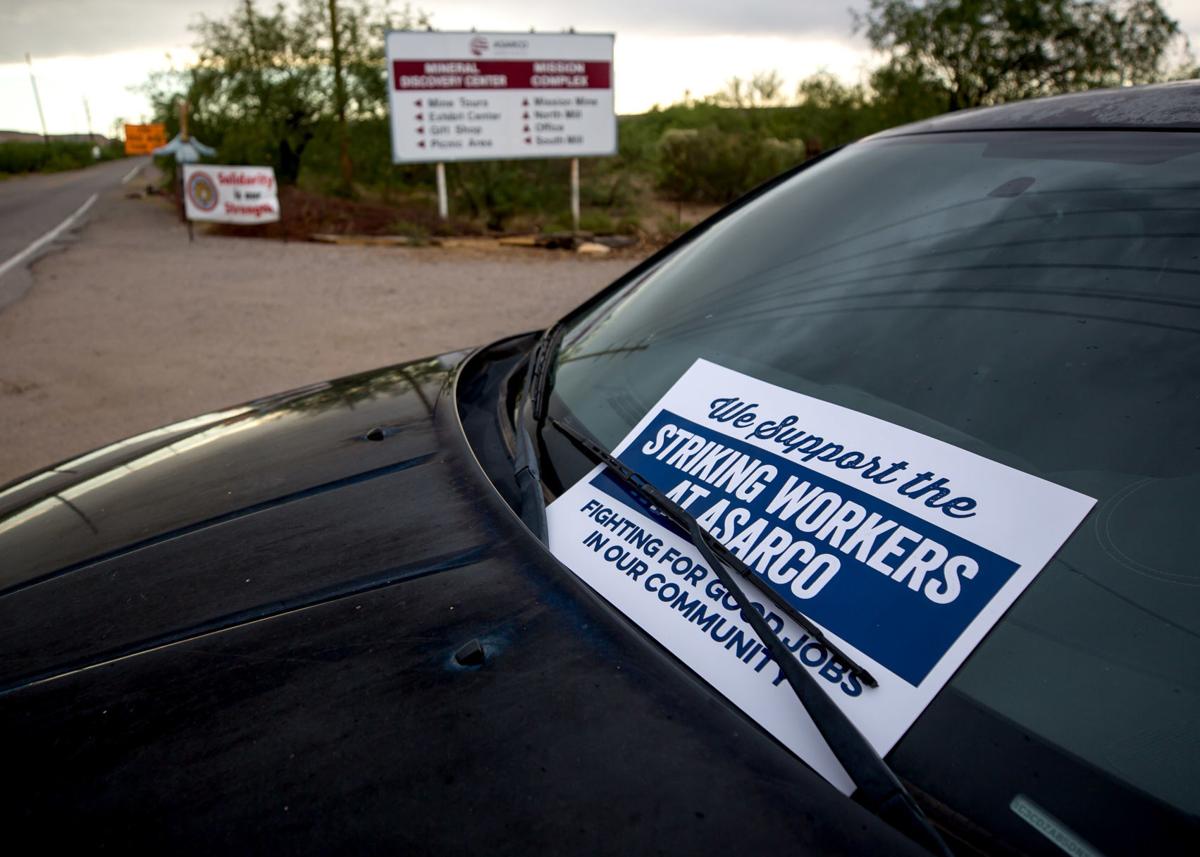 The unions representing workers striking against Tucson-based copper producer Asarco, LLC, ended the strike on Monday and offered to return to work.
The decision comes after a nearly nine-month strike and a National Labor Relations Board ruling last month in favor of the unions, alleging that Asarco management has failed to bargain in good faith before and during the strike by several unions representing about 1,800 workers in Arizona and Texas.
The strike began Oct. 13 when workers rejected a "best and final" contract from Asarco that the union said froze wages, raised health-care costs to workers, and cut into pensions and bonuses for workers, who have not received a raise in 11 years.
The NLRB ruled that the workers are "unfair labor practice strikers" who are protected against permanent replacement under U.S. labor law, the United Steelworkers said.
A letter from union presidents and directors addressed to strikers says that by offering to return to work, the company is expected to return them to their pre-strike jobs or similar jobs.
"If a company refuses to reinstate the returning ULP strikers based on the company's claim they have been permanently replaced, the returning ULP strikers are entitled to potential backpay from the company.
The potential backpay adds up for every day that the company refuses to make a lawful reinstatement offer to ULP strikers," the letter says.
Asarco, which is owned by Mexico-based Grupo Mexico, did not immediately respond to a request for comment.
Ending the strike does not mean workers will stop trying to negotiate a better contract.
"While ending the strike means taking down our picket lines, we can and will continue to exert pressure on the company through all legal means," the letter from union leaders says.
The offer to return also prevents the company from hiring more replacement workers. Asarco reportedly hired replacement workers, telling strikers they were permanently replaced.
The decision to return is a strategic move, says Liandra Bell, a rod and ball mill man who has been working at the Mission Mine in Sahuarita for 12 years.
Bell said the company has to either fire the replacement workers and allow strikers to go back to work, or keep the replacement workers, which would mean strikers are effectively laid off and will be eligible for unemployment.
"So basically we're just putting them between a rock and a hard place," Bell said.
A lot of people who initially went on strike had to find work elsewhere or cross the picket line and go back to work because they couldn't afford to not have an income, Bell said.
Her wife had to pick up the family's financial responsibilities when the strike started, Bell said.
Bell intended to retire from Asarco after at least 20 years, but now it'll take a really good contract for her to return to work at the mine, she says.
"I actually had a pension, have a pension, and for them to try to take my pension away after 12 years of working is like a slap in the face," she said.
It took Bell seven months to find a new job and it became an especially difficult decision to make after COVID-19 shut down schools and businesses. Her son suddenly didn't go back to school so the family needed someone to stay home with him, she said. She also had to weigh the risk of contracting coronavirus if she went back to work.
Bell now drives a concrete mixer truck and works for Southwest Valley Constructors helping build the border wall in Naco, near Bisbee.
She said the pay and benefits of her new federal government job are better than what she was making at the mine, and refers to the mining job and her new job as "going from a toxic relationship to a really good one."
Asarco operates the Mission Mine in Sahuarita; the Silver Bell Mine in Marana; the Ray Mine and Hayden smelter in Central Arizona; and a refinery in Amarillo, Texas.
About 85% of Asarco's hourly workers are union members.
Besides the Steelworkers and Teamsters, unions striking at Asarco include the International Brotherhood of Electrical Workers, the International Association of Machinists and Aerospace Workers, the International Union of Operating Engineers and the International Brotherhood of Boilermakers.