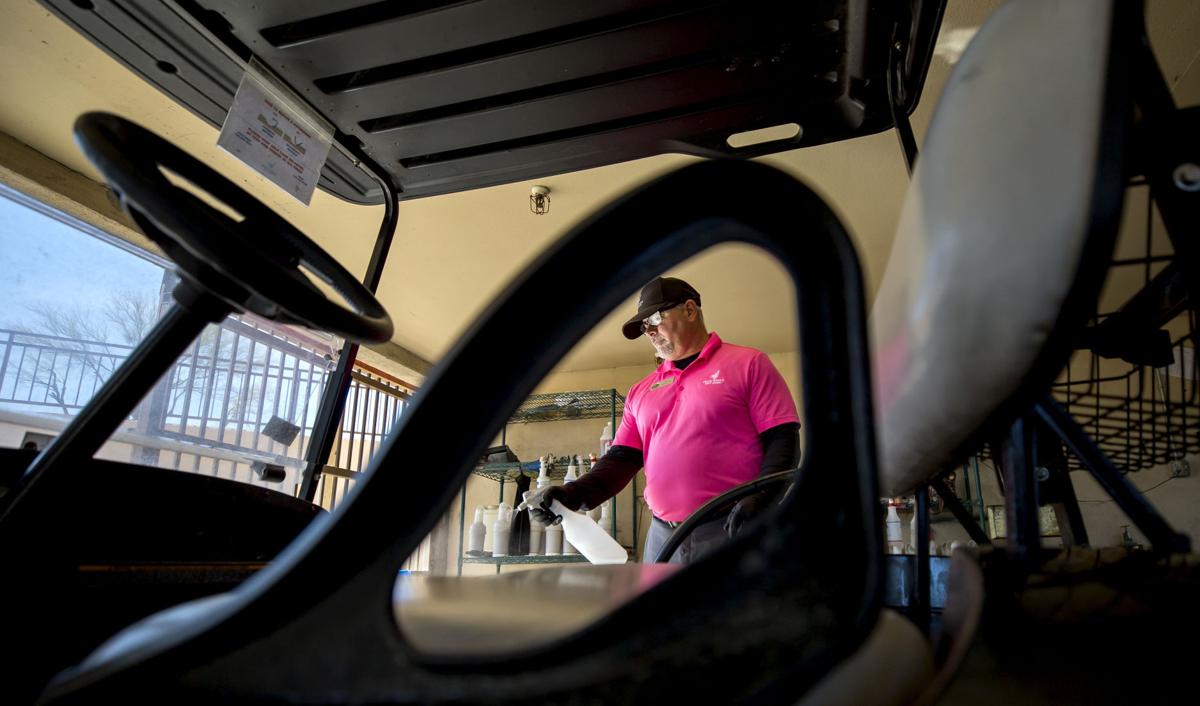 PHOENIX — Even as courses throughout Arizona stayed open, COVID-19 robbed local golfers of some of the smaller delights of a day at the links.
For example, pulling the flagstick is a sign that a player is about to accomplish the challenging feat of completing a hole. However, many courses have placed a circular piece of foam in the cup to discourage this satisfying tradition to help limit exposure to the coronavirus.
The foam barriers placed in golf holes are one of many changes Arizona courses had to make to keep players and staff workers safe amid the pandemic.
When the virus forced lockdowns in March, Arizona Gov. Doug Ducey kept golf courses open by declaring them as essential businesses. As part of his executive order, clubs had to close many indoor areas and facilities, but the courses themselves remained open for business.
For the most part, courses in the state did more than just stay open. Many saw their businesses thrive and even expand in some cases. Several courses have reported an increase in the number of rounds played since the onset of the virus earlier this year.
Tucson's city-owned golf courses have seen a big jump in both rounds played and revenue, though tournament play has been restricted, said Robb Palmgren, general manager of Tucson City Golf.
From July 1 through November, the five city courses were almost 20,000 rounds, or nearly 25% ahead of the same five-month period last year, he said.
Course revenues are up about $724,000, or nearly 28%, from the same period last year, Palmgren said, adding that loss of catered events food and drink sales have been partially offset by increased on-course sales.
Golf is big business in the state. According to a 2016 study from the University of Arizona, golf contributes $3.9 billion to the state's economy every year. And that number has likely increased, said Bob Sykora, the general manager of Mesa Country Club.
"We were already trending to grow in golf," he said. "We are in a position to grow. We were in a position where we were looking to have accelerated growth in golf. … While the pandemic didn't hurt us necessarily, we were already on that trajectory."
According to the UA report, golf tourism, in which people come from out of state to either play or watch golf, is responsible for $1.1 billion of that nearly $3.9 billion output. In a year where people are traveling less and less, courses have had to rely on the business of locals for much of this year.
For whatever reason, whether it be curiosity, passion or mere boredom, more Arizonans are playing golf in 2020 than many years past.
Given the lift that the golf industry typically gives to Arizona's economy, worth nearly $4 billion annually, it is not surprising that courses were allowed to stay open, despite calls from some local governments to temporarily close them.
In their quest to stay open and successful, clubs and courses all over Arizona had to balance several economic and health-related factors.
Courses innovate
Even as they continued accepting players, administrators at courses throughout the state had to get creative to keep the business viable.
For many country clubs, golf is just one piece of the overall experience. Under normal circumstances, members could spend much of their free time at the club without ever setting foot on the golf course.
There are social events, tennis memberships and other perks available to those who belong to a country club. Unfortunately, much of this business stalled when COVID-19 forced the indoor areas to be closed.
Mesa County Club's Sykora said the pandemic wiped out much of the club's indoor-based business. He added that private events such as weddings and holiday parties typically provide much revenue for his club.
Sykora said some spring weddings canceled, while others rebooked with limited attendance to meet CDC guidelines.
"December is a big month for us because of Christmas parties and the like. Currently, no one is booking Christmas parties," he said. "You're not going to do big 300-person weddings because you can only really do a certain percentage of whatever your occupancy is."
Other local courses have also lost traditional revenue streams. Many clubs that host group events and tournaments saw those events erased from the calendar.
Bob McNichols, general manager of Longbow Golf Club in Mesa, said tournaments typically bring large groups of people to the course.
For example, Notre Dame's women's golf team hosts an annual tournament at Longbow every March. This past year, 16 Division I teams were on the course practicing when they were called back to their respective campuses.
However, the cancellation of those events opened up more tee times for others.
"That really just opened up the gates for individual players," McNichols said. "Right away, before it got too hot, we were able to offer many different ways for people to play."
Those options included single-rider golf carts, push carts or even a GolfBoard, an electric scooter with space for clubs and an ice chest. McNichols added that Longbow has the largest fleet of GolfBoards in Arizona.
All of these options, along with greater tee time flexibility, helped Longbow have "more revenue and more rounds than usual" in 2020, McNichols said.
McNichols added that the course gives masks away as a courtesy to players and to increase awareness of COVID-19. So far, the course has distributed more than 4,000.
"People appreciate that, but we make them wear them when they come into the shop," McNichols said. "If they forget one, we hand them one."
Staying safe on the links
Golf is one of the most spaced-out games you can play, and that has helped courses thrive during the pandemic.
With mostly outdoor interactions and small playing groups, golf can adapt to even the most stringent social-distancing requirements.
"It's crazy what we started evolving to in order to minimize exposure," said Sykora, the general manager at Mesa Country Club. "We pulled bunker rakes, we pulled ball washers out there. We just minimized as much as we could people touching things.
"Like a lot of clubs, we put a little pool noodle at the bottom of the cup. We highly recommended that people do not remove the flagstick, and around 99.5% of all our players just left the flagstick in."
In essence, many courses have removed objects that are often touched by multiple players without cleaning. Some are also encouraging players to bring their own clubs and not share with those outside their normal household.
ASU student Trey Jordan has noticed the changes on courses where he plays.
"They scrub the carts and take all the other precautions just so that we can play golf," Jordan said. "On the golf course, I usually just play with the people I am close with and see everyday anyways. You're pretty spread out, so it doesn't feel like that much of a worry. No one is touching the pins, and no one is touching anyone else's clubs. Everyone just has their own thing and you stay spread out around the course."