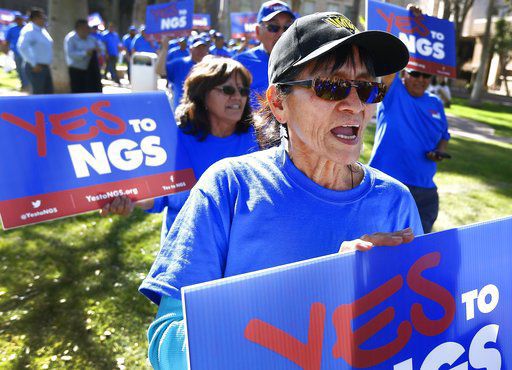 PHOENIX — The Arizona Legislature is being asked to exempt coal used in a power plant on the Navajo Nation from the state's sales tax as a way to help make the plant more attractive for potential buyers.
The Navajo Generating Station in Page near the state line with Utah is set to close at the end of 2019 unless a new owner can be found.
The company that owns the coal mine that supplies the plant is pushing the tax exemption approved Wednesday by a House committee on a 6-3 vote.
The tax cut would cost the state general fund about $35 million, some of which is passed on to K-12 schools, counties and cities. In addition, Navajo County would lose excise taxes it collects on the coal sales.
Peabody Energy's Kayenta Mine supplies the coal. Peabody lobbyist Tom Dorn told lawmakers that the loss to the state would be much greater if the mine and power plant closes and thousands of jobs are lost.
"We want to keep the mine open," Dorn told members of the House Ways and Means Committee. "By keeping the mine open you'll have 8 million tons of coal that will continue to go to NGS."
The Salt River Project, which operates the power plant, said last year it would shutter the 2,250 megawatt plant because of cheaper natural-gas prices.
The Navajo Nation has been scrambling to find a new operator, and Tribal Council Speaker LoRenzo Bates told a state Senate committee Wednesday that Arizona itself stands to lose $18 billion in gross state product between 2017 and 2044, including up to 4,300 jobs.
Bates said the tribe is actively talking with interested parties on purchasing the plant from the utility.
"There are possibilities — but let me express that those possibilities are very, very complex," Bates said.
Navajo Nation President Russell Begaye said in a statement that the tribe supports the coal tax measure as an incentive for Peabody to secure a new plant owner, since the tax adds to coal costs and thus would cut operating costs.
"However, we want to be assured that Peabody will do all it can to secure a new owner," Begaye said. "Therefore, we support a tax exemption starting Jan. 1, 2020, and sunsetting after three years."
Hopis and Navajos who work at the Kayenta Mine rallied at the Capitol last week to call for the plant to be saved. The coal industry is a major source of revenue for the Navajo and Hopi tribes and provides hundreds of jobs for tribal members.
A new owner would have to comply with a costly U.S. environmental protection rule to reduce nitrogen oxide emissions, negotiate coal supply agreements and secure a land lease with the Navajo Nation. Those processes have been time-consuming in the past.
Environmentalists have praised the decision to shutter the plant decades earlier than expected.
Associated Press writer Felicia Fonseca in Flagstaff contributed to this report.