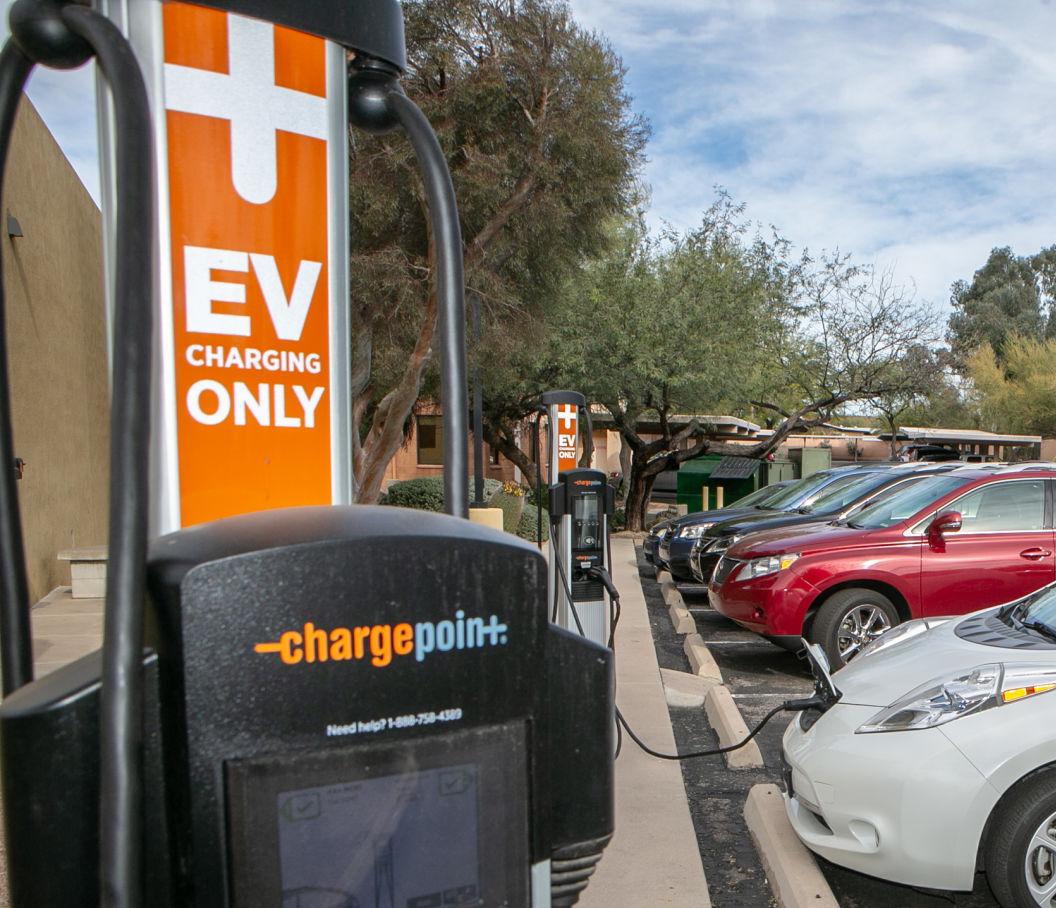 State regulators on Tuesday approved a statewide policy on electric-vehicle infrastructure that encourages utilities' involvement in the rollout of public EV chargers.
But at the end of a marathon, two-day open meeting, the Arizona Corporation Commission didn't get around to approving Tucson Electric Power Co.'s latest energy-efficiency plan, which includes new incentives for electric-vehicle owners and homebuilders to install home charging systems.
The Corporation Commission's new EV policy urges state-regulated utilities to help speed the rollout of electric vehicles by offering special rates for EV charging, supporting development of public charging networks.
The policy, which passed on a 4-1 vote, also allows the power companies to recover their "prudent costs" for investments in EV charging systems through their general rates, like other capital investments.
Backers of the policy, including the non-profit EV group Plug In America, the Southwest Energy Efficiency Project and Western Resource Advocates, pointed to a recent study the groups sponsored that concluded that rapid EV adoption will save Arizona billions of dollars in system efficiency, lower transportation costs and environmental and health benefits.
"The future is electric, with sales growing rapidly and contributing to clean air, reduced health-care costs, reduced maintenance and less reliance on foreign fuels," said Katherine Stainken, Prescott-based policy director for Plug In America.
But opponents included AARP Arizona, which argued that its members can't afford subsidizing electric vehicles they may not drive, and the Western States Petroleum Association, which said the purported benefits of EVs hasn't been proven.
"EV owners should bear the cost of infrastructure," said Steve Jennings, AARP associate state director, noting that electric-vehicle owners tend to be more affluent while many AARP members live on fixed incomes and struggle to pay their bills.
Kimberly Ruht, a Phoenix attorney representing the Western States Petroleum Association, said the purported benefits of EVs are "not scientific based" and mostly unsubstantiated, urging more study before the adoption of a statewide policy.
Commissioner Justin Olson said he wasn't ready to approve the policy without more study on whether it would result in unfair cross-subsidization.
"I don't think it would be appropriate for ratepayers to subsidize someone who has invested in a charging station when they don't use the system," said Olson, the sole vote against the policy.
Commissioners Boyd Dunn and Andy Tobin said electric vehicles are a small part of the market now, but their adoption is expected to grow rapidly as automakers, including General Motors, plan to roll out more EVs and plug-in hybrids to meet government mandates.
"With this enormous growth of these vehicles in the future, it's better to be ahead of the issue than behind it," Dunn said.
TEP's pending 2018 energy-efficiency plan was also scheduled to be considered at the commission's open meeting.
The plan includes new incentives for electric-vehicle owners and homebuilders to wire for charging systems and would allow TEP to recover its costs for some $8 million in planned investments in EV infrastructure.
But after Commission Chairman Tom Forese left the meeting at about 5 p.m. for another commitment and Dunn said he had a family matter, the commission adjourned at about 6 p.m. without taking up TEP's plan.
The matter will now likely be handled at the commission's next open meeting, scheduled for Jan. 15-16.