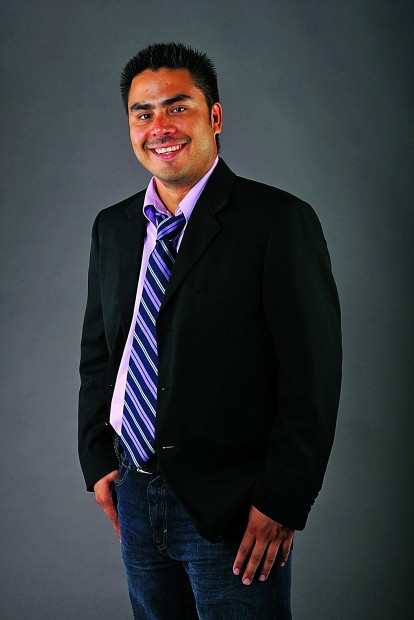 Luis Carlos Davis is an award-winning film director and producer whose passion shows - not only in his work - but also in his dedication to youth.
"Through his work in the community and his filmmaking projects, Luis Carlos has brought a human face to the complex issues involving the border and border issues," wrote his nominator, Jennifer Jenkins, an associate professor of American literature and film at the University of Arizona.
Jenkins met Davis in 2006 when he took one of her graduate courses on Mexican cinema. "We subsequently worked together on his M.A. thesis project, which evolved into '389 miles: Living the Border,' " Jenkins wrote.
Davis mentors high school seniors working on film projects and speaks, whenever the opportunity arises, about social justice issues.
Davis, 32, was raised in the border cities of Nogales, Ariz., and Nogales, Sonora. His life, Jenkins wrote, "is the product of two countries, two cultures and two languages."
"As a native of (both cities) he lives the border in ways that few filmmakers can, and communicates that experience deftly and poetically in his films," Jenkins wrote.
Davis earned a master's degree in Latin American studies with a focus on media arts, border studies and international journalism from the University of Arizona.
His best-known work, "389 Miles: Living the Border," has been screened around the United States as well as in Mexico and France, and will soon be shown in Argentina. The film has also been screened at the Library of Congress in Washington, D.C., the National Collegiate Leadership Conference, and the Guadalajara International Film Festival.
He recently received the Audience Award for Best Film at the Puerto Vallarta International Film Festival for this work.
In addition to producing and directing his films, Davis shares his skills with at-risk youth. He is currently working with the Rancho Santa Fe Foundation to open a multimedia center for youth in Southern Arizona.
Davis, Jenkins wrote, allows at-risk youth to "tell their stories in ways that demand collaboration, responsibility, articulation and commitment from kids who haven't always had those expectations of themselves."