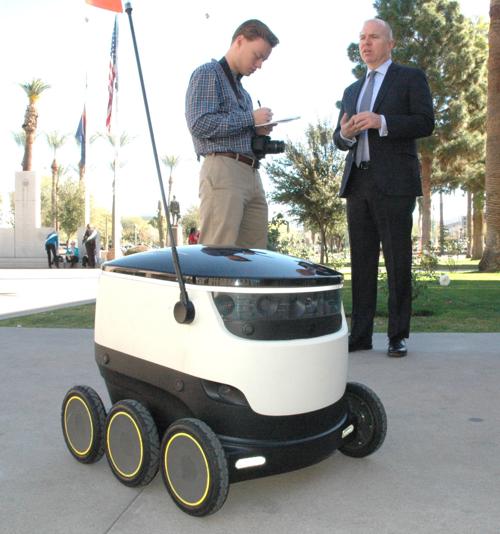 Coming soon to a sidewalk near you: 200-pound autonomous delivery robots.
Without comment, Gov. Doug Ducey signed legislation Thursday authorizing these devices to use sidewalks. That in turn will pave the way for several companies to start rolling out the robots which they say can deliver everything from mail to hot pizza, all a lot cheaper than people driving cars and trucks.
The final version came after Rep. Kelly Townsend, R-Mesa, was able to reinsert some protections and limits into her bill — things like weight limit, minimum liability insurance and a requirement for brakes — that the Senate stripped out of the measure after it cleared the House. She insisted on the protections in the wake of the crash of an Uber in autonomous mode killing a pedestrian in Tempe.
But Townsend said she believes the new law — with those protections — is a good thing for Arizona.
Officially called "personal delivery devices," Townsend said she first saw them on a trip to the nation's capital. And the idea got a push when lobbyists from Estonia-based Starship Technologies sought permission to deploy them in Arizona.
Only thing is, current law prohibits motorized devices on sidewalks. So Townsend carved out a special exception, giving them the same rights and duties as pedestrians with whom they will share the sidewalks and crosswalks. That includes a mandate to follow all traffic and pedestrian-control signals.
"It has to obey the laws, and it can't be mowing people down, obviously," Townsend explained earlier in the session. "I want them to have to abide by our laws so that they're not just running amok."
But Townsend put another qualifier into the measure: The permission of these devices to use Arizona sidewalks will self-destruct Sept. 1, 2020, unless lawmakers renew that authority.