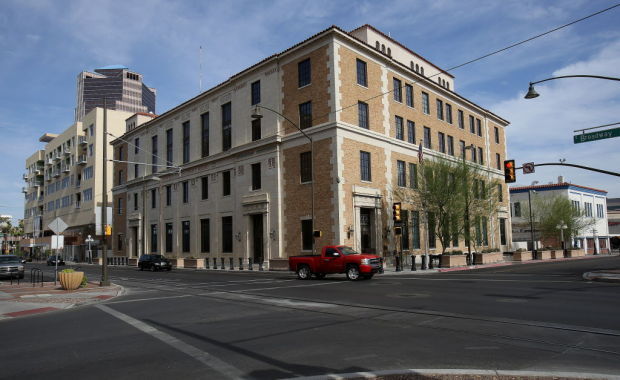 The number of bankruptcies filed in Tucson and across Arizona fell in 2020, despite the economic ravages of the COVID-19 pandemic.
The improvement came as the state and city began 2020 on a strong economic footing, and federal pandemic aid may have helped avert some bankruptcies.
Statewide last year compared with 2019, bankruptcy filings of all types fell 20.6%, to 12,900, while filings in Tucson dropped 25.5%, to 2,920, according to the U.S. Bankruptcy Court's Arizona district.
Filings in the Phoenix area dropped more than 19%, while filings in the court's Yuma office fell 11.7%.
University of Arizona economist George Hammond said the falling bankruptcy filings are in part an indication of how strong the state and local economies were when the pandemic hit, perhaps limiting the damage wrought by COVID-19.
Nationally, bankruptcy filings fell about 30% last year.
"What we're seeing now does look unusual," said Hammond, director of the Economic and Business Research Center at the UA's Eller College of Management. "The economy was doing pretty well and carried that momentum from 2019, so individuals and the businesses may have had more of a cushion going into the year than they would have otherwise."
Hammond said the huge infusion of federal COVID-19 relief funding — including the $2.2 trillion Coronavirus Aid, Relief, and Economic Security (CARES) Act enacted in March and a followup $900 billion relief package — along with things like eviction relief, likely softened the pandemic's impact and kept many individuals and businesses out of bankruptcy court.
"They also may be holding out hope that this may be over sooner rather than later," he said. "It takes time for this process to play out, for people to realize that things are hopeless."
Hammond said he wouldn't be surprised if bankruptcy filings rise again this year, noting that filings typically peak well into a recession.
The pace of the recovery will depend largely on the size and timing of the latest proposed federal stimulus package, he said, adding that the question now is whether the pandemic will be brought under control before the economy "runs out of gas."
"This is not your typical recession," he said. "This is a natural disaster, a huge shock and a gradual recovery."
Chapter 11 bankruptcy filings, which are often used by businesses and protect debtors from legal action while they work out a plan to repay creditors, fell nearly 21% last year statewide and more than 13% in Phoenix.
In Tucson, Chapter 11 filings dropped nearly 70% from 23 in 2019 to just seven last year, the court said.
Among the Tucson debtors that filed for Chapter 11 bankruptcy last year was Blessings Inc., a seafood company that pleaded guilty in 2018 to illegally smuggling sea cucumbers from Mexico to the U.S. The company and its principals were ordered to pay fines and restitution of more than $1 million.
Chapter 7 bankruptcy filings, under which a debtor's assets are liquidated to repay creditors, fell 16.4% statewide, dropping more than 20% in Tucson and about 16% in Phoenix.
Chapter 13 bankruptcy filings, which allow individual debtors to reorganize their debts under a repayment plan, fell 38% statewide and nearly 44% in Tucson.