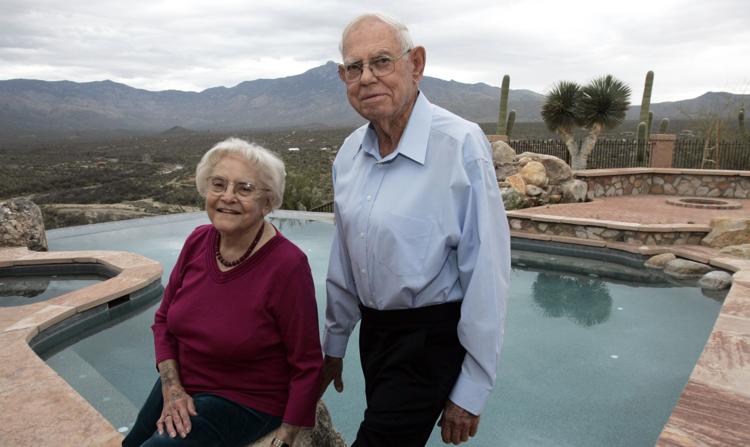 Bruce E. Dusenberry, who built the Tucson moving business his father started in the 1920s into one of the biggest in the Southwest, died Saturday, June 24, at the age of 94.
Dusenberry, former owner of Horizon Moving Systems, died peacefully in his Tucson home after recently returning from treatment for a small stroke in April, said his son, Bruce L. Dusenberry.
"He had a long, full life," Dusenberry said, noting that his father died four days before his 95th birthday.
He said his father was happy to return home to his wife of 69 years, Katie, in June after a long hospital stay and a stint in a rehabilitation center.
Born in Tucson in 1922, the elder Dusenberry grew up in Madera Canyon, where his parents, C.R. Dusenberry and Catherine Moore Dusenberry, had built the Santa Rita Trails Resort and operated it for about 15 years.
His parents sold the resort in the 1930s and moved to a house on North Third Avenue, where they started a moving company, City Transfer Co., with a single truck they had used to haul ice and firewood at the Madera Canyon resort.
"That's how the moving company was born — the dining room was their office, and they had a brick garage in the back alley that was their warehouse," Bruce L. Dusenberry said.
Bruce E. Dusenberry met his future wife, Kathryn "Katie" Norton Dusenberry at Trinity Presbyterian Church, where they were married in April 1948.
After working in the family business, Dusenberry bought the company from his father in 1952 and renamed it City Van & Storage, and later Horizon Moving Systems.
The company grew to became the largest mover in Arizona and a major company in the United Van Lines and Mayflower Transit national systems, peaking in the early 2000s at more than 300 employees and offices in Tucson, Phoenix, Flagstaff, Sierra Vista and Yuma.
Dusenberry became a well-known and respected figure in the transportation industry, serving for 12 years on the national board of directors of United Van Lines and awarded the company's Gene Anderson Award of Excellence.
He also chaired the Tucson Metropolitan Highway Users Conference and served on the boards of the Arizona Motor Transport Association, the Better Business Bureau of Southern Arizona and the Arizona Highway Users Association.
In 1993, Bruce L. Dusenberry left a 17-year law practice behind to take over the business from his parents, after they tried to sell the company but didn't get any acceptable offers.
Dusenberry said part of the deal was that his father continued to run the shop where Horizon maintained its trucking fleet.
"He never retired, in a sense," the younger Dusenberry said. "He could do anything mechanical. ... He would much rather be out in the shop working on a truck or something than in the office."
Dusenberry recalled how his father built his own boat trailer from scratch and refitted his boat with a powerful Volvo motor. He also helped plan and execute complex moving jobs — such as an office move that required removing windows — before stepping away from the business about 15 years ago, Dusenberry said.
Together with his family, Dusenberry loved to fish, hunt, camp, and fly his airplane, especially to Mexico and Alaska, his family said.
In 2013, Horizon's Tucson, Phoenix and Flagstaff operations were acquired by Florida-based Suddath Relocation Systems for an undisclosed sum.
The Horizon name lives on in Yuma as Horizon Moving Group LLC, which Bruce L. Dusenberry still co-owns, though he has retired from management duties.
Besides his wife and son, Dusenberry is survived by daughters Joan, Ann and Janel; 10 grandchildren; and two-great grandchildren.
Funeral services will be private, but the family is planning a life celebration tentatively after Labor Day, Bruce L. Dusenberry said.
Contact senior reporter David Wichner at dwichner@tucson.com or 573-4181. On Twitter: @dwichner
The business news you need
With a weekly newsletter looking back at local history.