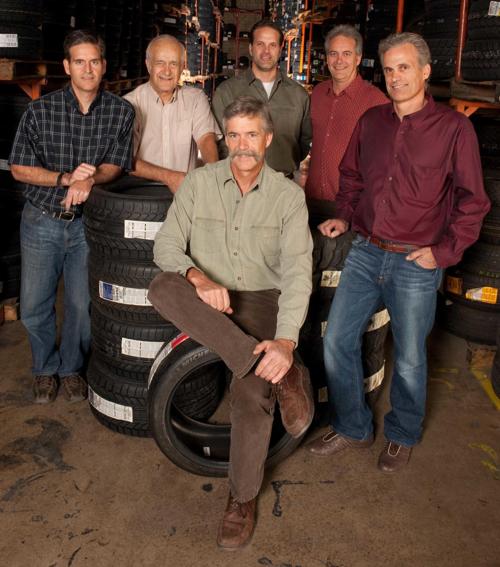 If you drive anywhere in the Tucson area, there is one business sign that you will frequently see. I'm not talking about the fast food franchises, drug stores or grocery stores that are everywhere. I'm talking about Jack Furrier Tire & Auto Care.
Profiling the Furrier family and their business is important to understanding the vibrancy and growth of business right now in Tucson. Growth is all about innovation. The Furrier business demonstrates innovative thinking every day.
Jack Furrier is the patriarch of the Furrier clan, and the founder of Furrier Tire & Auto Care. Starting in 1960, Jack Furrier and his family have grown the business from a single location into the largest independent tire and auto chain in Tucson. They have 14 locations throughout Southern Arizona.
Mike Furrier, the oldest of the siblings, helped expand operations 45 years ago. He started Desert Rat Off Road Centers, a specialty accessory and tire center appealing to off road aficionados. Their first showroom was located in one of the Furrier Tire Centers.
Since then they've expanded to nine full service brick and mortar Desert Rat locations spread over Arizona and New Mexico. Tim Furrier, number eight in the line of siblings, runs the retail side of the Desert Rat business.
Make no mistake, this is a bona fide family business. Jack Furrier has eight children; one daughter and seven sons. Five of the sons work in the business. I had the pleasure of sitting with Jack and three of his children, Jeff, Sean and Rick, to learn more.
When they got started 60 years ago, the tire industry was a very localized business. The success of a company depended on building a reputation for high quality products and services, building strong relationships with customers, and having solid relationships with reputable tire manufacturers. These are the things that set the foundation for decades of solid growth.
However, nothing remains constant. There is always change, and the tire and auto industry and the Furrier business are no exceptions. The manufacturers dramatically altered their business model, which dramatically impacted their distributors.
The biggest change is the cost of tires. Today, the profit margins on tires are nowhere near what they were 50 years ago. Tires fall into a price competition bucket. As Jack Furrier said: "Pricing has become a race to the bottom."
In this environment manufacturers changed all of the distribution channels. They opened their own stores e.g., Firestone Tire Centers. They sought out discount partners e.g., Costco and Sam's Club. They went online and completely cut out any level of personal service e.g., Amazon.
So what was left? This is where the innovative thinking of the Furrier clan comes into play.
They built new revenue streams. Today tires represent just over 50% of the company's revenues. The remaining revenue is from personalized auto care and service.
They sought out new customer segments. The Desert Rat operation began as a personal passion of Mike, the oldest son. Additionally, the product line they offer is quite diverse, appealing to new segments of auto, RV and off road customers, including a highly specialized entry into automobile racing safety products, UPR Racing Supply, run by brother Jeff.
They opened new sales channels. The online world of tire sales is not just for the big guys. Furrier has a strong and growing online segment of their business, appealing to customers who know what they want and are looking for the best price, yet want a local service team they can depend upon.
Most importantly, the company has differentiated themselves by focusing on the one thing most important about tires — safety. Tires are the connection between a 2 ton mass of metal traveling at high speed, and the road surface. It is the literal No. 1 factor in terms of safety.
Consumers need education. The Furrier team knows tires, and knows how to explain the variations between manufacturers in clear and easy to understand terms.
Employees listen, seeking to understand each customer's needs. They don't sell; they ask. They want to know all about the customer's driving habits and style. They understand their customer's budget. They help the customer define what they need.
Then there is balance (not tire balance, though that is part of their service). The balance I'm referring to is between price and safety — delivering value. For Furrier, that means quality products matched to customer needs, at a fair price.
I mentioned early on that this family business is indicative of why Tucson's business community is so vibrant right now. The reason is they are a Tucson institution, and they are thriving in an ever increasing online, anonymous world.
The company planning is organic. As told to me: "we're open to exploring new ideas, but even the best of Harvard Business Review has to pass through the sieve of practicality."
All five brothers operate autonomously from each other. They trust each other, and are available to help each other whenever the need arises.
The company is looking forward with the third generation represented by grandson John who like others before him frequently asks "Why do we do things this way?" He looks for opportunity to advance and improve things. The future looks bright, preparing for the challenges ahead for Furrier Tire and Auto Centers, Desert Rat Off Road Centers and UPR Racing Supply.
The company is in the second half of a century of operations, and I suspect they will still be a Tucson institution at the full century mark.
The business news you need
With a weekly newsletter looking back at local history.