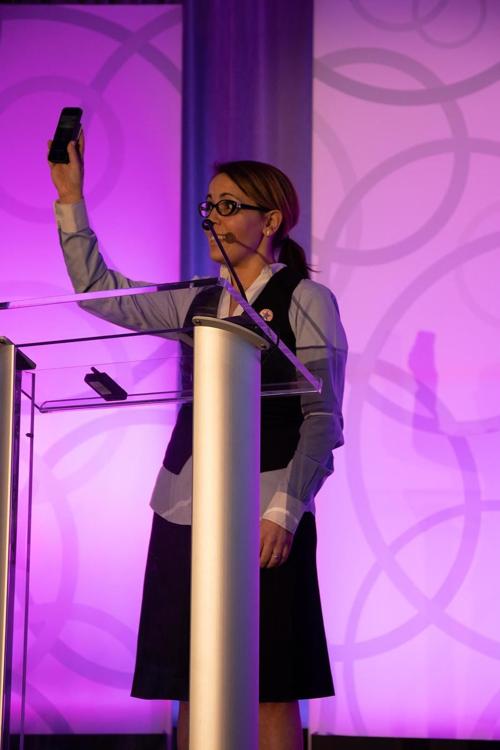 Eleven years ago, a senior vice president of IBM asked a fresh out of University of Arizona, early-tenure employee with multiple undergraduate degrees and an MBA why she wanted to be a part of IBM. Out of a bundle of nerves, the employee gave an answer that spoke volumes: "Working here is like being in a great big candy store. You just have to be careful to not eat too much."
That employee was Calline Sanchez, and she is now the IBM vice president of worldwide systems lab services and technical universities. The senior vice president who asked the question was Ginni Rometty, and she is now the CEO of IBM.
By her own admittance, Sanchez is a total geek, an all-time nerd. You'd think a connection to IBM is a pre-destined fit. The actual connection, though, began with a specific incident.
Sanchez was young when she watched the crash of the Challenger space shuttle. It made her mad. She later learned that the black box recorder from the shuttle was recovered but almost indecipherable. The technologists at IBM's lab here in Tucson were able to clean those tapes and recover the data. That feat inspired Sanchez's connection to IBM. She wanted to meet those "rock stars."
Fast-forward to today and some quick facts: IBM is 40 years in the Tucson marketplace. They are an anchor tenant at the University of Arizona's Tech Park (IBM used to own the property and sold it to UA in 1994).
IBM is at the heart of what is a true technology center in Tucson, with over 50 companies located in the Tech Park, over 40 of them early stage businesses. Innovation is the core of what happens at IBM and the entire UA Tech Park. Through technology they tackle questions that have to be answered. This is important because technology attracts companies, capital and people.
"At IBM we create stuff. We play in many sandboxes and have fun," said Sanchez. One of their primary sandboxes is data storage on an enterprise level. Think about the credit cards in your wallet. The information about each cardholder's account and transaction history needs to be stored. That's a lot of information for one credit-card company.
Now think about how many credit-card companies there are, and the amount of data each company amasses. IBM and their products and services are the data storage solution for every credit-card company.
I asked Sanchez to imagine a 12-year-old girl dreaming about options for her life and what she wants to do. What would you tell that girl about IBM?
As she did early in her career, Sanchez gave a response that speaks volumes.
"Remember the movie 'The Wizard of Oz?' Dorothy, the Scarecrow, the Tin Man and the Lion confront the Wizard. What they find is a man behind the curtain. IBM is the organization behind the curtain. They make things happen."
In 2018 IBM's Tucson location developed three times the intellectual property of the University of Arizona, Arizona State University, and Northern Arizona University combined.
IBM has been the patent development leader in the U.S. for 25 straight years. In 2017, IBM secured 9,043 patents, and 481 of them came out of Tucson.
Technological innovation imagines tomorrow and builds it. IBM is a leader in that effort. IBM and the UA Tech Park are catalysts for a new moniker for Tucson — the Silicon Desert. As much as Santa Clara and San Jose are the heart of the Silicon Valley, Tucson is a geo-rival for technology breakthroughs.
The Silicon Desert is here, it is growing, and it is making a difference. Companies are starting. Investment capital is being put to work. Collaboration is rampant with the University of Arizona, anchor companies like IBM, and all of the new ideas and businesses.
One final quote from Sanchez succinctly describes why the Silicon Desert is attracting so much interest and talent — "We're looking for the next great idea. It can just as easily come from here as anywhere else in the world."
Ken Cook is the co-founder of How to Who, a program on how to build strong relationships and how to build business through those relationships. Learn more at howtowho.com.
The business news you need
With a weekly newsletter looking back at local history.