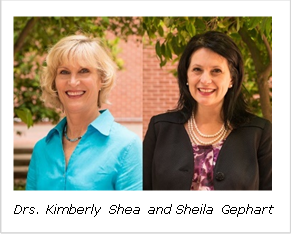 UA College of Nursing: Registered nurses Sheila Gephart and Kimberly Shea, both associate professors at the University of Arizona College of Nursing, have been inducted as fellows into the Western Academy of Nurses. Established in 1989 by the Western Institute of Nursing, a collaborative of collegiate nursing schools and health-care agencies in 13 Western states, the Western Academy of Nurses recognizes and honors nurses who have achieved superior accomplishments in the realm of direct-care nursing practice, education or research. Membership in the acade
my is by nomination.
Shea has been a nurse for more than 25 years, including more than 15 in hospice care. As a nationally funded nurse-scientist, she investigates technology-based delivery of health care in patients' homes. Gephart has been a nurse for 20 years and has been a nurse-scientist since 2012. She studies technical and parent-engaged solutions to reduce the burden of necrotizing enterocolitis, a disease that affects the intestines of premature infants.