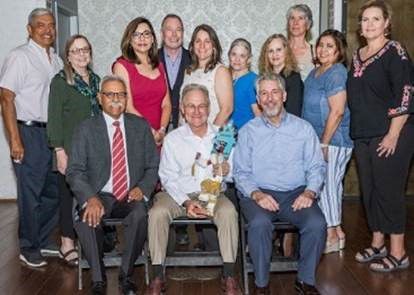 Tanque Verde Ranch: Tanque Verde Ranch was named the No. 5 resort in the Southwest and Texas as part of the Condé Nast Traveler Readers' Choice Awards. A record-setting 600,000 readers cast their votes for this year's best cities, islands, hotels, resorts, cruise lines, airlines, and airports. Of the 10,000 nominees, only 15% made the cut.
Mayor Jonathan Rothschild: The Tucson Industrial Development Authority recently honored Tucson Mayor Jonathan Rothschild for his efforts to create and sustain affordable housing in the region. Programs he has helped grow — including the Tucson Pathway to Purchase Program, the Pima Tucson Homebuyer's Solution Program and the Tucson IDA Mortgage Credit Certificate Programs — have had an impact of nearly $1 billion on local affordable housing, said Tucson IDA President Larry Lucero.
Banner–University Medical Center Tucson: Banner–University Medical Center Tucson has earned comprehensive stroke certification from The Joint Commission. Accreditation and certification by The Joint Commission is recognized nationwide as the gold standard in the treatment of the most complex stroke cases. Banner-UMC Tucson now offers the first Joint Commission certified comprehensive stroke center in Tucson and joins Banner–University Medical Center Phoenix as the second Joint Commission comprehensive stroke center in the state. Developed in collaboration with the American Heart Association and the American Stroke Association, the certification recognizes the center's ability to treat the most complex stroke patients 24 hours a day, seven days a week.