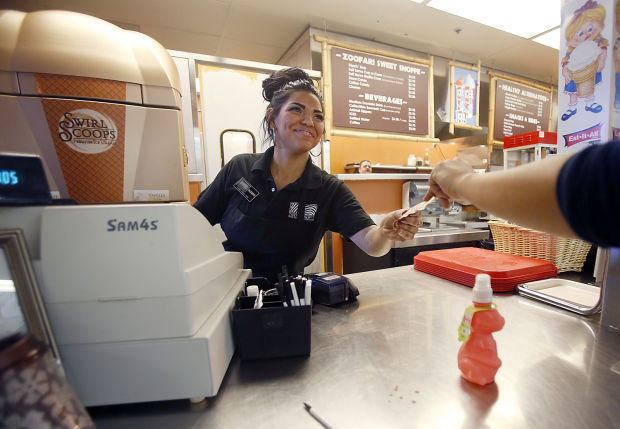 As thousands of applications pour in from teens hoping for summer work, Dana Katbah has one big wish: more involvement from local businesses.
Over the next several weeks, between 5,000 and 6,000 local youths, ages 14 to 21, will apply for what usually amounts to 1,000 to 1,400 job spots through a program with Pima County One-Stop Career Center.
"We have plenty of public sector jobs, but it would be nice to get some law firms involved, some medical and dental offices, and things that are more in line with what youth want when they are interested in a certain career path," said Katbah, program manager for Pima County Community Services. "What we're trying to do is develop the future workforce here."
For young adults looking for job training, there's also Pledge a Job, for those aged 16 to 21, as well as federally funded job-training for youths from low-income families. The Workforce Investment Act "takes a youth from step one all the way through embarking on a career," she said.
While the Pledge a Job program is not subsidized by the county, wages for the summer youth jobs are usually paid through the county — and the program can only support so many, Katbah said. One way to expand opportunities for youths, she said, would be to have more employers pay at least half of the wages for the summer interns.
"We're asking more employers to get involved and then hopefully, each year, we will get another one either paying the full wages or paying a portion of them," she said. "If they just pay half of minimum wage, that's only $4 per hour."
Amisadai Licea had just finished his eighth-grade school year when he began a summer job at the Reid Park Zoo's Zoofari Market Cafe, which is owned by Service Systems Associates. Licea's father died when he was a toddler and, he said, money has always been scarce.
"That's why I started working at such an early age, even though my mom never told me to do that," Licea said. "It was just kind of a way to help her."
His minimum-wage earnings have helped him afford school supplies and clothing. Now in his senior year at Catalina Magnet High School, Licea, 17, is taking a calculus class at Pima Community College that's being paid for by Service Systems Associates.
The cafe's general manager, Don Morgan, said the company stepped up when Licea, now hired on as a regular, part-time Zoofari employee, shared that he needed the advanced math class to graduate and meet his college requirements. Morgan said they do all they can to help the teens who work for them, whether it's to prepare for college or another career.
"It's just a great way to get teens involved and introduce them to the workforce," Morgan said. "When you apply for another job, you can have that as a reference. You really learn a lot of life skills."
During the 10-week summer program, Morgan said, he tries to teach the interns all of the basics: running the cash register, customer service, food preparation and organizational skills.
Licea said the job training and Morgan's encouragement have helped him tremendously.
"It's good to know there's someone there who cares about me, that I can always go to him," he said. "He's always got my back."
Morgan estimates about three out of four summer interns continue to work for him in some capacity, either by returning for special events or becoming a regular employee.
"A lot of these kids have family problems. Many are trying to save money for school, or help out with money at home," he said. "I always preach that the one thing you need more than anything is an income."
employee is Jazzmene Perez, who started out as a summer worker when she was 17. Now nearly 22, Perez said she'd had other jobs before the Zoofari Cafe, but sought out the summer youth program because she wanted "more than just the basics."
"I was living with my grandmother and had just earned my GED," she said. "I was looking around for work and I came across the One-Stop youth program. It was just what I needed. I needed direction."
Perez said the job training "helped me grow so much."
"I'm going to go back to college to become a medical assistant but I still need income and so this is perfect for the moment," she said.
Valerie Semlow, owner of Robeks Juice, was excited to take in summer interns for the first time last year. She offers fresh juice, smoothies and vegan snacks at her two stores, 50 S. Houghton Road and 7401 N. La Cholla Blvd. at the Foothills Mall.
Semlow hadn't heard of the program until one of her customers mentioned it. Over the summer, three high schoolers worked for her and, at the summer's end, she offered regular positions to all of them.
One of the students declined so he could focus on school and extra-curricular activities, she said, but the other two now work part-time for her while still attending school.
"They are great workers," she said. "It was a no brainer when it came to hiring them."