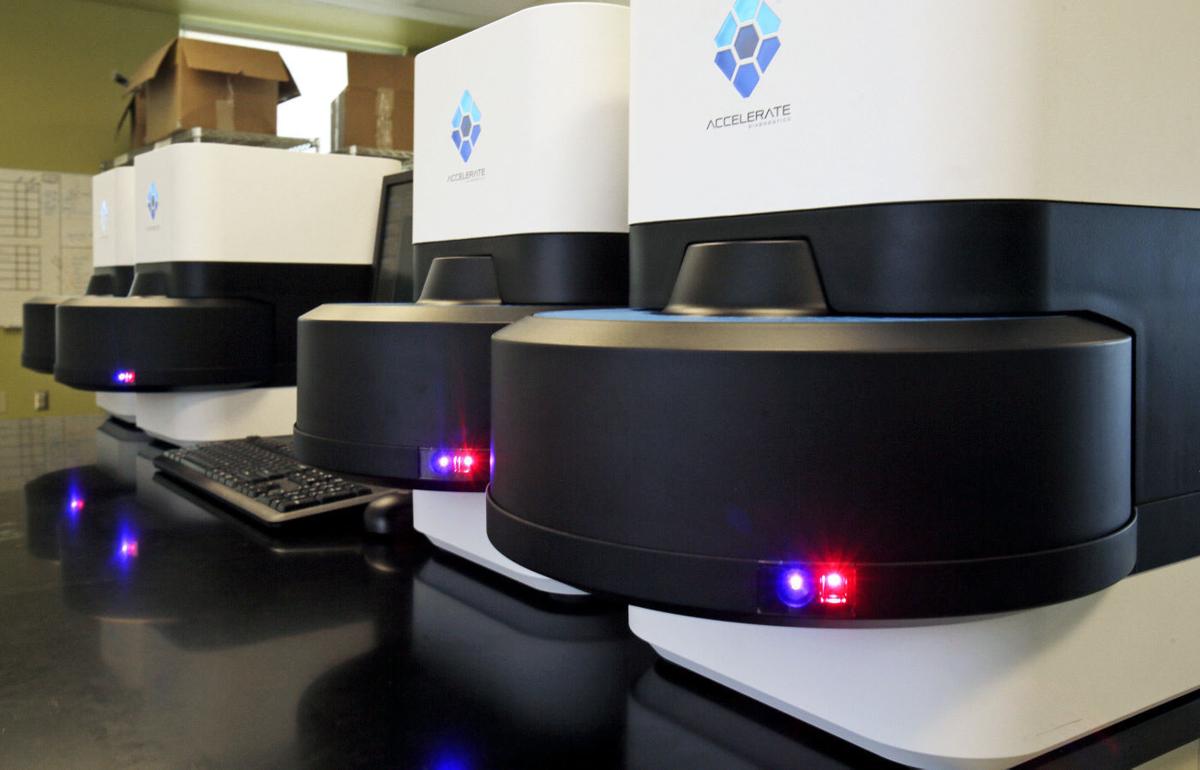 The CEO of Tucson-based medical diagnostics startup Accelerate Diagnostics is retiring and will be replaced by the former head of a drugmaker Roche's North American diagnostics operations.
Accelerate CEO Lawrence Mehren will retire effective Feb. 1 as part of a succession plan initiated by Mehren in 2018, the company said.
Jack Phillips, who joined Accelerate as chief operating officer in September, was unanimously appointed by the board to succeed Mehren as CEO.
Before joining Accelerate, Phillips was the president and CEO of Roche Diagnostics, North America, in Indianapolis since 2010.
Prior to that, he served more than a decade as an executive with Tucson-based tissue diagnostics provider Ventana Medical Systems, which was acquired by Swiss drug giant Roche in 2008 for $3.4 billion.
Mehren will support the transition process and remain a key advisor to the company through 2021, the company said.
Accelerate, which is publicly traded on the Nasdaq Capital Market, makes a proprietary system to rapidly identify bloodborne bacterial pathogens and their susceptibility to specific antibiotics.
Mehren was a colleague of Phillips at Ventana and spent five years in executive roles there before joining an investor group that acquired control of Accelerate, then called Acceler8 Technology Corp., in 2012.
The investors, including key Ventana investors John Patience and Jack Schuler, restructured the company and moved it to Tucson from Denver in 2012. The company won U.S. Food and Drug Administration approval to market its Pheno rapid bloodborne pathogen test system in 2017 and has been ramping up sales ever since, reporting the placement of about 450 instruments in 25 countries.
But Accelerate, which employs about 180 local workers, has yet to turn a profit as it has invested heavily in global sales and marketing. This year through the third quarter, the company posted a net loss of $63 million, down from a loss of $66 million during the same period in 2018, on net sales of $5.8 million, up from $3.8 million last year.
For all of 2018, Accelerate posted a net loss of $88.3 million in 2018 on annual net sales of $5.7 million.
Under Phillips' leadership, Roche Diagnostics advanced from third in market share to become the top-ranked company for in vitro diagnostics — generally involving lab testing of blood and tissue samples — in North America, Accelerate said. In a prepared statement, Mehren said many people doubted the company could successfully develop the Pheno system, but more than 100 studies have confirmed its performance and clinical value and the instrument has been adopted by a number of the most prominent hospitals around the world.
"We believe that we are well on our way to becoming the standard of care for bloodstream infections, and we are absolutely thrilled to have someone of Jack's caliber take the helm at this stage of the company's growth," Mehren said.
Phillips said he is enthusiastic about joining Accelerate after meeting with customers from around the world.
Contact senior reporter David Wichner at dwichner@tucson.com or 573-4181.
On Twitter: @dwichner. On Facebook: