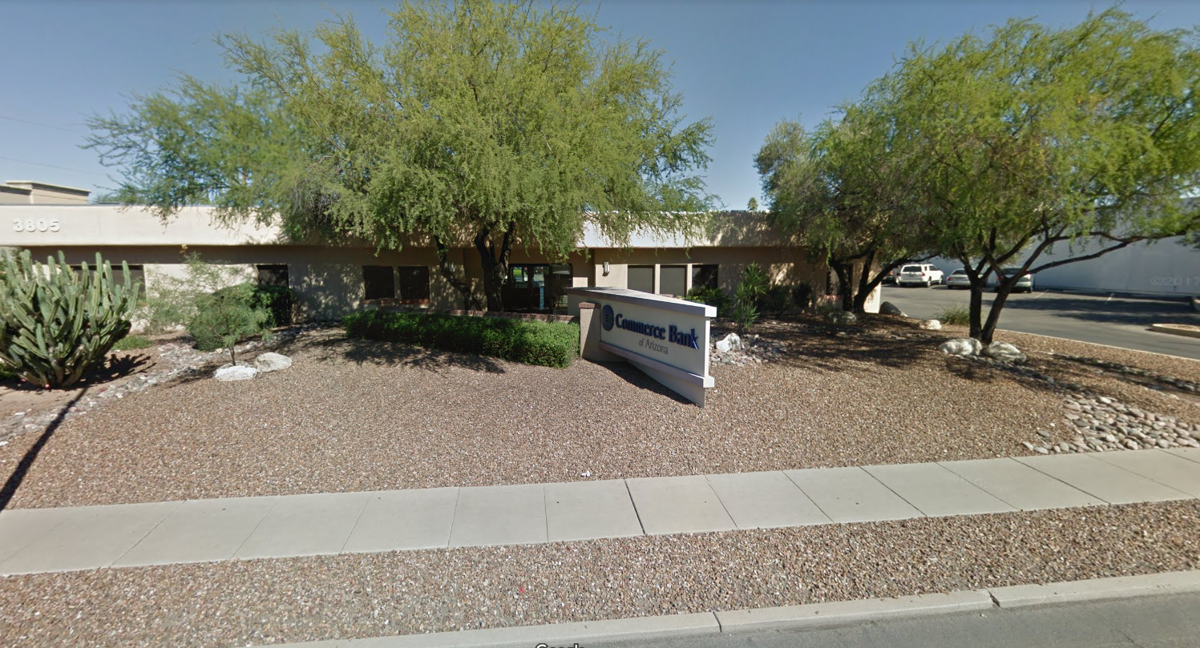 Tucson's only locally owned bank has nursed itself back to financial health with the help of local residents who invested millions of dollars to shore up the bank's balance sheet.
Commerce Bank of Arizona, which weathered huge losses on small-business loans following the Great Recession, announced recently that state and federal regulators had lifted a 2013 consent order requiring the bank to significantly raise its capital reserves.
After raising $3.5 million in new capital in 2015, Commerce's parent, CBOA Financial Inc., raised about $10 million in capital earlier this year, boosting the bank's capital-reserve ratios beyond the requirements in the consent order by the Federal Deposit Insurance Corp. and the Arizona Department of Financial Institutions.
About 130 local investors contributed to Commerce's capital campaign, bank Chief Financial Officer Mike Sheneman said.
As a result of continued efforts to rid its balance sheet of bad debt, Commerce is on firm financial footing and continues to build its profits, Sheneman said.
"Through the first half of the year, we continue to earn positive profits, and increasing profits," he said, noting that Commerce posted net income of nearly $500,000 for the first six months of 2017 compared with about $50,000 for the first half of 2016.
"Now that we've put some of these other issues behind us, were looking forward to growing the business," Sheneman said.
Under the consent order, Commerce was required to raise its leverage-capital ratio — a key measure of a bank's ability to weather loan losses — to 9 percent, and a key risk-weighted capital ratio to 13 percent.
As a result of the capital infusion, Commerce's leverage-capital ratio improved to 11.7 percent at the end of the second quarter, from 6.7 percent in the first quarter, and boosted its risk-based capital ratio to 14.4 percent, from 8.9 percent, Sheneman said.
Commerce Bank President and CEO John P. Lewis said local investors really stepped up to support the bank.
"We are the last locally owned, locally managed bank in Tucson," Lewis said. "With everything that's gone on in the world with the large banks, it's a remarkable turnaround, and we have a great story to tell."
Local businessman Bill Assenmacher, a Commerce Bank investor and chairman of the bank's board of directors, said the turnaround of Tucson's last locally owned community bank is good news for local small businesses.
"The whole idea of community banking is to allow the little guy access to relationships at the bank — it's all about relationship banking and the bigger banks are getting very hard to work with," said Assenmacher, who is president of the industrial fabrication company CAID Industries.
"We're the little guy that has a lot of room to grow, and we're the ones that have staff and people who have been in the community all their lives," he added.
The stock of the bank's holding company, CBOA Financial, is publicly traded over the counter on "pink sheets," giving the stockholders a market for their shares.
Commerce is actively looking for loan business, Sheneman said, as it slowly works out bad loans that have kept the bank's percentage of "non-performing assets" — such as delinquent loans — among the highest in the state, at about 5 percent.
That figure is shrinking slowly as Commerce works out as many viable problem loans as possible to minimize the amount it has to write off, he said.
Commerce's recent progress hasn't yet been recognized by Bauer Financial, a Florida-based firm that has been rating the financial health of banks since 1983.
Bauer rated Commerce at one star, or "troubled," for the first quarter that ended March 30, the company's most recent ratings.
Commerce Bank's Lewis said he hopes Bauer will recognize the bank's progress and reward it with a higher rating in its second-quarter report, due out in mid-September.
Another local bank that has been under a regulatory order to raise capital, Canyon Community Bank, kept its two-star, or "problematic," Bauer rating for the first quarter of 2017, after posting a $109,000 loss in the quarter.
Once locally owned, Canyon raised $9.5 million from a Texas-based investment holding company in November 2015, making it one of the state's best-capitalized banks and giving the investors a 77 stake in the operation.
Canyon is still working with the Office of the Comptroller of the Currency to lift a 2013 consent order that required the bank to raise its capital reserves.
The 2015 investment helped Canyon blow past its required capital ratios, but the bank has been absorbing losses as it focuses on the quality of loans rather than volume, said Lauren Kingry, Canyon's president and CEO.
"We are highly capitalized and highly liquid. Our ratios would suggest we are poised for growth, and we are," said Kingry, a former director of the Arizona Department of Financial Institutions.
"In this time of recovery and fixing, we have been very cautious about where we loan money, as opposed to just looking at the balance sheet."
Canyon posted a $64,000 loss in the second quarter, and losses could continue this year as the bank continues to shed bad loans and focus on high-quality new loans.
Kingry said he hopes the Comptroller's Office recognizes Canyon's progress and lifts the consent order after its next examination.
"They want to know how we're doing along the way, and the reason they didn't lift (the order) is they want a little more time to watch us work," he said.
Meanwhile, all Arizona banks and credit unions with operations in Tucson kept their Bauer ratings unchanged in the first quarter.
For the first quarter, 70.6 percent of banks operating in the state were "recommended" by Bauer, — meaning they won one of Bauer's top two ratings, "superior" or "excellent" — while 11.8 percent were rated "troubled" or "problematic."
That compares with a national average of 88 percent recommended and 2.3 percent troubled or problematic, but most large banks in Arizona are rated four or five stars.
Southern Arizona credit unions maintained their prior Bauer ratings in the first quarter, with locally based Vantage West, Hughes Federal, Tucson Federal, Pima Federal and Pyramid Federal all keeping the five-star "superior" ratings.
"The whole idea of community banking is to allow the little guy access to relationships at the bank — it's all about relationship banking and the bigger banks are getting very hard to work with." Bill Assenmacher, chairman of Commerce Bank board of directors
Contact senior reporter David Wichner at dwichner@tucson.com or 573-4181. On Twitter: @dwichner