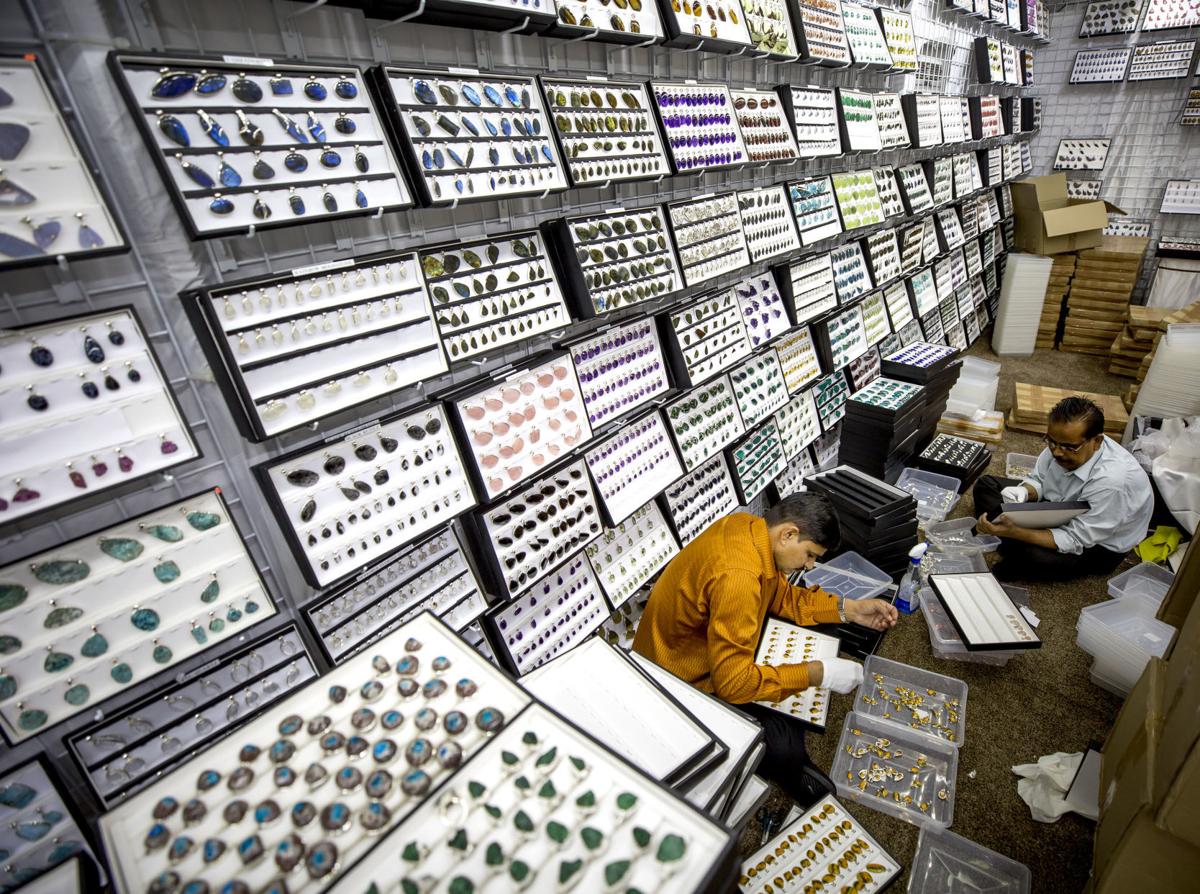 When the Tucson Gem, Mineral and Fossil Showcase kicks off this weekend, it will be the biggest ever — and that's great for Tucson's economy.
The collection of shows across the Old Pueblo had a direct economic impact of more than $131 million last year, up 9% from the last survey in 2014, according to a study by FMR Associates for Visit Tucson.
And together with indirect and induced effects like spending with local companies, the gem shows' total economic impact topped $200 million for the first time in 2019, according to the FMR study.
This year's showcase, which officially kicks off on Feb. 1 and runs through Feb. 16, features 51 individual shows, up from 48 last year and the most ever, said Jane Roxbury, director of convention services for Visit Tucson.
Last year's showcase had an estimated 65,000 unique visitors, who each visited more than six shows, for an estimated overall visitation of more than 450,000, FMR found in surveying show managers, exhibitors and buyers.
"Nearly half of the shows are locally owned and locally operated, and over the last few years we've seen a number of especially mineral dealers come out with new business models," Roxbury said.
She cited a growing cluster of shows on North Oracle Road that focus on minerals and fossils, now known as the "Mineral and Fossil District."
Overall, the range of products offered by show vendors has expanded to things like home furnishings, decorative art and even clothing.
"There's a lot out there for shoppers to find," Roxbury said, noting that most shows are free to attend and only six shows are limited to wholesale buyers.
The local community has also embraced the gem show, with strong local attendance and local business support catering to exhibitors and attendees, Roxbury said.
"We've really been able to get the word out in a way that kind of personalizes this experience for all the businesses and illustrates to them why they should care about this cornerstone event," she said.
At the same time, many shows have expanded their exhibitor rosters and space.
The Pueblo Gem and Mineral Show at the Ramada Wyndham Tucson on West Cushing Street has nearly quadrupled in size since it was acquired along with the then-Riverpark Inn in 2003, said Maury Destouet, vice president of show owner Tucson Hotel Associates.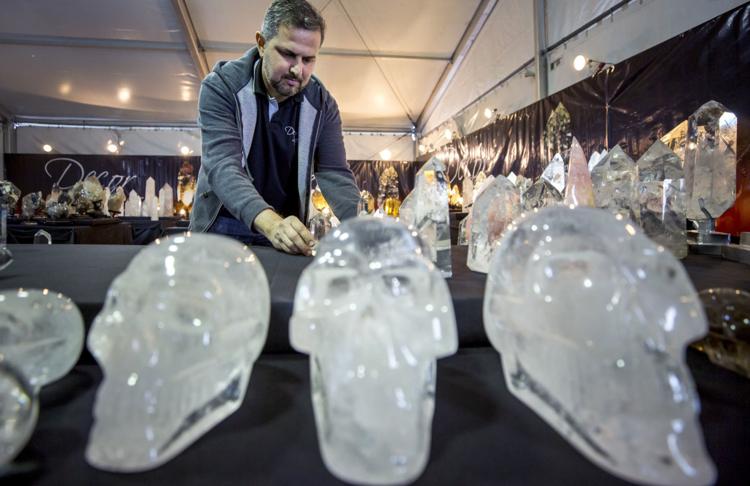 The Pueblo show has added tent space on acreage adjacent to the Ramada and now boasts about 400 booths run by 325 vendors, Destouet said.
He said the modern streetcar line — which stops in front of the Pueblo show — and the free Gem Ride shuttle are key to keeping the show full with buyers.
The surge of downtown redevelopment also has given attendees more places to stay and many new food and entertainment options near the roughly dozen downtown shows, he said.
Though the 2019 survey was not a customer-satisfaction study, comments gathered show exhibitors gave high marks for the showcase's overall organization, the shuttle system and show advertising promotion by Visit Tucson.
Suggestions for improvement included expanded parking and refined Gem Ride service.
The 22nd Street Mineral and Fossil Show has grown into one of the biggest shows in Tucson since launching in 2010, said owner Lowell Carhart.
Carhart said his show's main tent has maxed out in length to more than 800 feet, now has about 350 booths and has added more tent space and parking.
He credits most of his show's foot traffic to its large size, central location and a strategy of heavy advertising around Tucson and in the showcase guide for an ad expense of about $200,000 this year.
The City of Tucson has really stepped up, helping Visit Tucson revive the Gem Ride shuttle a few years ago after a state grant that paid partially for the service expired in 2007, Roxbury said.
"I really want to say the city's done an amazing job of catering to and supporting the downtown gem shows," he said, citing Gem Ride and more remote parking. "All of that has made it really easy for people to come."
Carhart took it a step further, lauding the various city agencies including police and fire personnel that help make the gem shows successful.
"Visit Tucson is just the more visible part of the city's support for the shows," he said.
Carhart said few may appreciate the city's efforts, which include special traffic changes, staffed street crossings, trash and weed control, temporary parking locations, and enhanced police staffing.
"The folks with the City Department of Transportation, Parkwise, the Tucson Fire Department and even the Water Department get too little credit for ensuring that this event flows as smoothly as it does," he said.