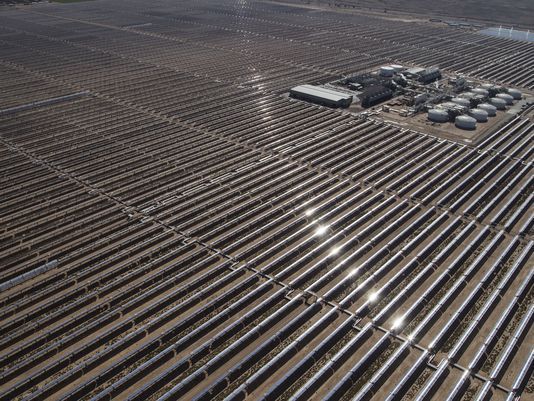 Abengoa, the Spanish company that built Arizona's largest solar power plant, is facing a possible liquidation of its assets through bankruptcy in its home country. But U.S. Department of Energy officials expect the Solana Generating Station near Gila Bend to be unaffected.
Solana is generating revenue by selling power to Arizona Public Service Co. That revenue is being used to repay a $1.45 billion U.S. loan used to build the plant. The loan came through the Department of Energy Loan Programs Office, which also provided $1.2 billion for Abengoa's Mohave solar plant in California.
An Energy Department spokesman said that the loans for both solar projects were made to companies that are distinct from the parent company, Abengoa S.A., protecting the U.S. government in the event Abengoa enters bankruptcy.
"Solana, which is currently online and generating clean power, is owned by a project finance company that is repaying its loan with interest," Energy Department spokesman Bart Jackson said.
"As we do with every project in the Energy Department's Loan Programs Office portfolio, we will continue to closely monitor its status throughout the life of the loan guarantees to protect taxpayer interests."
The Energy Department drew sharp criticism in 2011 when another solar company and loan recipient, California-based Solyndra, filed bankruptcy after taking about $535 million from the government. In that case, the factory it built was unable to compete with better solar technology.
Despite that setback, Jackson said the loan program is performing well.
"Overall, DOE's more than $32 billion loan portfolio has accelerated the deployment of clean energy technology and is performing very well, with losses of only approximately 2 percent of the entire loan portfolio," he said.
The companies supported by the Energy Department loans have repaid a total of more than $6 billion, including more than $1.2 billion in interest.