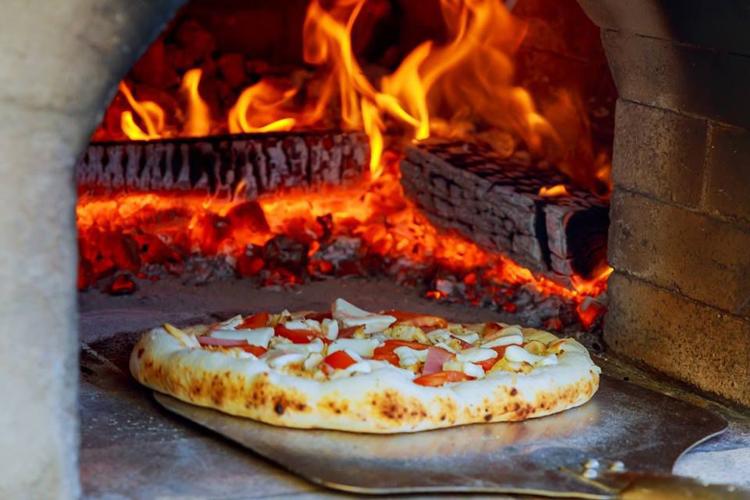 Who would have thought that pizza and barbecue under one roof was a good idea?
Jay Healy, owner of the east side cowboy bar Cow Pony, that's who.
Healy last week opened Fire N' Smoke in a 2,300-square-foot space at 6502 E. Tanque Verde Road next to the bar. There's an imported wood-burning brick pizza oven in the front of the restaurant, a giant smoker in the back.
It makes sense if you look at the Tucson restaurant market. So far this year, we've welcomed several pizzerias, including Barro's Pizza in Marana that is set to open in mid-August; and we've embraced a couple of barbecue-centered food trucks and restaurants, including two with "Ken" in the name — Ken's BBQ, 1830 S. Park Ave.; and Ken's Hardwood Barbecue at 5250 E. 22nd St. — that opened within weeks of each other in the spring.
Healy went to New York City and learned how to make New York-style pizza fast-baked in a flaming wood-fired oven. And he spent time in Kansas City and Texas, learning the tasty nuances of smoking ribs, chicken and pork until the sweet aroma perfumes the neighborhood. Then he put them on one menu, with some salads, pastas and sandwiches, and has sat back for the past week watching diners scratch their heads in happy amusement.
In the first four days after opening late last week, Healy said business has been pretty equally split between the pizza and barbecue.
"It's kind of crazy. Even at the same table we're seeing 50-50," he said.
Pizzas run about $16 for a large build-your-own; specialty pies can run as high as $23.49 Barbecue plates (chicken, pork and tri-tip) run $11.99 to $13.99, ribs are $14.99 a half slab, $23.99 for a full slab.
Fire N' Smoke is open from 11 a.m. to 9 p.m. Sundays through Thursdays, until 10 p.m. Fridays and Saturdays. Details: firensmokebbqnpizza.com