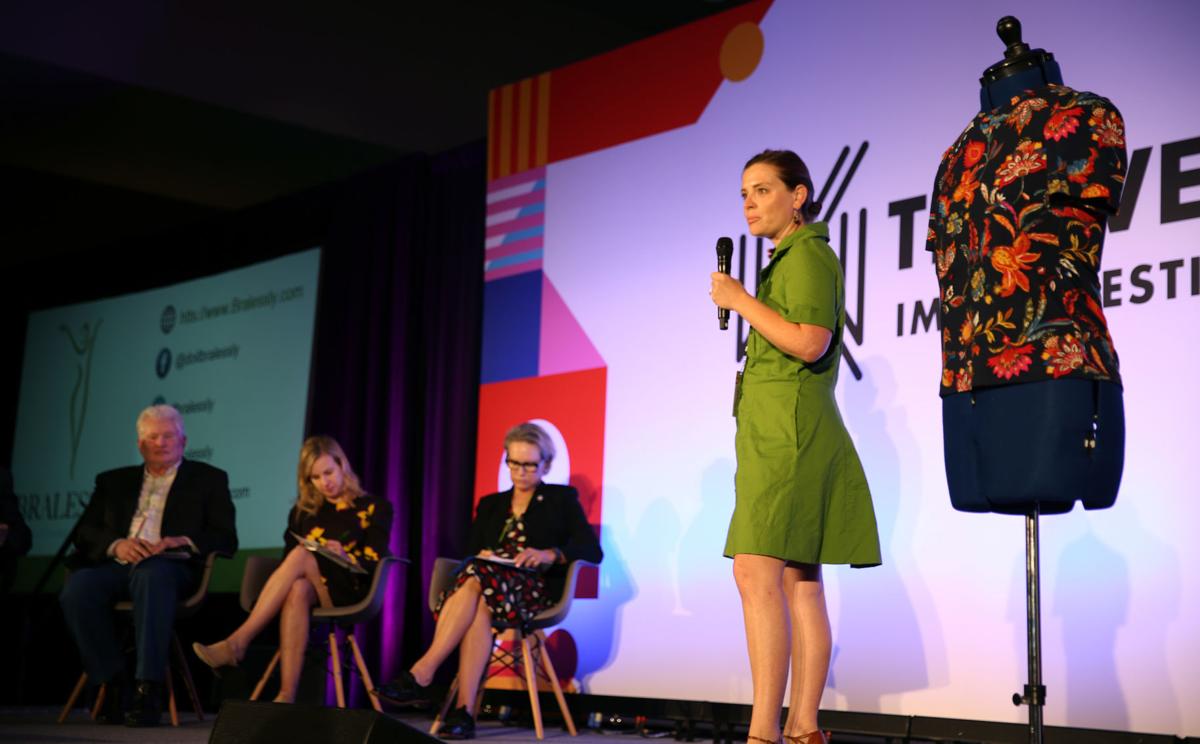 A Tucson startup with technology to help fish farmers boost production and a company designing clothing to help women go comfortably braless were picked as co-winners of a business pitch competition at the 2019 edition of IdeaFunding.
The founders of GenetiRate and Braless Clothing Co. shared in the $25,000 grand prize sponsored by UAVenture Capital after the "Shark Tank"-style pitch competition on Thursday, part of the 10-day-long TenWest Impact Festival.
Another of the diverse group of five pitch finalists, Ceres AgTech, which is commercializing a system of drones to efficiently pollinate date palm and other tree crops, won a $1,000 prize for IdeaFunding's "People's Choice" award after instant online voting by event attendees.
Another big winner announced at the event: Startup Tucson, which was separately awarded $50,000 as a winner of a U.S Small Business business-growth accelerator competition.
About 350 attendees packed Idea-Funding's main-stage finals competition at the Tucson Convention Center.
Five finalists each showed a one-minute video and had three minutes to pitch their businesses to a panel of judges including event keynote speaker Allie Burns, CEO of the Washington, D.C.-based venture capital firm Village Capital.
Ben Renquist, founder and CEO of GenetiRate and an assistant professor in the University of Arizona College of Agriculture, said his high-throughput test system to select fish eggs with the fastest-growing genetic traits can help boost yields.
His winning pitch noted that the technology can reduce the carbon footprint of fish farms and help offset overfishing that has affected an estimated two-thirds of the world's wild fish population.
"We've got a growing population that demands more food, demands more animal protein, and that's resulting in ocean exploitation," Renquist said. "We're driving natural selection to improve sustainable aquaculture production."
The company is initially focused on improving yields for salmon, which represents about 10 percent of the $242 billion global aquaculture industry, but the technology can be applied to other aquatic stock, Renquist said.
After winning the Seafood Innovation Award at the North Atlantic Seafood Forum in Bergen, Norway, in March, GenetiRate now has six customers including the world' largest producer of salmon eggs, he said, projecting the company's annual revenue will grow to $5 million in the next two years.
Braless Clothing founder Erica Yngve said her clothing features special panels to allow women to go braless while maintaining modesty.
"We've been trained since puberty that in order to be modest, in order to not bring any unwanted attention to ourselves, that we need to wear bras," Yngve said. "We're going to be successful when we create a lifestyle brand that is recognized for empowering women to be their true and effective selves."
Other finalists pitching at the event included former teacher Janice Marks of Page a Day Math, who created a series of workbooks to help kids from ages 3 to 9 gain a strong foundation in basic arithmetic and handwriting.
Arizona State University doctoral grads Aashay Arora and Matthew Aguayo also made a pitch for EnKoat, their Casa Grande-based company commercializing a new type of energy-saving coating for buildings.
Besides Burns, the IdeaFunding judges were UA Venture Capital co-founder and CEO Fletcher McCusker; Betsy Cantwell, UA senior vice president for research and innovation; and Brent DeRaad, president and CEO of Visit Tucson.
Aside from the main business-pitch finals, 18 startup teams competed Thursday in "industry vertical" pitch contests.
During her keynote speech, Burns said the venture-capital industry is predominantly led by white men and focused on market domination and outsized profits, but that needs to change.
Village Capital, part of a growing cadre of social-impact funds, is focused on companies that can solve global problems in agriculture, education, energy, financial inclusion and health.
"Too few are focusing on the unmet needs of people in the world," said Burns, who grew up in Tucson.
She said venture capitalists must embrace diversity in its ranks and its investments, citing studies showing that diversity drives better decision-making.
But 15% of venture-capital investments go to female-owned businesses and less than 2% go to ventures led by black and Latino entrepreneurs, Burns said.
Village Capital's investment portfolio includes a company that developed a computer program to spot predatory lending, and a startup that has put former tobacco farmers in Tennessee to work growing indigo as a sustainable alternative to synthetic dyes now commonly used in blue jeans.
"Just because we do things one way in society or in an industry doesn't mean it's right — sometimes it's the easy way but that doesn't mean it's the only or best model," she said.
Startup Tucson plans to improve startup diversity as one of 60 national winners of the 2019 Small Business Administration Growth Accelerator Fund Competition, which included a $50,000 prize.
Liz Pocock, CEO of Startup Tucson, said the funds will help to seed a new program aimed at specifically supporting more female and diverse startup founders in Tucson.
"We believe this diversity is key growing Tucson's entrepreneurial ecosystem and economy," she said.
The business news you need
With a weekly newsletter looking back at local history.